I've been writing for alcohol publications for over two decades, now. One of my findings is: if it tastes great, and works well, I love it. My Drink Bomb does exactly that. I'm not sure if it's because it comes in solid form and dissolves when placed in liquid that it tastes so fresh; or if it's simply because they made it with better ingredients than other flavored mixes, but My Drink Bomb is not sticky or overly sweet. And it's really easy to use. So why shouldn't I love it?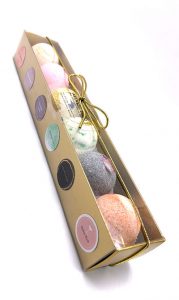 It's essentially a handcrafted cocktail drink mixer made with natural ingredients, organic herbs and, wait for it…24K gold. That never hurts, right? And if that didn't make you feel special enough, it even comes in a beautiful keepsake box with instructions and a note card as well as gift tag. Did I hear perfect Christmas gift?
There are lots of flavors such as cotton candy, sour apple and bubble gum — when mixed with soda or sparkling water, these are a blast for kids. For the big kids, like this writer, Prosecco Rosè and Margaritas just got easier and a little more fun frankly. While there's no alcohol in My Drink Bomb, the flavor to mix with your favorite alcohol brand is packed into these magical spheres.
We recommend you order these fast for your holiday gatherings. They nailed it with the taste, and they're really entertaining too!
You can go directly to My Drink Bomb and order here.