Ultimate Wine Selection That Covers All Holiday Pairings
Holiday meals traditionally feature a wide range of flavors being brought to a modern table. That means hosts must choose wisely when it comes to finding the perfect wine for pairing. Combining the best of Rioja tradition and innovative winemaking, Bodegas LAN's food-friendly Classic Range showcases the highest-quality wines from the region, which are also highly affordable, making them the ideal gift for holiday giving. Wine lovers can choose from one of four options to make their seasonal experience complete:
LAN Crianza 2015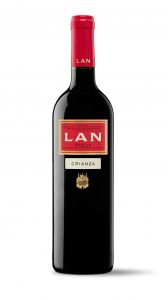 This great value, everyday wine is produced from 95% Tempranillo and 5% Mazuelo in vineyards between 10-20 years of age. It is aged for 14 months in mixed barrels (American and French),\followed by 9 months of bottle conditioning.
LAN Reserva 2011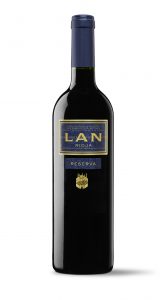 This wine is produced from 92% Tempranillo and 8% Graciano in select vineyards of the Rioja Alta and Alavesa subzones with an average age of 20-25 years. It is aged for 16 months in mixed oak barrels (American and French), followed by an additional 24 months of bottle conditioning.
LAN Gran Reserva 2010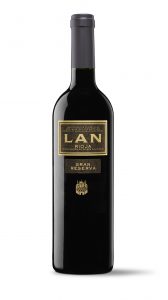 This wine is produced from 90% Tempranillo in select vineyards of the Rioja Alta área (Haro, Villalba and Foncea) and 10% Mazuelo from the Viña Lanciano estate. It is aged for 24 months in American and French oak barrels, followed by an additional 36 months of bottle conditioning.
LAN D12 2015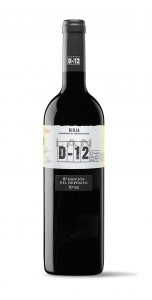 The most unique wine, from tank number 12, is 100% Tempranillo, produced with select vines from small parcels in the Rioja Alta and Alavesa. LAN D-12 revives the tradition of Riojan vignerons who choose their best tank to keep and drink themselves.
These wines range between the incredibly affordable prices points of $14 to $20.
---
PureWine, Pure Genius
Did you know that
36 Million U.S. adults experience side effects from drinking wine
Up to 70% of women over 50 experience frequent side effects
Wine headaches are the #1 side effect from drinking wine
PureWine products remove the sulfites and histamines from wine, alleviating all wine-causing allergies including headaches, stomach aches, congestion, joint pain, and that hangover feeling. Wine headaches represent the No.1 side effect from drinking wine, so The Wand and The Wave are here to help.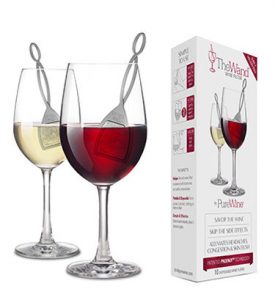 Wine is filtered several times during the winemaking process, before it goes in the bottle. Wine filtration is used to remove grape skins, pulp and stems so it is "clear," i.e., there are no visible particles, and also to remove certain compounds, e.g., excess tannins.
Many people use wine filters at home to remove any remaining particles that are still in the bottle. These filters work simply to trap particles so they do not emerge when pouring wine into a glass or decanter.
The Wave and The Wand both do so much more, by filtering what you can't see – the histamines and sulfites that are in wine and that trigger wine allergies.
And PureWine filtration does nothing to affect taste, aroma or color. In blind tests, even wine experts express a preference for wine filtered by PureWine technology, because it allows the natural characteristics of wine to be experienced more intensely. PureWine filtration really brings out the best in wine.
PureWine is based in Grapevine, Texas, 10 miles from Dallas in the heart of the nation's 4th largest wine producing state.
The Wand ($9.99 for 5-pack) filters a 6 oz. glass of wine and The Wave ($9.99) filters the entire bottle. Both products will not affect the color, taste, or aroma of the wine. You can buy it here.
---
Nicholas Collection Martini Shaker
Holiday shoppers who have a cocktail lover on their list have a new way to shake things up this gift-giving season. Cork Pops has just added a martini shaker from its designer Nicholas Collection to its selection of wine accessories and gifts. Constructed of premium 304 stainless steel with copper plating exterior, the new Nicholas Collection martini shaker looks as good as it delivers in the mixology department. According to the Gin Foundry, 28% of U.S. gin fans voted in favor of the martini as their favorite gin drink.
The 32-fluid ounce capacity of the Nicholas Collection Martini Shaker enables the making of large batches so that home mixologists have more time to enjoy their company and savor their drinks. A unique cap with 180-degree opening ability reduces spillage by allowing the beverage to be dispensed from any direction.
The entire Cork Pops collection, including the new Nicholas Collection martini shaker, can be purchased beverage retailers nationwide and online at www.CorkPops.com.
$64
---
The New Spinning Whiskey Glass
The Grommet has released the new Spinning Whiskey Glass whose spiraling action helps aerate whiskey, opening up the flavor and aroma, and creating an eye-catching effect with a purpose. This is dishwasher safe and the design of the base allows the glass to spin in place without tipping over. It holds up to 12 fluid ozs and you can buy it here.
$21.95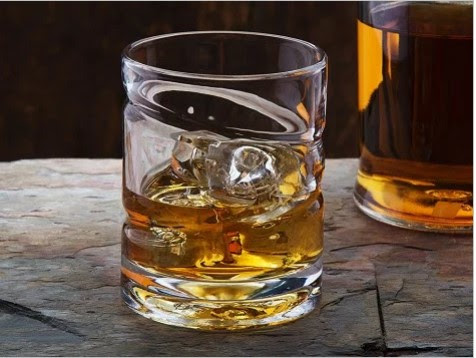 ---
Fully Stocked Prestige Bar Cart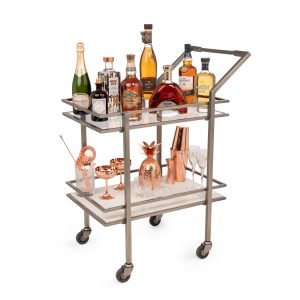 This is a pretty sleek and stylish bar cart from Pernod Ricard. It comes fully stocked and includes Perrier-Jouët Belle Epoque Champagne, Chivas Regal Ultis, The Glenlivet 18 year old, Tequila Avión Reserva 44, Absolut Elyx, Martell XO Cognac, Monkey 47 Dry Gin.
It also comes with two copper coupes, two hand painted champagne flutes, two Waterford Crystal rocks glasses an a copper pineapple. Its come-with bar-tool section comprises a mixing glass, a copper shaker, a copper jigger, one copper Julep strainer, a copper Hawthorne strainer and a copper bar spoon.
$2,400. You can buy it here.
---
Fire Dept. Coffee Offers Irish Whiskey and Christmas Spirit
Ever wonder how Santa manages to make it all around the world in just one night?
Spoiler Alert—it's not magic.
It's a bottomless thermos of Fire Dept. Coffee's high-octane, ultra-sippable roasts that keep him alert as he zooms from house to house.
Fire Dept. Coffee is a veteran and firefighter-owned brand dedicated to helping their community through roasted-to-order, high-caffeine coffees and by giving back to firefighter and veteran assistance programs.
Their roasts include Irish Whiskey and Limited Edition Christmas. This bold and spicy roast is the perfect way to keep up with the kids come Christmas morning.
Currently, they're offering free shipping on orders over $50. Also, as a part of their Subscribe & Save program, buyers will save 30% on their first order and 10% on all following orders.
---
Holiday Bubbly
Hailing from the TrentoDoc appellation in the northern part of Italy, Rotari offers high-quality, vintage-dated bubbly that are a step above the country's standard Prosecco. Producing both a brut and rosé, the wines are made in the same exacting process as Champagne, which the Italians call metodo classic (production details below).

(SRP $19.99) – This wine has a rich palate of pineapple, yellow apple, and white flowers, while white flowers and delicate yeast add nuance.

(SRP $19.99) – This blush sparkling wine is ideal for toasting to winter, whether it is a holiday party or just an evening by the fire. It has a palate composed of blackberry, cheery, and raspberry that play off subtle white fruit and lively acidity.
The wines go through a primary fermentation in the tank, before a secondary fermentation in the bottle. Then, they are left to sit on the lees for a minimum of 24 months, which is 12 months longer than required in France, allowing the wine to take on deeper, more complex flavors. The wines are produced using Chardonnay and Pinot Noir—the traditional, gold-standard grapes of the classic French region.
---
Monkey 47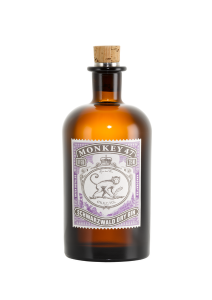 Give the gift of gin this holiday season with Monkey 47! This one-of-a-kind spirit is a batch distilled, handcrafted dry gin that skillfully blends British tradition, the exoticism of India and unique botanicals from Germany's Black Forest. A special hidden gem that everyone will love is made up of 47 exotic botanicals including juniper, lavender and lingonberries (indigenous to the Black Forest) paired with citrus aromas. Its floral-forward eccentric recipe has won numerous awards and accolades from around the world and gained a cult following in Europe. Available now in premier bars, restaurants and hotel bars across the U.S, you can order this treasure online to gift that special someone. Let the monkey bring you on a journey this holiday season and transport you into the Black Forest upon first sip. See if you can taste all 47 botanicals!
$42. Custom engraving available via ReserveBar
---
Simple Vodka, Simple Charitable Gift
The ideal present for a holiday hostess or cocktail aficionado, Simple Vodka adds an extra layer of giving by donating 20 meals per bottle produced to hunger relief organizations across the US. It is sustainably made with Idaho potatoes and only distilled once for increased flavor. Just like a winter wonderland, the Simple Vodka bottle is frosted white. Images and cocktail recipes available.
$26.99)
---
Chambord Liqueur, A Gift of Giving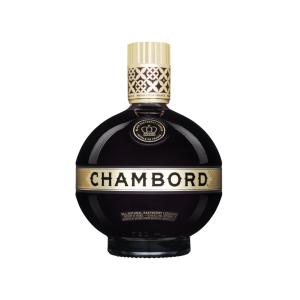 Not only is the beautiful Chambord Liqueur bottle a great gift for anyone looking to build their home bar, but the brand has recently teamed up with Alteristic, a national organization that is dedicated to reducing power-based violence. Through the partnership, Chambord funds Alteristic's Bystander Intervention Training Programs around the U.S. for the bartending community. The day long trainings are designed to better equip bartenders with the tools they need to make bars and restaurants a safer environment. Details and interviews available upon request.
$31.00 (750ml), $20.00 (375ml), $3.99 (50ml)
---
Waterford Crystal Diamond Line Ice Bucket with Scoop
Keep your favourite sparkling drinks on ice with the Diamond Line Ice Bucket made from the world's most famous name in crystal. A statement piece for the home, this ice bucket features an intricately cut design that shines with sparkle and luminosity.
The company of Waterford was first established in 1783 on land adjacent to Merchants' Quay in the heart of the Irish harbor town of Waterford, just minutes from the present day House of Waterford Crystal. More than two hundred years later, the reputation they established for creating glass of unsurpassed beauty and quality has transcended the intervening centuries.
$220. You can buy it here.
---
Vinum Veritas Donum, A True Wine Gift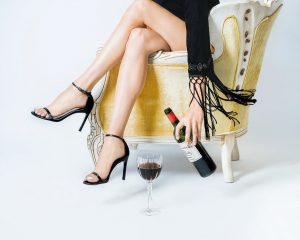 The Vinum Project is a visual series of imagery that speaks to a generation of wine drinkers living in the real world, who want wine to be a part of their real lives.
This holiday season make everyone on your gift list happy. The Vinum Project's prints are great for friends, parents, newlyweds, new apartment leasers or anyone who enjoys wine and pretty things. Whether shopping on a budget or looking for a badass drop mic sort of gift, The Vinum Project has something for you. They have created a limited series of Fine Art pieces printed in a new wave technology of HD printing as well as a photo print series that won't break the bank but will definitely over deliver in the surprise department upon opening.
This holiday season, be different and clever.
Prices vary. You can peruse their inventory here.
---
Just The Wine, Just The Gift
Just the Wine reduces the sulfites in wine with just three drops. If you have a sulfite sensitive friend then Just the Wine is just for them. Now they can have control. Just a few drops in their glass of wine can reduce the sulfites by up to 80% or more. Red wine, white wine, and champagne can all be enjoyed with less sulfites. They'll be able to thank you the next day when they're not feeling so hungover.
Five bottle pack $27. Buy it here.
---
Asobu Cold Brew Released Just In Time For The Holidays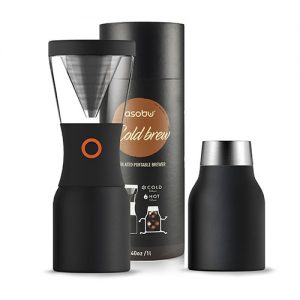 Asobu: Portable Cold Brew Coffee Maker from The Grommet combines a brewer and storage container in one system, streamlining the coffee-making process. Asobu is made from Tritan, a BPA-free plastic that won't hold onto stale flavors. The double-walled, copper-insulated carafe is detachable, so you can take your joe to go—or store it and keep it cold for up to 24 hours. Features 32 oz. capacity stainless steel serving carafe with a leak proof lid. This comes in giftable tube packaging.
$49.95. You can buy it here.