to Give it up with the ties and socks and cigars and fancy pens already. Stop with the golf paraphernalia and the NFL licensing nonsense. Did he read the book you bought him last time? No, and he won't read the one you buy him this year either. Just get him something he wants. Is that so hard? Well apparently, yes it is…and that's why your trusted team at Drink Me has done the hard-lifting for you. Here are our Top 10 picks for what your dad "really" wants. So do good, and choose well this year. Dads deserve better.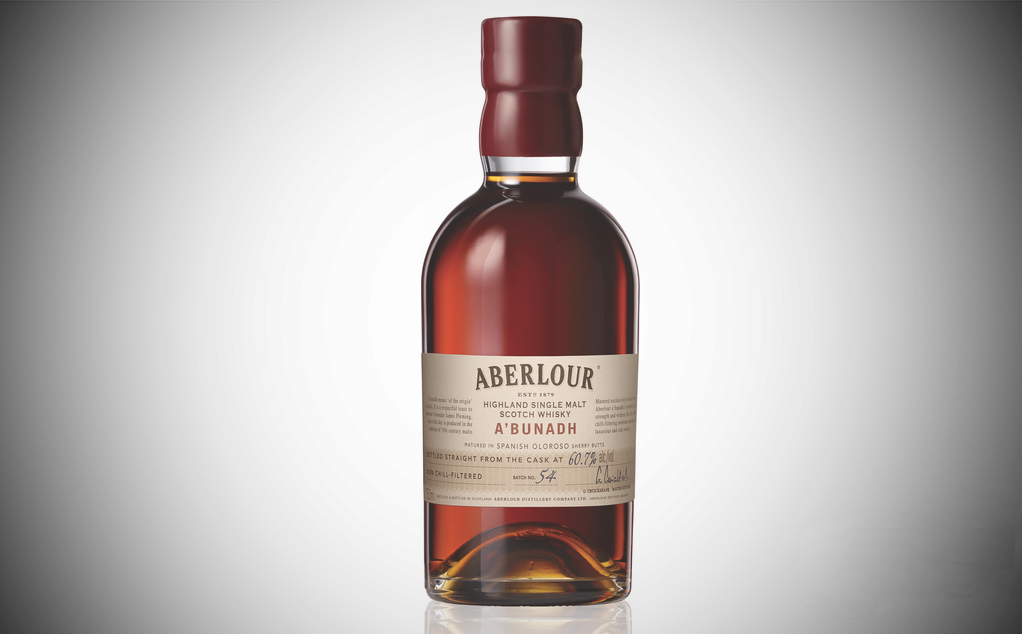 Aberlour A'bunadh For Whisky Expert Dads
Perfect for the whisky expert dad, Aberlour's A'bunadh expression is the perfect celebratory dram for the dad who deserves celebrating.
Meaning "of the origin" in Gaelic, A'bunadh is made in homage to Aberlour's founder, James Fleming. The whisky is hand-made from start to finish with each batch being created to ensure a rich and complex flavor of moist raisin, and homemade fruitcake with deep and concentrated aromas of mixed spices, praline and spiced orange.
Bottled at cask strength this robust, deeply intense, Sherried whisky has huge character, Aberlour A'bunadh is a great choice for fathers who are not only a whisky expert with strong character but also would also enjoy a sophisticated whisky that will convey your appreciation of him and remind him of the finer things in life. A pioneer for connoisseurs, A'Bunadh has been engaging and thrilling whisky experts and collectors since it was first launched in the 1990s.
SRP: $99.99 / 750ml. To purchase: https://www.aberlour.com/en-EN/our-whisky/abunadh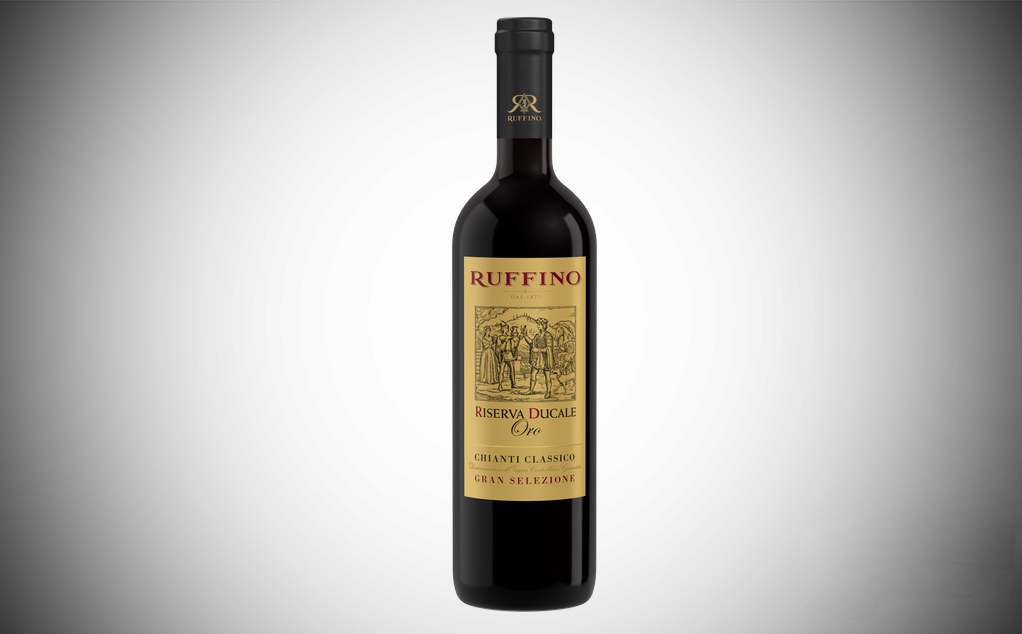 Make Your Dad Feel Like Ruffino-esqe Royalty
In 1890 Ruffino was appointed the official wine supplier to the Duke of Aosta and the Royal Court. In appreciation of the appointment, in 1927 Ruffino named an aged Chianti after the duke, calling it "Riserva Ducale" ("Reserved for the Duke"). Twenty years later, in 1947, Ruffino introduced a more exclusive version: Riserva Ducale Oro Chianti Classico Gran Selezione.  An evolution of the original, the Oro ("gold" in Italian) label is fit for a king. Enter Dad.
Steadfast supporter of kids' achievements, cheerleader, chauffer, chef, etc…whatever label Dad prefers we know it's the gold label he deserves this Father's Day.  An iconic bottle from Tuscany that can be enjoyed today or cellared for a later date is a wonderful way to show your appreciation. The 2014 Ruffino Riserva Ducale Oro Chianti Classico Gran Selezione is one of the world's most iconic wines and the benchmark for fine Tuscan wines from the Chianti Classico Riserva DOCG appellation. Only produced in outstanding vintages, Riserva Ducale Oro uses fruit sourced from two Ruffino estates: Gretole (named for the classic grey rocks found in Chianti) and the Santedame estate.
Full-bodied and distinctively Tuscan with powerful aromatics, the 2014 Ruffino Riserva Ducale Oro Chianti Classico Gran Selezione (SRP, $40.99) is 85% Sangiovese, 10% Merlot, and 5% Colorino.  It is a golden vintage fit for royalty like Dad.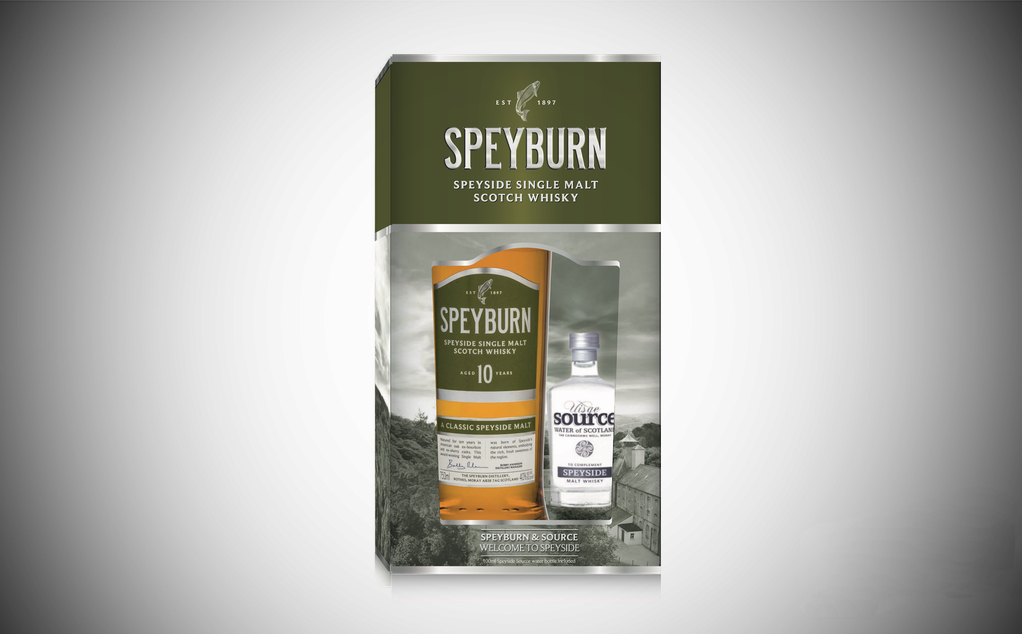 Would Dad Love A Scotch + Splash of Water, From The Same Region!
Located just outside the northern edge of Rothes in the Speyside region, the Speyburn distillery sits within a hollow of tree-lined hills and is often considered one of the most picturesque distilleries in Scotland. Back in 1897 when the distillery was first established, the location was not chosen for its beauty but rather its proximity to the Granty Burn, a tributary of the river Spey.
Founder John Hopkins discovered the Granty Burn – a stream that flowed with remarkably soft, pure spring water while looking for the perfect spot for his distillery. Over 120 years after its creation, Speyburn remains the only distillery to use the unadulterated, crystal-clear water of the Granty Burn. That water is an integral ingredient used to produce the bold, bright, distinctive single malt whiskies of Speyburn.
For dads who enjoy a splash of water with their water of life, what's more fitting than using water sourced from the same region where the whisky was crafted? The Speyburn 10 Year Old Source Water Gift Pack (SRP, $30) featuring water from Speyside is a wonderful gift for Dad this Father's Day.
While adding water to your whisky is all about personal preference, Speyburn Brand Education Manager Steph Ridgway points out, "Water changes the molecular structure of the whisky, allowing some of the dominant flavor components to shine through. By adding a drop of water to your whisky, you get to experience something that is often totally different than what you get with a neat whisky."
Matured in a combination of American oak, ex-bourbon and ex-sherry casks, the Speyburn 10 exhibits the distillery character and house style of Speyburn. The soft spirit marries with the gentle oak influence to create a balanced and approachable dram with hints of toffee, butterscotch and a long, sweet finish.
Ridgway reminds us, "There's an old saying that states bad whisky needs water and good whisky deserves it. When you've found a whisky that you consider to be good, go ahead and give it what it deserves."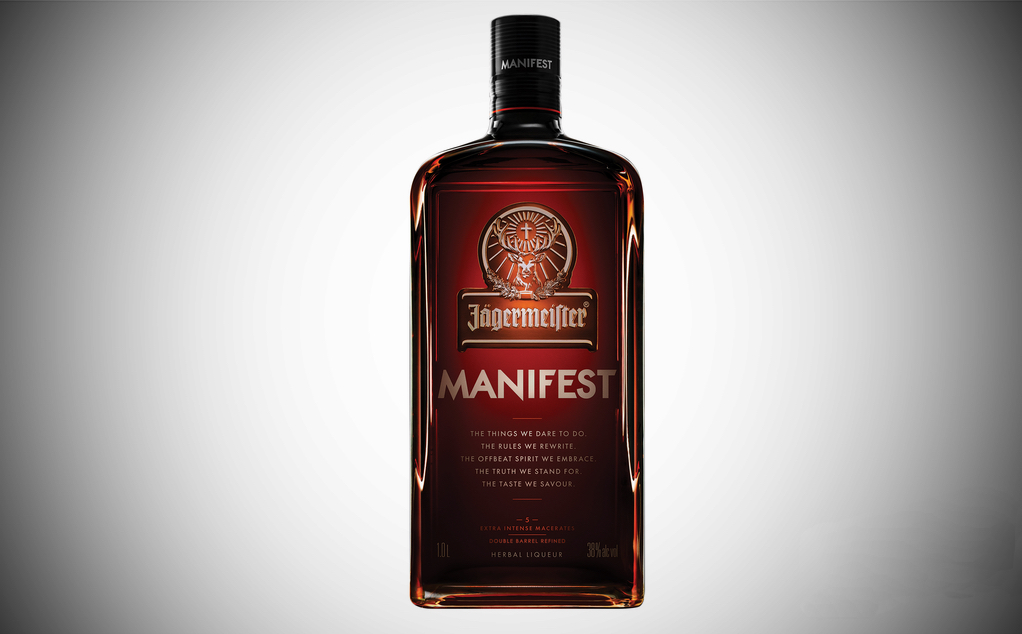 Manifest Is Not Your Ordinary Jägermeister
Whoah…this Jägermeister is for sipping not shooting. Manifest is the first premium line extension in the history of Mast- Jägermeister U.S.
Slightly sweet notes of anise and dried fruit give way to subtle spice and aromatic bitters, finishing in a marriage of vanilla and barrel oak. Full-bodied, robust blend of flavor. Complex with excellent length, hints of oak and a   pleasant, lingering bitterness
Like the original Jägermeister, the new herbal extract is derived from a mixture of herbs, blossoms, roots and fruits. For Jägermeister Manifest, its master distillers added even more botanicals to the traditional blend of 56 natural ingredients and increased the number of macerates from four to five.  Skillfully blended in a unique composition, the result is the distinctive taste of Manifest, a true expression of quality and precision.
A slightly higher alcohol content than Jägermeister (38% ABV). Neat or over a 2×2 ice cube. New clear bottle with hand-applied Jägermeister emblem in a bronze accentuate. 1 liter. Price: $65.00 Reserve Bar: https://www.reservebar.com/products/jagermeister-manifest

For The Wine Loving-Dad, For The Healthy Dad
Dry Farm Wines — the only health-focused, sugar free, low carb, low alcohol, natural wine club in the world. Dry Farm Wines curates wines that are 100% natural and organic. A selection of wines (encompassing a large assortment of varietals from vineyards across the globe) from Dry Farm Wines is a great choice for Father's Day – especially for Dad's that are working on their summer 6 pack, are health conscious, are on a Paleo/Keto diet, or like to drink lots of wine.  More below. Best, Kris Ferraro, LBPR
Dry Farm Wines is the largest curator of the highest quality natural, clean, and healthy wines from small, organic family farms from around the world.
The team at Dry Farm Wines scours the earth to find organic dry farmed wines as they are committed to taste, health, and earth friendly practices.  Each wine is lab tested to ensure its purity. This means each wine is quantifiably clean and healthier to the body (no additives and friendly to every diet, including Paleo, low-carb, Ketogenic). These quality natural wines are better for Dad, Dad's health, and our planet.
Every bottle in a Dry Farm Wines shipment is:
Sugar Free (< 1g/L)

Low Sulfites (< 75ppm)

Low Alcohol (< 12.5%)

Mycotoxin/Mold Free

Additive Free

Dry Farmed

Old Vines (35-100 yrs)

Organically Grown Biodynamically Grown

Fermented with Wild Native Yeast

Made in Small Productions

Hand Harvested

Keto Friendly

Paleo Friendly

Low Carb Friendly

Diet Friendly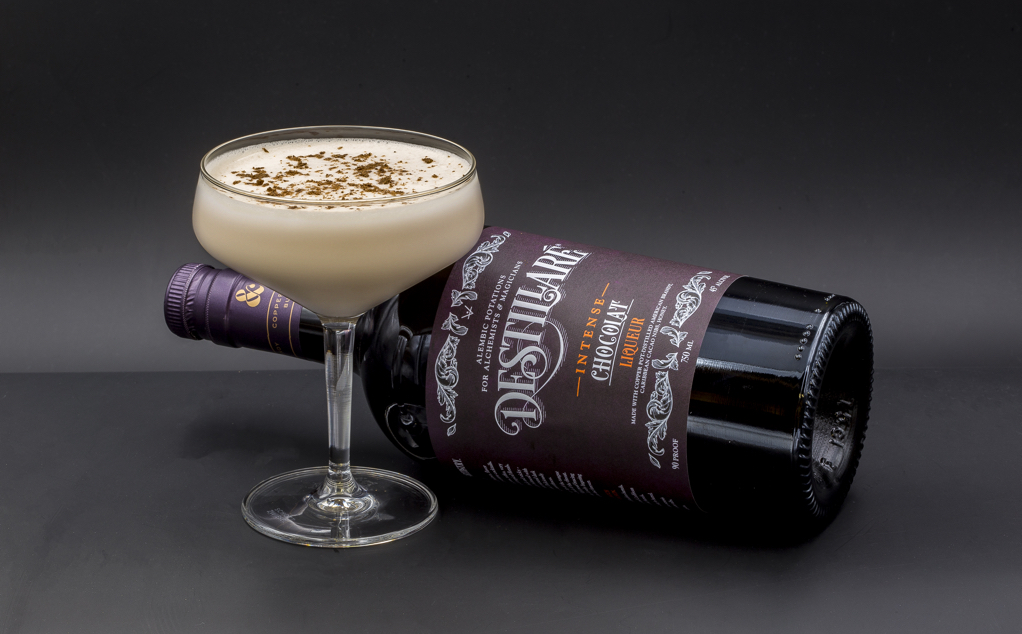 Yes! Cordials For The Dude
Louisville-based Copper & Kings American Brandy Co. announces its two, latest pure copper pot-distilled luxury cordials: Destillaré Café, an intense coffee liqueur built with a robust cold brew natural coffee foundation; and Destillaré Chocolat, an intense chocolate liqueur using cocoa nibs steeped in brandy process. The cordials join an expanding Destillaré line-up that already includes Orange Curaçao and Pomegranate liqueurs.
Both liqueurs use an aged Copper & Kings American Brandy base, have no added artificial colors or flavors, and are non-chill filtered. The liqueurs are at Destillaré's standard 90 proof and are sweetened with honey.
"Destillaré's mission is to provide bartenders with exceptional tools to build the most delicious, inventive cocktails that they possibly can," says Copper & Kings founder, Joe Heron. "Bartenders have thirsty imaginations, and we see them as the most inventive alchemists and magicians. Cordials are very exciting for us, not only for the creative palette they provide, but that for a category of such enormous size, there's not been a lot of new thinking and innovation, and bartenders are looking for tools to expand their own repertoires."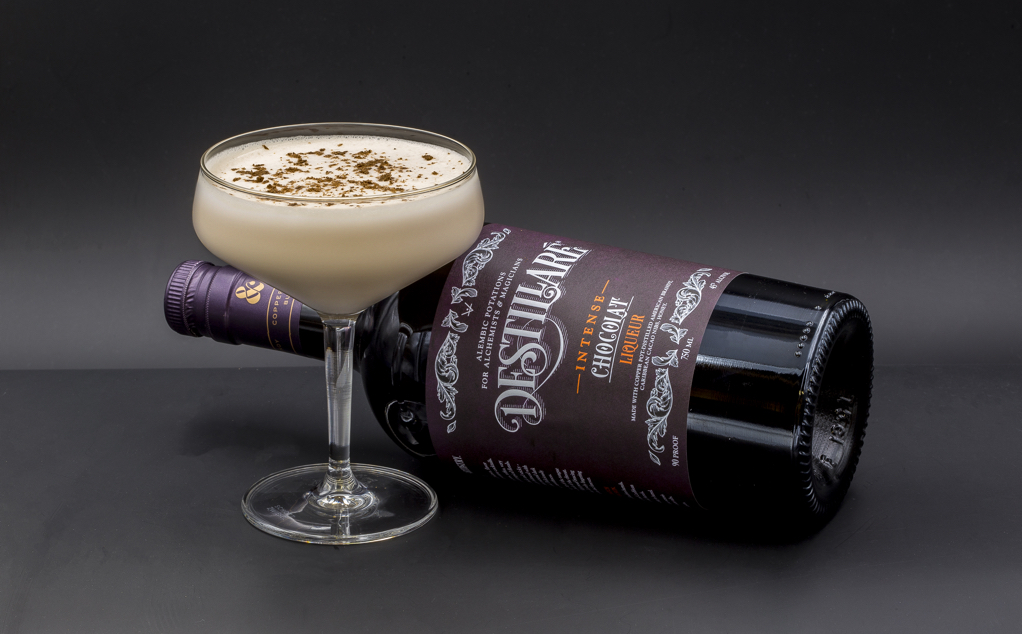 Master Distiller, Brandon O'Daniel describes Destillaré's process – "With Café, we take certified fair-trade cold brew made from Arabica coffee beans and add it to the aged brandy in the barrel. We then marry the liquids in the barrels for 6-9 months, adding extra Madagascan vanilla beans, Cardamom pods and coffee beans in the barrel. The spirit is then diluted to proof using cold brew coffee instead of water. Chocolat uses a similar process, but with added Caribbean cocoa nibs in the barrel, also for 6-9 months, and then diluted with a custom steeping of cocoa nibs in reverse osmosis filtered water. They are very balanced, very smooth, highly aromatic, and viscous without being syrupy and sticky."
Copper & Kings Creative Director, Ron Jasin says, "The word Destillaré is the Latin root word for distillation, and our packaging design reflects an alembic, alchemical personality. The way we make our intense liqueurs is in many ways a magical art, and like all things Copper & Kings, we break the mold in small and big ways. They are high proof elixirs – they don't follow the history of low proof, sweet and syrupy cordials – they have the confidence to stand on their own as distinctive, singular spirits…". The coffee or chocolate aromas stick around in the glass for ages, you can smell it across the bar."
Destillaré Café is recommended for a rich Espresso Martini, or a White Russian that "The Dude" would approve of. Destillaré Chocolat is delicious in an elevated, classic Brandy Alexander, and makes a remarkable Dark Sidecar or Margarita Negra with mezcal. When combined, the liqueurs make a delightful Brandy Alejandro, or Oaxaca Mocha with mezcal. It need not be said that they are tailor-made for the most indulgent boozy milkshakes.
Destillaré Intense Café (90 proof/45% ABV) – $35/750 mL
Destillaré Intense Chocolat (90 proof/45% ABV) – $35/750 mL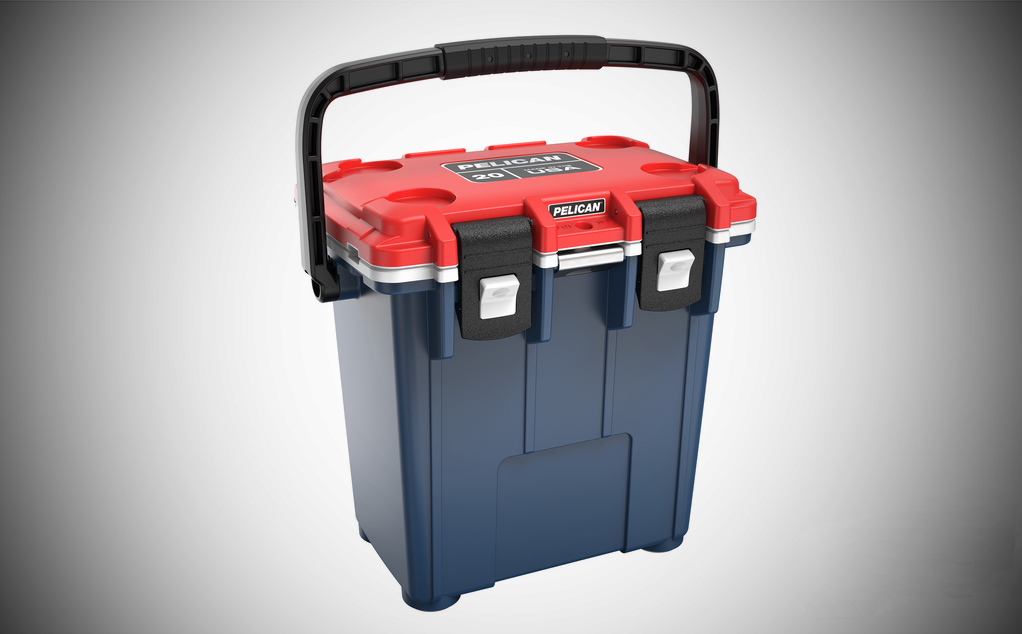 Dad Bought The Booze, Now You Need To Chill
For over 40 years, Pelican has been proud to build products that display the ingenuity and strength of the American worker, and the entire Americana collection is their way of celebrating that accomplishment with pride.
Made in the USA and Guaranteed for life, Pelican Americana Coolers are up to 30% lighter weight than the competition and are built for extreme ice retention with solid 2" thick walls and stainless-steel hardware. Pelican Americana Coolers are built for the long haul; they travel well and perform even better.
The come in two sizes:
20QT

– perfect for tailgating, outdoors, beach – MSRP $149.95

50QT

– perfect for big gatherings or longer trips – MSRP $299.95
To make the day perfect for dad, prep the cooler with Pelican Ice Blocks to make sure he gets the coldest cooler for longer, with the least mess.
Americana Collection Features:
New Patriotic Colors

Extreme Ice Retention

Built-In Bottle Opener

Non-Skid & Non-Marking Raised Feet

Press & Pull Latches

30% Lighter Weight

Integrated Cup Holders

Guaranteed for life

Made in the USA

For Dads Who Do Good
Months following California's Camp Fire, the deadliest wildfire in the state's history, Charbay Distillery has released a limited edition Racer 5 (R5) Aged Whiskey to benefit the survivors of this devastating fire. The newly released Lot No. 5 was distilled by 13th generation distiller, Marko Karakasevic in July 2013, in collaboration with Bear Republic Brewery. The whiskey was distilled from his favorite IPA, Racer 5 IPA, and brings together two family-owned businesses and neighbors. A total of $10,000 from the proceeds of Lot 5 will go directly to wildfire survivors in Northern California.
"The 2018 Camp Fire ravaged our local community last fall and we had to step up and do what we could to help our friends and neighbors rebuild their lives," said Jenni Karakasevic, Charbay's co-owner and director of operations. "We co-founded the non-profit Stand for Kindness in 2017 to help fire survivors and we knew we needed to do even more. When Marko suggested a fire relief whiskey, we went to work to designate Lot No. 5 as our way to continue supporting local families."
R5 Aged Whiskey, Lot No. 5 was double distilled in Charbay's Charentais Alambic copper pot still from bottle-ready Racer 5 IPA. The brainchild of distiller Marko Karakasevic, R5 took more than four years of extensive research with the Bear Republic team. "I chose the award-winning Racer 5 because it is the definition of Northern California IPA," said Marko. "It's also my favorite beer, and its flavors translate perfectly into our whiskey." Lot No. 5 has an aroma of toasted cinnamon and honeysuckle complemented by notes of baking spices and tobacco on the palate before a long, sweet, herbaceous finish.
Bottles of the limited edition R5 Whiskey, Lot No 5, will be available for purchase at select retailers including Winfield Flynn(NYC) and Sunshine Market (Napa Valley, CA) as well as online at Flask and Hi Time. Lot No. 5 has a 49.5% ABV and has a suggested retail price of $60.
About Stand for Kindness: Stand for Kindness has been helping fire survivors rebuild their lives since 2017. The team of three Bay Area women have distributed donations directly to over 175 families and hosted a personalized Christmas Program for 400 children in 2018. For more information, please visit www.standforkindness.org.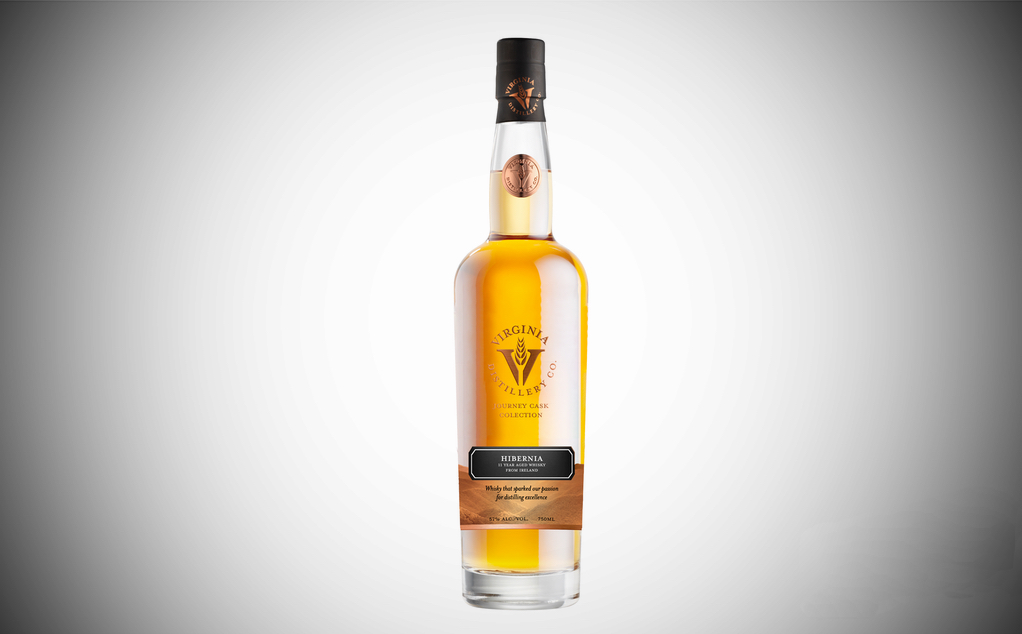 If Your Dad Can't Be In Ireland, He Can At Least Feel Like He Is
Virginia Distillery Company recently launched its Journey Cask Collection with a Cask-Strength 11-year-old Irish Single Malt.
The Journey Cask Collection is a new whisky series focusing on mentors from around the world, where the person, distillery, or region were inspirational to the development of Virginia Distillery Company. The series showcases exclusive single malt whiskies from around the world and the traditional name of each region where the whisky originated from is used to identify the release.
For the inaugural release, called Hibernia, the Virginia Distillery Company team chose to start by honoring the Company's founder, Dr. George G. Moore, with a release from his native Ireland, connected to a particularly important mentor in George's own journey.
Hibernia was sourced from John Teeling's own Great Northern Distillery in County Louth, near where George grew up. John Teeling was instrumental in supporting George's journey to the U.S, specifically by advocating on George's behalf for a scholarship to George Washington University in D.C. This was to be the start of many journeys for George, and John Teeling remained a close friend and mentor throughout all of it. Hibernia honors both George and John with this dedicated cask.
Hibernia is a single cask of an 11-year-old Irish Single Malt, the distillery's first release to be bottled at full cask strength.
"This release comes with a lot of significant meaning," said Gareth H. Moore, Virginia Distillery Company's CEO. "To journey is to travel from one place to another, and with Hibernia, it feels full circle that we've been able to share part of my father's journey and the important mentors in his life."
On the nose, the whisky showcases aromas of soft caramel and milk chocolate mingled with toasted walnuts and vanilla. The palate evolves with notes of fresh nectarine and apricot merging into candied orange peel, shortbread, butterscotch and a hint of ginger. This limited release comes in a special collector's box and decorated bottle. The whisky retails for $124.99 per bottle and is available at the distillery's Visitors Center and online at www.seelbachs.com.

Gold Medal Whisky for a Gold Medal Dad
Brewers Batch Virginia-Highland Whisky
 offers dads the best of both worlds: beer and whisky! Offered under Virginia Distillery Company's Virginia-Highland Whisky series, this expression is made from 100% malted barley marrying American Single Malt whisky made on site in Lovingston, Va. with whisky from Scotland. Finishing in casks sourced from local breweries gives the whisky notes of mocha and toffee as well as a hint of cocoa on the palate. The inaugural offering was recognized with a gold medal by the 2018 International Wine & Spirits Competition's Critics Challenge and the 2018 Los Angeles International Spirits Competition.