Your Valentine's Day just got sorted. Who won't love getting My Drink Bomb as part of their gift?
This, the original drink bomb comprises artisan handcrafted cocktail drink mixers made with natural ingredients, organic herbs and 24K gold. Simply add to your favorite alcohol of your choice, sparking soda or water.  A new and fun twist to Valentine's Day. Ditch the boring box o' chocs, and liven up the night with this amazing invention!
Like a favorite childhood candy, refreshingly tart, strawberry and cranberry notes sweeten up with lemony citrus flavors to make our delectable SweetTART Bomb.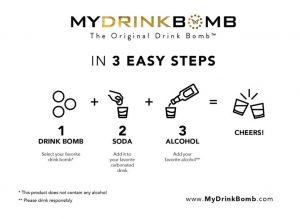 Perfect for mocktails or cocktails.
This product does not contain alcohol.

1 (1.25-ounce) drink bomb = 1 serving

Always drink responsibly!
Select your favorite drink bomb.

Add it to your favorite carbonated drink, like club soda or sparkling water.

Add your favorite alcohol, like champagne or vodka.

Stir in ice, or use a shaker (optional).

Garnish. Cheers!