by Deborah Grossman

The Vineyard Table & Tasting Lounge looks like a big city restaurant with a sleek, friendly bar, wooden tabletops, wine wall, communal table and expansive patio. But peer out the floor-to-ceiling windows and you'll see grapevines and the historic tasting building of Wente Vineyards in a bucolic corner of San Francisco's East Bay in Livermore Valley wine country.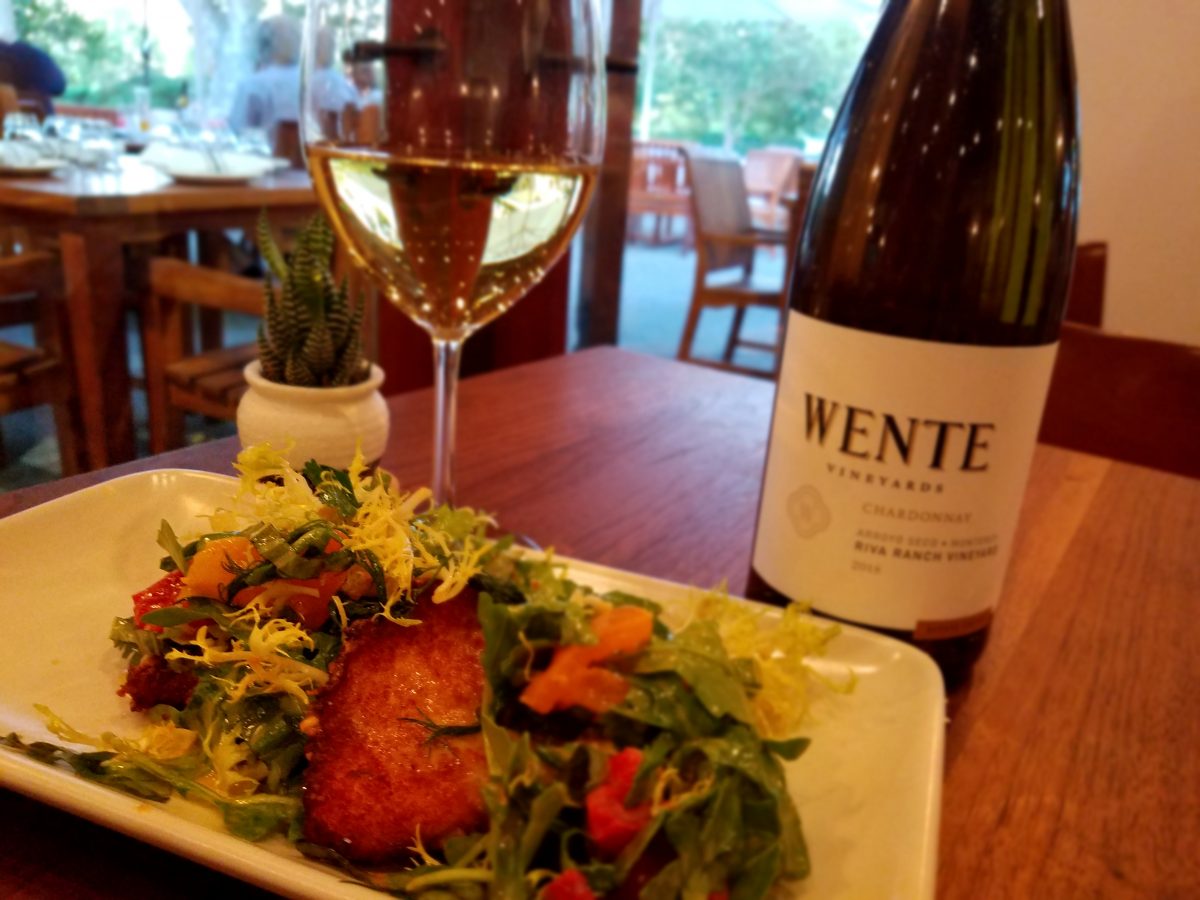 Beyond a name change from the Restaurant, the Vineyard Table offers a newsworthy change—the reasonable prices for bottles of Wente wine to accompany lunch or dinner. The price is not marked up by 30 percent or so as is customary at restaurants—the cost is the same as the Vineyard Tasting Room a few steps away or other retail outlets. Plus, there's is a plethora of intriguing of wine flights to sample.
With an evolution from white-tablecloth fancy, the Vineyard Table sets forth a unique wine tasting experience in a casual social setting. Aly Wente, the newly appointed fifth generation Senior Brand Manager at the Livermore winery, noted, "The changes help identify the meal as a wine-forward experience. We offer wine pairing with pair seasonal bites in a more relaxed, casual setting to bring people together and create meaningful connections."
Aly's cousin Karl, another fifth generation Wente, is the winery's Chief Winemaker. Karl especially likes the seating options at the Vineyard Table. "From comfortable couches to taste a flight, to tables for families or groups, to the patio fire pit to take advantage of warm Livermore nights, we offer space for everyone."
Five generations of Wente Wines
A quick historic note. Wente Vineyards is the country's oldest, continuously operated, family-owned winery—and over 80 percent of California Chardonnay derives from the original clones that second-generation Ernest Wente brought from a special vine nursery in France.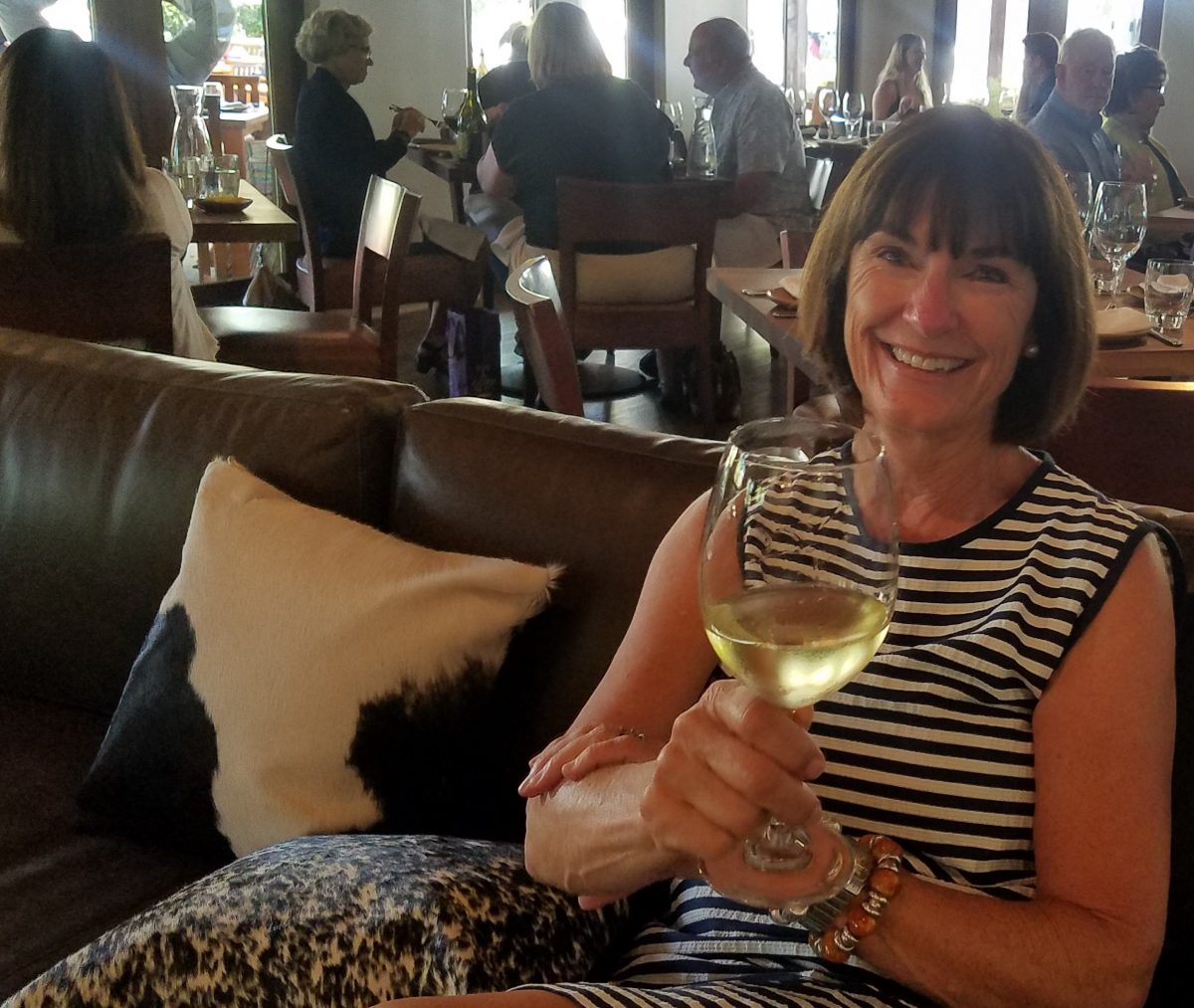 Hospitality has been a priority at Wente Vineyards since inception in 1883. When the fourth generation took over the winery in the 1980s, they decided to elevate the tradition of welcoming guests. In 1986 Wentes opened The Restaurant to great acclaim. The current CEO, fourth generation Carolyn Wente, later wrote an outstanding cookbook with wine pairings, "Sharing the Vineyard Table" with Kimball Jones.
At the Vineyard Table and Tasting Lounge, you'll find a wide selection of Wente wines. There's widely available Riva Ranch Chardonnay but also options Chardonnays from single vineyard to different styles from unoaked Eric's Chardonnay to fuller, richer Nth Degree Chardonnay.
There's also the Wente Clone Flight which highlights 2017 Stony Hill, one of the first Napa Valley wineries to use the Wente clone and popularize Chardonnay in the U.S., Eric's Chardonnay, top tier Wente Nth Degree and Murrieta's Well, another Wente family property which produces outstanding Chardonnay.
The Wente flights include a journey flight which gives a taste of the diversity of the winery with two chardonnays, Small Lot zinfandel, a cabernet France and Artist Series blend.
More Beverages
Not all wines are from Wente. At dinner the extensive and well-curated list by Sommelier Jorge Tinoco offers 650 selections at reasonable prices. From Champagne to Port, Napa cult wineries to emerging Santa Cruz AVA wines, the Rhone Valley and Chile, the winery has a broad offering with excellent pairing suggestions. Unfortunately, the evening we dined a chocolate ganache tart, usually on the dessert menu, was not available to pair with Graham's Late Bottled Vintage Port.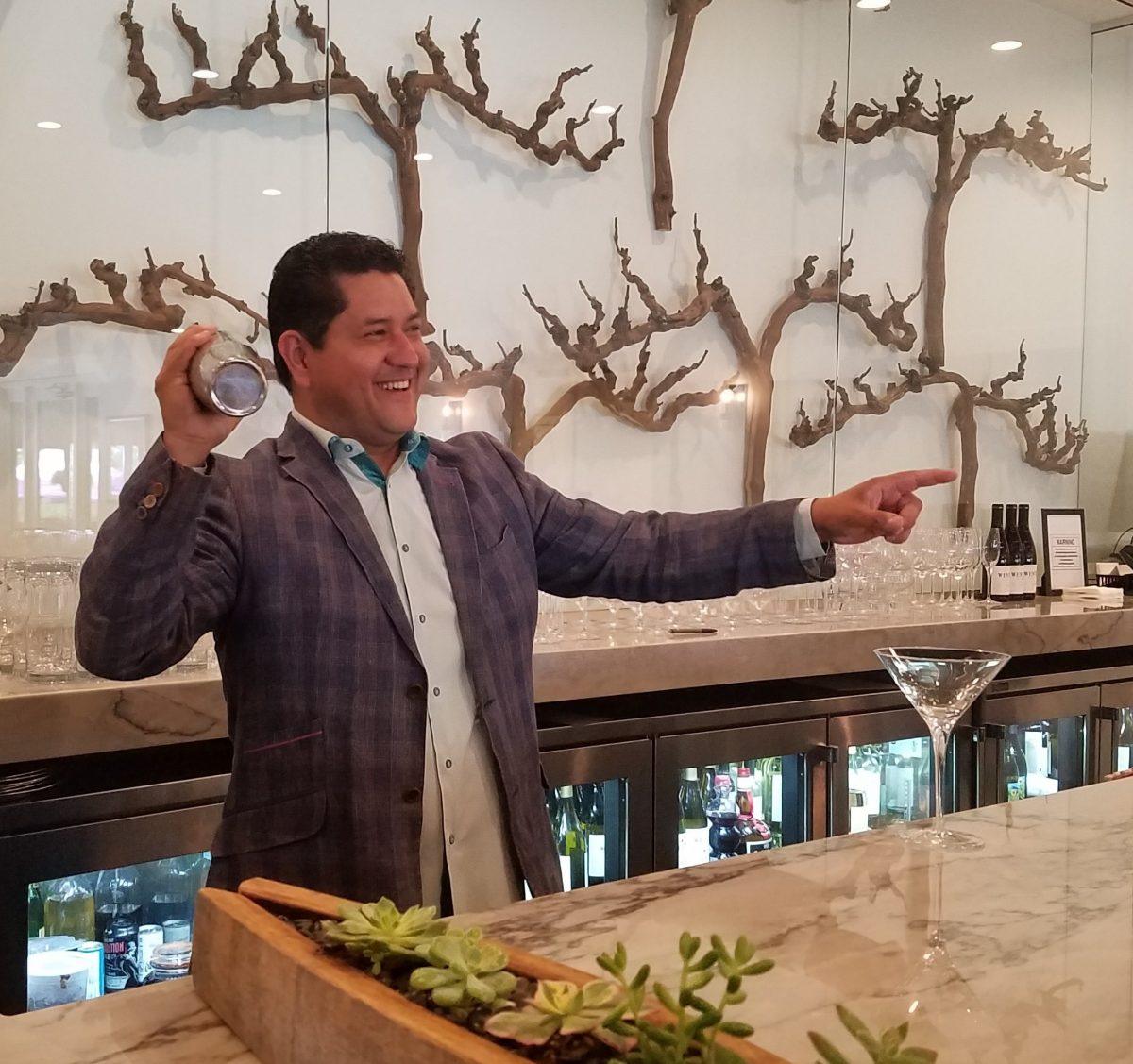 An expert in wine and cocktails, Tinoco also oversees the bar with a curated section of Garden Cocktails and Wente Cocktails. The garden cocktails are especially fun due to the Wente garden's location a few hundred feet from the restaurant. Depending on the season, you may find a Stone Fruit Margarita or Strawberry Mojito. The seasonal sangria is my favorite of the Wente drinks to the pairing with their organic seasonal fruit. But the Wente 75 with Wente Vineyards Brut, brandy, elderflower liqueur, and lemon-thyme syrup is excellent. For those seeking zero alcohol, the daily garden lemonade or mojito are fine choices.
Food from the Wente Garden and beyond
Joshua Leidreiter, Wente Chef de Cuisine, is fortunate the multi-acre garden is steps outside the kitchen. Master Gardener Diane Dovholuk tends to an array of organic, heirloom fruit and vegetables, from pears and melons to kale and cucumbers—plus an array of colorful tomatoes. She is never satisfied and has recently planted peach, apricots and plum trees to round out the offering.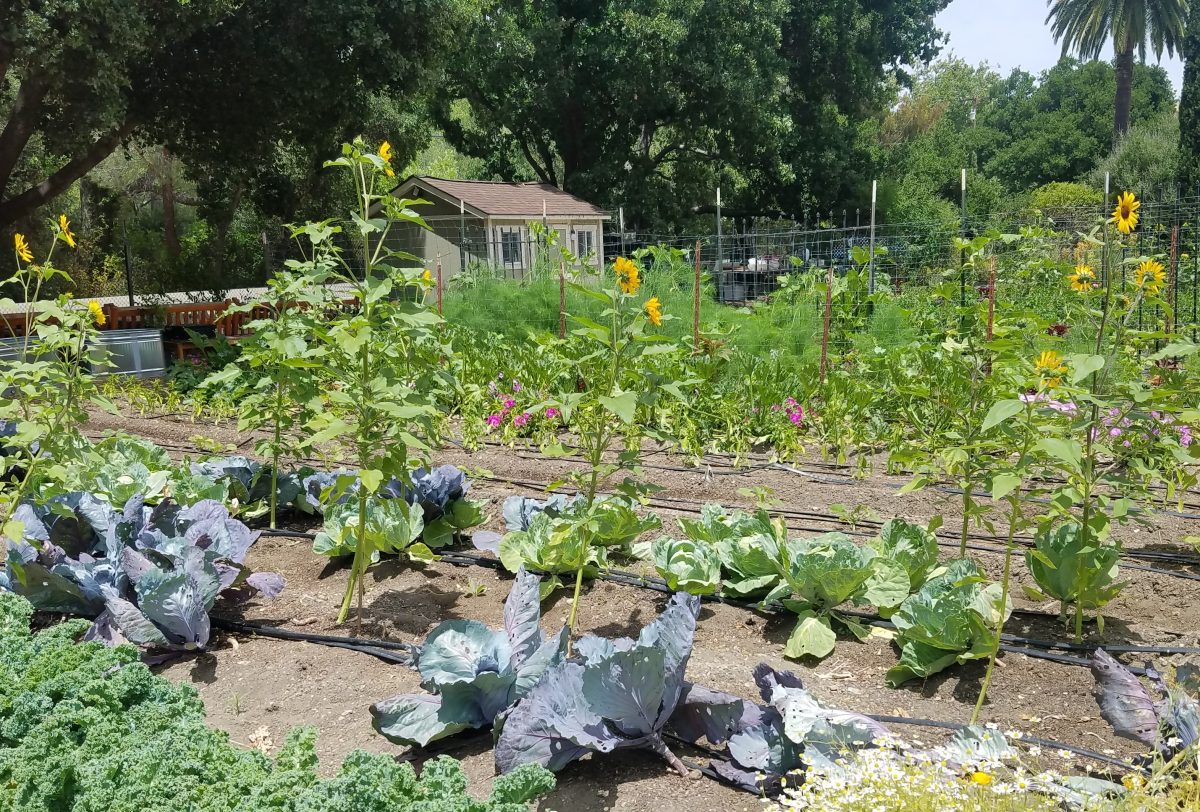 The menu highlights Dovholuk's garden. One of the most popular share plates is Diane's Garden Bowl, with garden greens, red quinoa, sunflower seeds, feta in a balsamic vinaigrette. But before the share plates, don't neglect to order from the "Bites" menu. The Wente herb roasted nuts are renown for their sweet-spicy mix. Others to order with your wine flight are marinated fresh mozzarella with Calif. olives and the harissa hummus and pita chips. The two delicious breads—levain and olive—are accompanied by Wente Estate EVOO.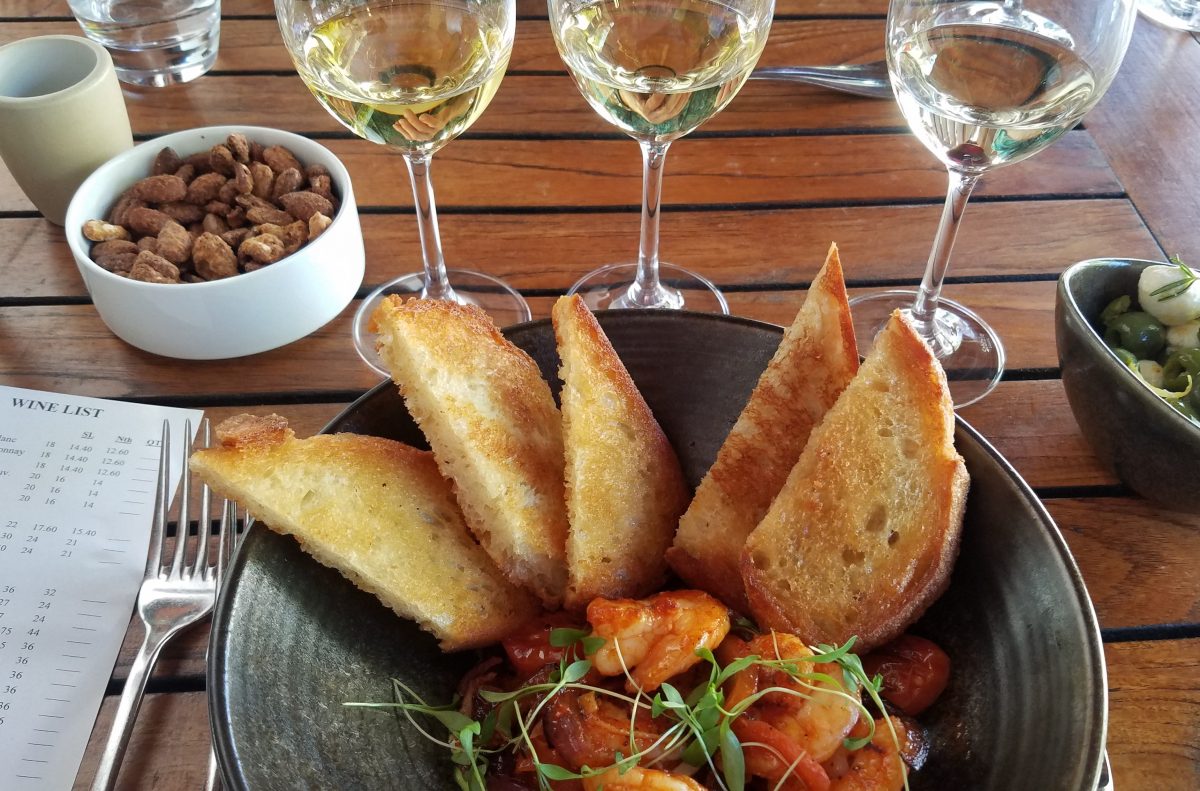 Other share plates may include crispy pork belly accompanied by garden peppers, pluots and herb aioli. My favorite share plate is shrimp à la plancha with green goddess dressing, chili sauce, cherry tomatoes with toasted sourdough. Larger plates include fresh fish such as grilled steelhead with succotash corn, signature smoked pork tenderloin with sweet corn relish and buckwheat soba noodles with edamame, tofu, cashews and yuzu kosho.
---
More Wente options: Golf, Concerts and Tastings
Wine is only one element at the Wente hospitality venues.
Wente Vineyards offers a Greg Norman designed golf course meandering among the vineyards. After a round on the rolling hills, The Grill offers golfers and non-golfers alike a great place to relax and enjoy casual food and drinks with an exceptional view of the 18th green and vines from the dining room or terrace.
The summer Wente Concert series is set in a natural amphitheater tucked behind The Vineyard Table with big name artists such as the Doobie Brothers, Josh Groban and Styx. A delicious buffet at The Vineyard Table can accompany the concert ticket.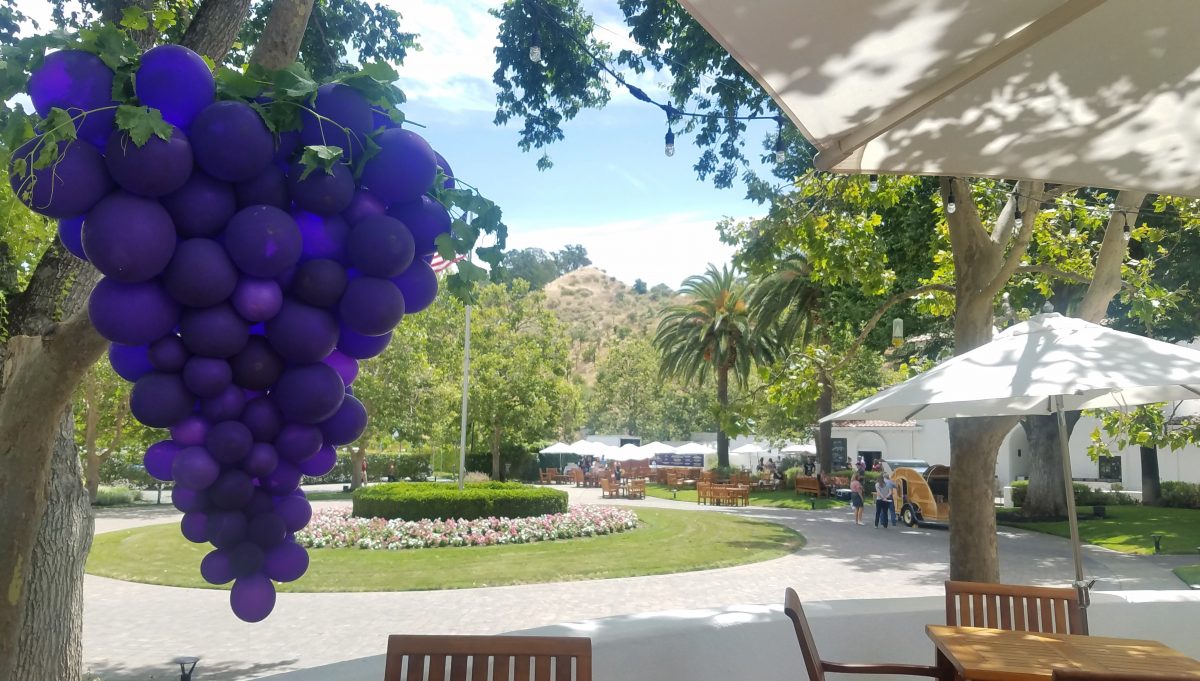 Wente offers a diverse selection of tasting room experiences with a menu of small bites. The Vineyard Tasting Room and Patio offers several tours including a unique wine and cheese tasting and wine pairing in the vineyard caves. There are also tasting and wine blending available at the expansive Wente Estate Tasting Room and blend-your-own-wine Winemaker's Studio at Wente Vineyards located at a site ten-minute drive away.