Premixes for cocktails are, without doubt, not all created equal. Some are bad. Some are, really, bad. But others raise the bar beyond expectation. There's no greater endorsement of a product than a high-profiled industry-member putting their face on it, to be judged by the industry in which they work. Cocktail Artist partnered with Mixologists throughout the country to develop its line of cocktail mixes – all of which are made with natural fruit juices and pure cane sugar (no high-fructose corn syrup) for a smooth, and not-too-sweet finish. Now that the brand's exclusivity agreement with Walmart has expired, it's rolling out across the country.
Among the Mixology marvels who not only worked with the brand, but whose faces and names appear on the labels are: Sky John, Los Angeles, California; Chris McMillan, New Orleans, Louisiana; Robert Porter, Phoenix, Arizona; Vincent Stipo, Philadelphia, Pennsylvania; Matthew Biancaniello, Los Angeles, California; Carla Rivera, Miami, Florida; Stephanie Sanchez, Santa Cruz, California; and, Darnell Holguin, New York, New York.
Drink Me spoke to Jay Whitney, President at FoodStory Brands, which is a self-proclaimed team of food- and beverage-obsessed experts in branding and product development, and works with Cocktail Artist on communicating the brand to on- and off-premise licensees.
DRINK ME: RTDs and Mixers have both good and bad reputations depending on the product. What can you tell the retailer that will help them sell the product?
JAY: The simplest answer is put it on the shelf and we'll do the rest! Merchandising the total line of all 15 Cocktail Artist mixes and bar ingredients on the shelf make quite a statement. The packaging has a lot of personality, and it beckons the customer to take a closer look. Cocktail Artist adds flair to the shelf as each bottle highlights the talented mixologist who collaborated with us to create it. When someone picks up a bottle, they come to understand that Cocktail Artist holds itself to a higher quality standard by eliminating high fructose corn syrup and artificial colors, instead, we use natural fruit juices and flavors along with pure cane sugar and organic blue agave nectar. Plus, it's retailing at an affordable price point.
When engaging with the customer about Cocktail Artist it's important to note that this product is about empowering and teaching the at-home bartender so that they can learn how to effortlessly mix cocktails and spirit-free drinks. Not only is the packaging dedicated to helping them learn but our website and social media channels are filled with recipes and tips from our incredibly talented mixologists.
The cocktail mix and bar ingredient category have lacked innovation for quite some time and category leaders were not meeting the needs of passionate craft cocktail enthusiasts. We noticed there was a gap between the low-end products and the high-end. As we started to dig in and research, we discovered neon colors, artificial flavors, high sugar content, and lack of instruction. Plus, we know that thanks to Millennial culture, home entertaining is on the rise. We decided to produce a superior product, that is still affordable, that involves trusted sources, like our renowned mixologists, and one that delivers better taste without unnecessary chemicals.
"The cocktail mix and bar ingredient category have lacked innovation for quite some time and category leaders were not meeting the needs of passionate craft cocktail enthusiasts."
DRINK ME: What are the price points and why?
JAY: The key mission of the brand is to empower the at-home bartender to mix high-quality craft cocktails, helping them to become confident in their skills. This meant we had to create a platform that was aspirational and affordable and removed the burden of intimation for the home bartender. From our research, we discovered that most of the consumers are moving away from the cheap, low-quality products that have artificial colors, flavors, and high fructose corn syrup. However, the higher quality, premium offerings in the category are sold in glass bottles with high price points. We were able to design a product with the same quality, flavors, and ingredients as the high-quality products but at a much more affordable price point. For the most part, we sit right in the sweet spot between the low-end and the high-end of the category.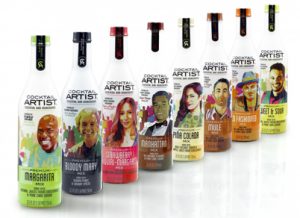 DRINK ME: Who is sitting next to you on the shelf?
JAY: We are aware of who the traditional mass-market players are in this space, and while we think Master of Mixes, Jose Cuervo, and Mr. & Mrs. T's are important players, we don't feel we compete directly with these brands because we appeal to consumers who are committed to higher quality and cleaner ingredient decks.
We definitely keep our eye on the higher-end brands like Powell & Mahoney and Stirrings. Cocktail Artist competes on quality with these high-end brands, but we have the unique point of difference because our recipes are developed by trusted and award-winning mixologists. Our ability to match quality at a more attainable price point for the average consumer is what sets up apart.
DRINK ME: Does Cocktail Artist have full distribution, across all 50 states?
JAY: Yes, Cocktail Artist will continue to be available nationwide in over 4000 Walmart stores. In fact, we are excited to be rolling out seven new items in what is our second year with Walmart, bringing our total number of SKUs to 15. We're equally excited about new customer expansion and Cocktail Artist will begin showing up in grocery and specialty stores across the U.S. by spring 2018. Overall, this is an exciting time for us as we cannot wait to bring Cocktail Artist to even more consumers and inspire the at-home bartender.
DRINK ME: Tell us more about the label work – quite daring.
JAY: When we began our search for an agency partner, we knew we wanted to visually translate our belief that the glass is your canvas. If our goal is to inspire the at-home bartender to create craft cocktails, which we believe is an artistic expression, we needed the bottles to capture this vision. This led us to work with a great agency out of Minnesota called Mackey Creative. They understood deeply what we were trying to achieve from the start. Dave Ahlers, the Creative Director at Mackey said that "Cocktail Artist had it all: a unique trending product, great taste and celebrity mixologists who would be our sales voice. We kept it bright, fresh and hip, and most importantly, we nailed our target market: 'the at-home bartender like you and I.'" Dave's sentiments sum up exactly why Cocktail Artist's packaging turned out to be a showstopper.
DRINK ME: How did you choose the Mixologists with whom to work?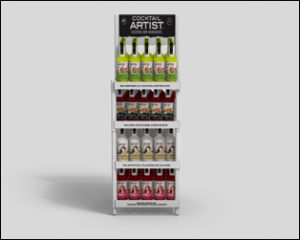 JAY: We believe in the power of authenticity, that we all want a connection to real people, with real credibility, and real stories.
For each of our mixes and bar ingredients, we wanted to find an award-winning mixologist who was deeply passionate about that product, and who would guide the taste profile, flavor notes, recipe, and ingredients.  Beyond the "award-winning" qualification, it was critical to us to have a diverse snapshot of America: gender, ethnicity, geographic location, etc. Finally, we sought out mixologists and bartenders who were passionate, relatable, and accessible because our ultimate goal is to create a community where our brand ambassadors can guide and lead the home bartender.
Our team worked hard scouring the nation, reading articles, award lists, and we began to build a list of candidates. This was a lot of work, to say the least, but we're very proud of the group of truly talented and highly regarded mixologists that met all our criteria, and then some.
DRINK ME: What feedback has the trade given you so far, and what's next?
JAY: We are hyper-focused on marketing campaigns and promotions that drive awareness and trial so that more craft cocktail enthusiasts can experience all we have to offer. In addition, our sales team has locked down new partnerships with several major specialty and wine and spirits distributors. We have also met with over 30 additional grocery and specialty chains across the U.S. to expand the distribution footprint beyond our launch partner, Walmart. We are working closely with our mixologists on a number of promotional campaigns and sweepstakes and have launched a national, regional, and local PR campaign to tell our story. We are also working on a major local market activation featuring in-store demos. Interestingly, without us pushing hard along this vein, restaurants are approaching us asking to add Cocktail Artist to their bar regime. This is exciting because it continues to exemplify that Cocktail Artist is well on its way to becoming a leader in this category. Plus, we are exploring partnerships with spirits companies for activations and collaborations.