"Create a cocktail that reflects your roots, your home, and the traditions that make it special" — this was the directive with which Azuñia Tequila tasked bartenders across the country.
You see, Azuñia is the leading organic tequila available and preserving its place of origin is key. Paralleling that priority is the maintenance of steadfast traditions in tequila-making. The history of this brand is as rich as the fertile volcanic earth in which its agave grows. Therefore, it was only natural that Azuñia Tequila step up as the brand to challenge bartenders with the edict to create a cocktail reflecting the message: Home is Where The Heart Is.
On December 10th at Mi Corazon in Silverlake, California, bartenders competed for a shot at the grand prize: Their cocktail sent to thousands of Saloonbox subscribers, a video on Licensed to Distill's Instagram feed with over 1 Million subscribers, plus a $500 VISA gift card!
Cocktails were judged on:
Visual Appeal: 25% – Do your eyes make you want to drink the cocktail before you even taste it?

Creativity: 25% – Is the recipe original? Does it reflect the theme?

Taste: 50% – Does this recipe taste great with every sip? Is it balanced?
Eight finalists competed, with the winning cocktail coming from Clare Ward, Hippo, Los Angeles for her creation, Talk Derby to Me.
$1 of all cocktails sold during the Live Competition went to the Campfire Giftcard Campaign to support the residents of Paradise, California. For more information on the fundraiser and to donate now, visit the Campfire Gift Card Campaign.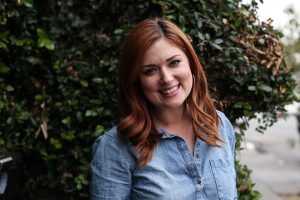 Talk Derby to Me
Inspiration: Louisville, Kentucky, despite being a fairly large city, rarely makes national news, except for one day every year: Kentucky Derby Day. The nation tunes in to watch "the most exciting two minutes in sports" and takes part in the fanfare. Most people don't know that there is a two-week long festival leading up to the race which brings together everyone in the community to participate in one big party.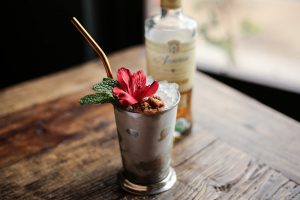 We consume "Derby Pie," and everyone's mom and grandmother have a recipe they hold dear. It's a fairly simple dish, a chocolate and walnut pie loaded with butter. But nothing takes me back to all the memories with friends and family over the years quite like this sweet buttery chocolatey taste. The Azuñia Reposado is the perfect canvas with its caramel, vanilla, and butterscotch notes. To achieve the buttery, creamy texture, I made a Derby Pie Cordial with softened butter, brown sugar syrup and allspice, and a little Nocino (a liqueur made from walnuts and orange), and lime juice to balance out the sweet. This drink reminds me, not just of my family, but my whole community and the joy of the time of year that Derby Season brings.
*Derby Pie Cordial (1 oz melted chocolate, 1 oz softened butter, 1/2 oz brown sugar syrup, 1/4 oz allspice. Whip all ingredients together until smooth)
Whip shake with a small handful of crushed ice. Pour over crushed ice in Classic Pearl Diver Glass. Garnish with small rose and mint bouquet.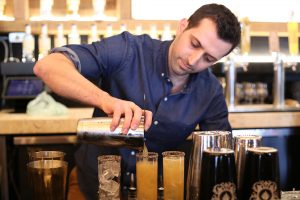 The New Old World
Inspiration: When I think of flavors that remind me of home I think of biking to my local corner store in New Jersey after school and getting Lemon Lime Italian ice. I wanted to create a cocktail that had the nostalgia of my roots from the east coast, with a nod to my Italian heritage, so I added basil because there has never been a shortage of basil in any home I've lived in.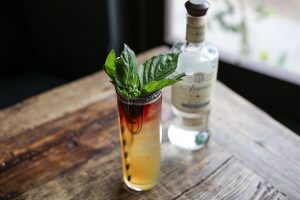 Pimm's represents the endless summer, paying homage to my life in Los Angeles. I incorporated my two favorite drinks of choice, tequila and wine. Azuñia is a special brand to me since it uses organic farming practices and I thought what could be better than pairing it with one of my favorite organic reds, Chateau Moya, an old world wine with a new world flavor profile from Castillon Côtes de Bordeaux.
The Chia seeds represent my growth. Wherever I am planted, I am able to establish roots. All of the ingredients mentioned are things that can always be found in my home wherever that may be, and undoubtedly where my heart is.
Build: Shake and strain into a Collins glass.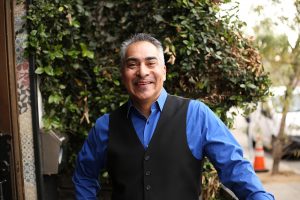 Zapateando (The Stomping)
Inspiration: One of the best family stories is centered around my great, great grandmother, Petra. Even in her 100s she would take a shot of tequila and start stomping her feet from her wheelchair when the music started. The family would say, "Mira su zapateando" (look at her stomping). After her second shot, she would rise and dance!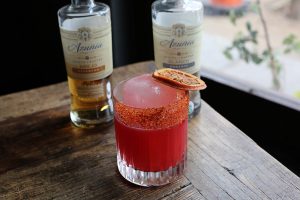 The second part of this cocktail inspiration centers around my grandmother Nina, Petra's Granddaughter. I called her Granny, and she would often take me into Old San Fernando for treats. On hot days, we would seek out a raspado or snow cone. During one of these trips, I asked about a peculiar candy on the shelf. She explained it was a tamarindo candy spiced with chili pepper. I couldn't fathom a candy with spice, but I was intrigued. It shocked and disgusted me. I pondered the unique flavor for weeks, and upon our return, I asked for another candy. She snapped at me, saying, "You spit out the last one," but I told her this time would be different… I have been hooked ever since.
*Hibiscus Infused Combier: Steep 1/2 cup hibiscus with 375ml of combier for 2 hours. Strain and set aside.
**Arbol Chili Tamarindo Syrup: 2 cups water, 2 cups demerara sugar, 8 cleaned tamarind pods, 6 Arbol Chiles. Boil water and dissolve sugar. Lower heat to simmer and add pods. Allow to soften for 45 minutes. Strain out undissolved pieces and return liquid to a low simmer. Add Arbol chiles and simmer for 10-15 minutes and check for a medium stove heat level. Strain and set aside.
***Candied Blood Orange Garnish: 0.25 inch blood Orange Slices, 1 cup water, 1 cup cane sugar, Espelette pepper. Boil water and dissolve sugar. Lower heat and simmer with sliced blood oranges for 45 minutes. Stir gently so as not to ruin fibers of the oranges. Remove and place in warm area to air dry overnight with a light cane sugar dusting and a pinch of Espelette pepper.
Build: In a mixing tin, add all liquid ingredients and shake for proper dilution. Double strain into a Tajin crusted double Old Fashioned glass with hand-cut ice. Garnish with the spiced candied blood orange.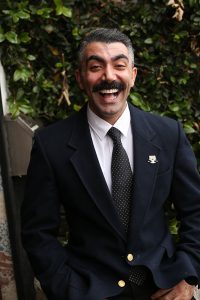 An Open Door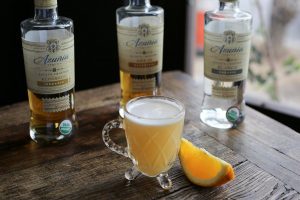 Inspiration: To me, home is where I learned to love hospitality. Coming from a Middle Eastern household, there's a lot of emphasis on treating people who come into your home properly, almost as if it's their house. Growing up I watched my parents host many times, inviting people into our house and bringing out either tea, or a bowl of fruit, or pastries, for them to enjoy while conversing. I relied heavily on my experiences as a child and a palate that's defined by middle eastern flavors to create my cocktail.
*To Prepare the syrup: Combine 1 tablespoon of black tea and 2 dashes of orange blossom water with 8 ounces of boiling water, allow to steep for 25 minutes. Strain liquid and add 8 ounces of sugar to create a 1:1 syrup.
Build: Combine all listed ingredients above in shaker in, add ice, hard shake for 10 seconds, Strain out ice, continue shaking to whip egg white inside a cocktail shaker. Fine strain into a tea glass, apply orange oils from peel to top of the cocktail and serve alongside an orange slice.
Other Contestants in No Particular Order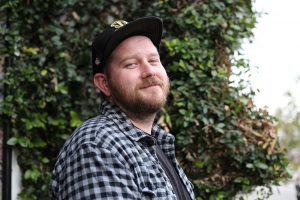 One Eleven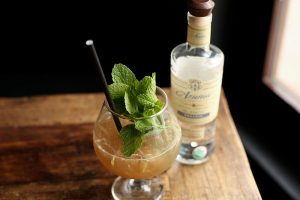 Inspiration: Growing up in the California desert and I spent much of my time with friends, their families took me in like their one of their own, and I got to experience a lot of great Mexican culture. As a young, fat kid, Sundays at the raspado shop were my favorite.
Build: Whip shake with crushed ice, dump into glass, and top with fresh ice and garnish with spent lime and cherry.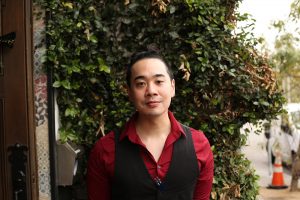 Hua  Jia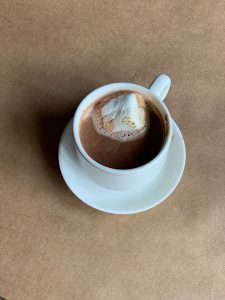 Inspiration: For me, "home" has to both speak to the ingredients of my ethnicity and what I experienced as a child. I feel you can't describe "home" without including what your parents fed you growing up, and those ingredients will best bring back nostalgic feelings years after you've left. My cocktail is based on hot chocolate, and is akin to what I associate with the warmth of "home." In addition, for an ethnic twist, I'm going with Szechuan peppercorns. Spice in spiked hot chocolate isn't uncommon, but I feel I can elevate that idea to a higher level with Chinese spices.
*Thai chili infused Azuñia Reposado
Build: Serve in coffee cup.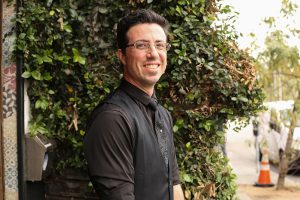 Pasture Eyes
The smell of fresh-cut pasture grass always reminds me of the farm I grew up on in Illinois. The slightly sweet, slightly bitter smells of cut grass immediately bring back memories of being younger in the middle of summer and helping my dad and neighbor bring in the hay. I tried to emulate this smell by incorporating fresh watermelon and paprika. It's a weird combination, but something about the matrixing effect of these two smells always takes me right back to the family farm, listening to cicadas hum and hearing the drone of a hay mower in our back pasture.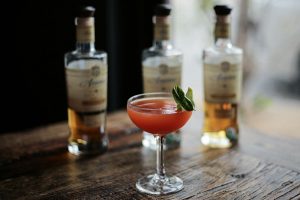 If you've ever been to Tom Sawyer's Island in Disneyland, they do a fantastic job of piping in this smell to recreate the experience of being on a Midwestern farm in the summer. I think that Azunia Reposado does a great job of recreating this experience, and I tried to encapsulate the whole sensory feeling of being on the farm where I grew up and put it in a glass.
*To make the paprika syrup, set 500 grams granulated sugar and 500 ml water on the stove top. Simmer until clear. Add 2 tablespoons of paprika (about 20 grams), 1 teaspoon of dried marjoram, and 2 teaspoons of ground black pepper. Simmer but don't boil for about 15 minutes, stirring every couple of minutes. Take away from heat and let sit for about 20 minutes. Strain through a tea strainer to remove spices.
Build: Add all ingredients to a Boston shaker except for the orange blossom water. Muddle the watermelon into the liquid ingredients. Add ice. Shake for about 20 seconds. Spritz the inside of a chilled Daiquiri glass with orange blossom water. Strain the cocktail through both a Hawthorne- and a tea-strainer into the prepared glass. Garnish with a fresh lime peel cut to look like blades of grass.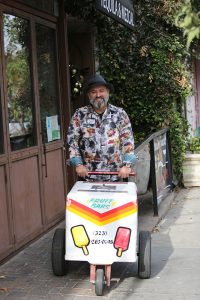 La Reyna del Sur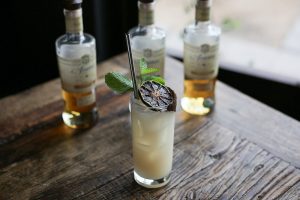 Inspiration: Growing up in my hometown of Puerto Vallarta, my mom made homemade jarabes from the tropical fruit in our backyard. One day I was tired of picking fruit, helping her and taking the jarabes to the local paletaria (ice cream shops) and she told me "one day you'll thank me for teaching you how to make the jarabes." As a tribute to her and what she taught me, I call this cocktail La Reyna del Sur.
The Judges: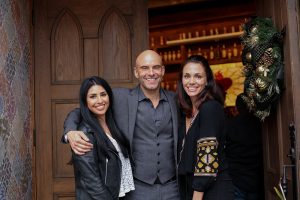 Charity Johnston  
Beverage Director The Madera Group. Receiving the Zagat 30 under 30 award at the start of her career, Charity has no doubt made a huge impact in the Food and Beverage industry. She has worked alongside Gordon Ramsay, Jason Eisner, and Chris Hugh's and her passion truly shows with the outcome of her work. She began her career at the young age of 21 when she decided to enter this industry as a bartender in Los Angeles. Her keen sense of flavor and taste has led her passion to become a full-time career and never stops experimenting. Though she has found being a woman in a heavily dominated male industry to be a challenge it has not stopped her from progressing.
For more on Charity, follow her on Instagram.
Charles Lew Charles
Charles Lew Charles is a lawyer, restaurateur, and consultant who owns and operates multiple hospitality concepts across the United States. Charles is recognized as one of the city's leading experts on not only the operational aspects of restaurants but the equally important although lesser understood licensing, permitting and zoning of hospitality venues. He has appeared on the podcasts Entrepreneur on Fire, Restaurant Unstoppable, and Theater of the Courtroom and has been featured in The Los Angeles Business Journal as "Best Up-and-Coming Restaurant Developer." He has appeared in FLAUNT magazine's "Power Hour" with a title reference "nightlife impresario." And appeared in published editorials in Los Angeles Times, Los Angeles Signature Magazine, and The Huffington Post to name a few.
For more on Charles, follow him on Instagram.
Aida Mollenkamp
Aida is a food and travel expert, author, chef, and on-camera host.  She is the founder of the travel company for food lovers, Salt & Wind Travel, which provides travel planning services and hosts group trips to California, Mexico, and Italy. Aida studied at the Cornell Hotel School and Le Cordon Bleu Paris before joining CHOW Magazine where she worked as Food Editor. Aida then moved to television and hosted the Food Network show, Ask Aida, FoodCrafters on the Cooking Channel, In The Pantry on Yahoo!, and the TasteMade series, Off Menu. Her cookbook, Keys To The Kitchen, is a go-to for home cooks who want to become more adventurous. Aida founded Salt & Wind in 2015 to help food lovers taste the world.
For more on Aida, follow her on Instagram.
Prizes:
Grand Prize: Saloon Box Feature, Licensed to Distill video, a $500 VISA gift card, plus a bottle of Azuñia Black, 2-year Extra Aged, Private Reserve Añejo
Second Place: $250 a VISA gift card, plus a bottle of Azuñia Black, 2-year Extra Aged, Private Reserve Añejo
Third Place: $100 VISA gift card, plus a bottle of Azuñia Black, 2-year Extra Aged, Private Reserve Añejo