The mission statement of Costco says they aim "to continually provide members with quality goods and services at the lowest possible prices."   When it comes to their 2022 Wine Advent-ure Calendar, all we can say is, "Mission accomplished!"
Costco has exceeded expectations again with this year's Wine Advent-ure Calendar, the Holy Grail of wine advent calendars.  This beloved and much anticipated product has become as synonymous with Costco as their hotdog and rotisserie chicken deals.  And in a year where it seems the price of everything has skyrocketed…Costco recession-proofed the item by keeping the price the same as in previous years.  Thanks, Costco!  We really appreciate that!
As in previous years, the design of the Wine Advent-ure Calendar is top-notch.  The box and label designs are really fun and interesting… and definitely "best-in-class" in our opinion.  The wines inside also punch above their weight in terms of quality and value.  You'll find traditional varietals from well-respected countries that you'd expect to find (like Italian Chardonnay, France Merlot, and South African Chenin Blanc) in addition to some really unique varietals and destinations that create a truly unique experience and pleasant surprise (like a Riesling from Bulgaria, a Moldovan Cabernet Sauvignon, and a Rivaner from Luxembourg).  The combination of wines and destinations really makes experiencing this product a "wine adventure."
While other retailers skimp and fill their holiday boxes with tiny, airline-sized bottles, Costco has taken the concept and "Costco-sized" it.  The Costco Wine Advent-ure Calendar is an incredible value with twenty-four 375ml bottles (half bottles of wine)… literally twice the size of the bottles found in most other retailer's wine advent calendars.  The quality of the wines inside the Costco box also far surpasses what other retailers offer.  You're basically paying about $4 a bottle to try an amazing collection of unique wines from around the world.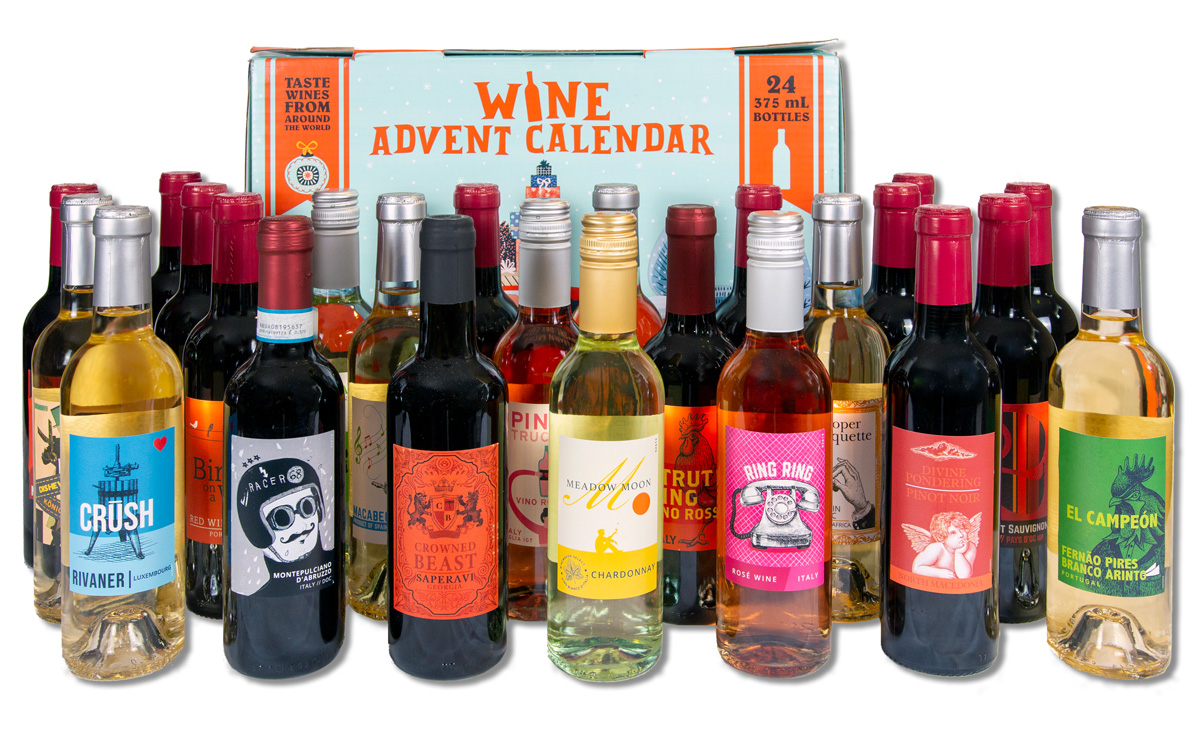 Here's a list of what you'll find in the 2022 Costco Wine Advent-ure Calendar:
STRUT KING – Chardonnay – Italy
PORTRAIT OF A WALLFLOWER – Merlot IGP – Pays d'Oc France
STACKS AND STONES – Sauvignon Blanc – Vin de France
VOLDÉ – Cabernet Sauvignon – Stefan Voda, Moldova
SHADOW DANCE – Chenin Blanc – Western Cape, South Africa
MAGICAL NIGHTS – Pinot Noir – Vin de France
PASTELLO – Pinot Grigio – Delle Venezie, Italy
EVEN STEVEN – White Blend – Bordeaux
AZZIMATO – Montepulciano d'Abruzzo, Italy
TIMOK RIVER – Riesling – Danube Plain, Bulgaria
STRUGGLING DEEP ROOTS – Red Blend – Gascony, France
12 GENERATIONS – Merlot – Danube Plain, Bulgaria
OCTOPADA – Macabeo, Spain
PALLONCINI – Sangiovese / Merlot Rosé – Rubicone, Italy
BLUE SEIRINA – Kotsifali / Syrah – Greece
VENTEUX 22 – Ugni Blanc / Colombard – France
LUNA BRILLANTE – Red Blend – Navarra, Spain
PANNONIA – Zenit / Gruner Veltliner – Dunántúli, Hungary
CHAMPS ANCIENS – Grenache / Syrah – Vin de France
ACAB – Aragonez Castelão – Alicante Bouchet, Portugal
BRILLO SOLAR – Chardonnay – La Mancha, Spain
WEST CAPE GOLD – Cabernet – Western Cape, South Africa
BRILLIANT – Sparkling Blend – France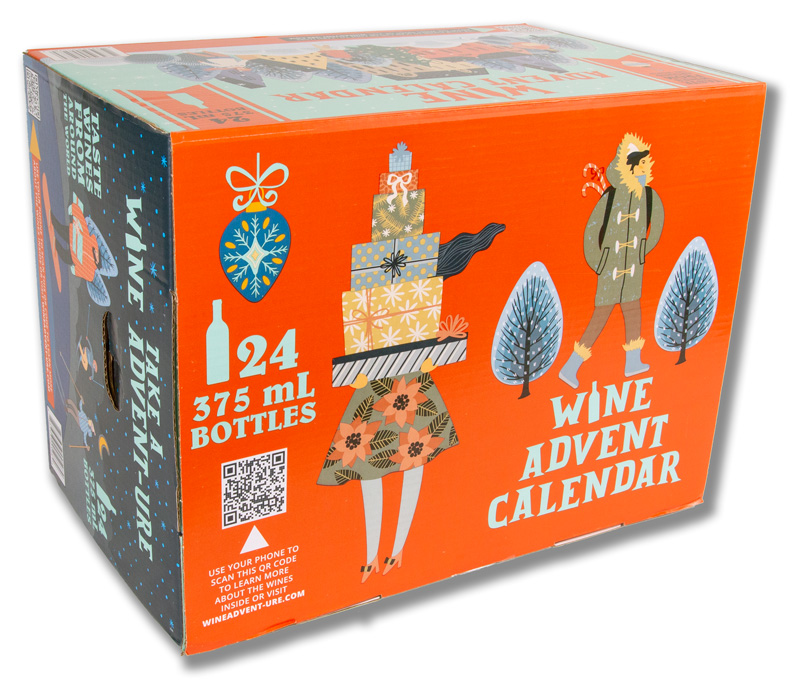 This cult classic wine advent calendar is the perfect early gift for yourself or the wine-lover in your family. 
The product is now available in Costco stores nationwide but tends to sell out every year, so head over to your nearest Costco to grab one while you still can.