According to the Brewers Association of Japan, in 1853, it is said that beer was first test-brewed in Japan by Koumin Kawamoto, a doctor of Dutch medicine. In 1886, the amount of domestically produced beer exceeded the amount of imported beer for the first time, and by 1908, due to a change in the Beer Tax Law, the minimum quantity of the beer necessary to be produced to obtain a manufacturing license became 180Kl, which made management of small-scale enterprises difficult.
The Brewers Association of Japan, states that in 1920, the enforcement of Prohibition in the United States allowed surplus brewing equipment to be imported into Japan. Things got even harder for the small brewer in 1940 when the minimum quantity requirement of a beer manufacturing license for a brewery went from 180Kl to a massive 1,800Kl.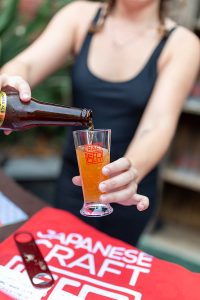 But it didn't stop there. In 1959, the minimum quantity of beer manufacturing for licensed brewery increased again, this time from 1,800Kl to 2,000Kl.
In 1983, licensed production of foreign brand beers was started, and then great news…in 1994, the minimum quantity of beer manufacturing license for a brewery was decreased from 2,000Kl to 60Kl. As a result, many small regional breweries shot up across the country.
In 2017, The JFOODO (The Japan Food Product Overseas Promotion Center) was established by the Japanese government as part of the Japan External Trade Organization. The JFOODO devotes its resources to the branding of Japanese agricultural, forestry, fishery and food products.
In 2018, the campaign "Drink in a New Language" was launched by the JFOODO. It aims to increase visibility and promote Japanese craft beer in the US, with a focus on the West Coast. It includes the following 23 participating craft breweries: Abashiri Beer, AJB Co., Akari Brewing, Baeren Brewery Co., Ltd., Baird Brewing, COEDO Brewery Kyodoshoji Corp., Ltd., Far Yeast Brewing Company, Kankiku Meijo, Karuizawa Brewery Ltd., Kiuchi Brewery, Kizakura Co., Ltd., Mitsubishi Shokuhin Co., Ltd., Miyazaki Hideji Beer Co., Ltd., Niken Chaya Mochi Kadoya Honten, Rise & Win Brewing Co., Sekinoichi Sake & Beer Brewery, Taikyokusha Co., Ltd., Tenchokaku Group, Voyager Brewing Co., WAKU WAKU Tezukuri Farm Kawakita Co.,Ltd., Yamaguchi Hagi Beer Co., Ltd., Yamaguchi Ji-Beer and YOHO Brewing.
And that's where our story begins. There are around 400 craft beer breweries in Japan today, and their perfectly balanced products are fierce competitors on the international stage.
Ry Beville, editor of Japan Beer Times, told Drink Me that while Japanese craft brewers were initially influenced by their European partners, American breweries have had a significant impact in more recent times. Partnerships between US and Japanese breweries have expanded the category and penetrated the US consumer base taking a small, but growing segment of the imported (into the U.S.) category.
Here are 5 craft brews to ask for at your local retail outlet.
SUIYOUBI NO NEKO Belgian Style White Ale from YOHO Brewing
Light amber resembling the color of straw. The nose implies effervescent pilsner but the aroma dictates ale, and quickly asserts the Belgian white ale notes on mid-palate and long into the aftertaste. The bitterness cuts short in perfect timing, making this a Belgian-style ale for ale drinkers and non-ale drinkers alike. This is the perfect "something different" for the traditional pilsner drinker, and it also represents a light, tame, Belgian white ale for the traditional ale fan. A great food pairing partner.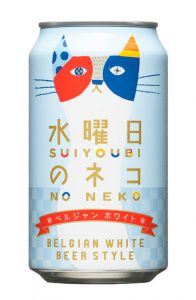 Kyoto Beer White Yuzu from Kizakura Co., Ltd.
White Yuzu takes the yuzu peel, coriander and fruity esters of a Belgian White Ale and adds the delicious citrus flavor of Yuzu. And it does so while maintaining a low 5.0% ABV.

HITACHINO NEST White Ale from Kiuchi Brewery
This wheat beer has been flavored with coriander, orange peel and nutmeg, creating a tart and subtle taste with a refreshing herbal aroma. 5.5% alc. vol.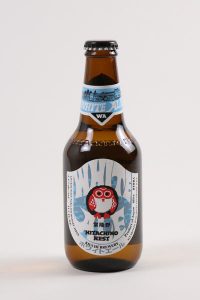 WEISS from Karuizawa Brewery, Ltd.
This white beer is less cloudy than I imagined a wheat malt, modeled from a Belgian or German white weiss to be. Fruity in flavor with layered by subtle nuances. This will match up well to most light foods. alc. vol. 5.5%.

Cyonmage Alt from Yamaguchi Hagi Beer Co., Ltd.
A clever cap pull opens the bottle quickly. Rich brown color, with frothy inviting head motivates salivation from the outset. Nutty on the nose, and so smooth on the taste it makes you take a step back for another look. Truly balanced flavor makes this ale easy to pair, and the roundness of the liquid encourages every sip. A fantastic find.