CAFFE UMBRIA, PORTLAND, OR
In Portland, Oregon Caffè Umbria is a full-bar coffee roaster with two locations on Madison Street and NW 12th Avenue. Retail District Manager, Danica Copus says they have prepped their cocktail menu for their carefully curated Negroni Elixir, which sells for $12. Made with Grappa Nardini, Calisaya, Caffè Coretto Coffee Liqueur, and lemon zest garnish, this one is good one for any bar's menu.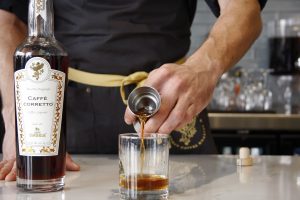 Caffè Umbria's Negroni Elixir Recipe:
A Negroni twist featuring liqueurs crafted by Elixir Craft Spirits in Oregon. $12 SRP
Ingredients:
1 oz Grappa Nardini
1 oz Elixir Calisaya Liqueur
1 oz Caffè Corretto Coffee Liqueur, Lemon Zest
Method: 
Combine ingredients into cocktail mixing glass. Add ice 2/3 full. Stir for 10 to 15 seconds without aeration. Hawthorne strain into a chilled rocks glass. Add lemon zest for garnish.
Portland Locations:
Madison- 710 SW Madison Street, Portland, OR 97205
Pearl District- 303 NW 12th Avenue, Portland, OR 97209
Website // Facebook // Instagram // Twitter
MAD SOCIAL, CHICAGO, IL
Robbie Smolucha, Bartender at MAD Social in Chicago keeps it classic during Negroni Week. At MAD Social, the Frozen Negroni is a call item so ask for it by name.
"I love getting behind Negroni Week every year! Each year I've put a twist on the Negroni as we do here at Mad Social. This year we will be offering our Classic Negroni, A Frozen Negroni and a Negroni Popsicle for dessert! All of which can be purchased Negroni Week For $8," says Robbie.
Looking to pair? Try customizable and shareable charcuterie plates.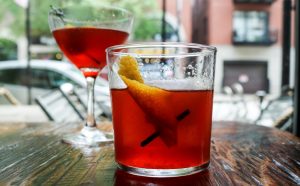 MAD Social's Classic Negroni
SRP $10, Created for $3-4
Ingredients:
1 oz Campari
1 oz Bulldog Gin
1 oz Carpano Antica Formula Sweet Vermouth
Method:
Muddle one orange slice in mixing glass and add ingredients. Stir over ice 39 rotations and strain into a rocks glass over a large square Ice cube. Garnish with an Orange Swath and serve!
MAD Social is a neighborhood spot in Chicago's popular West Loop. It's run by Gina Stefani and is part of the Stefani Restaurant Group.
Website // Facebook // Instagram // Twitter
JETTISON, DALLAS, TX
Dallas-based, Jettison, opened in the fall of 2016 under the same ownership of adjacent Houndstooth Coffee. It offers approachable cocktails and a progressive spirits program, with focus on sherries and mezcals. With dark gray walls, a walnut bar and gold accents emanating a warm glow, Jettison is an intimate retreat for cocktail-lovers who like conversation over handcrafted beverages.
"Jettison donates $1 from each Negroni sold during Negroni Week to No Kid Hungry, national campaign run by Share Our Strength, a nonprofit working to solve problems of hunger and poverty in the United States and around the world, and to push sales and therefore donations, it's up the ante on its Negroni menu," says George Kaiho, Bartender at Jettison.
Special Batched Negroni
Ingredients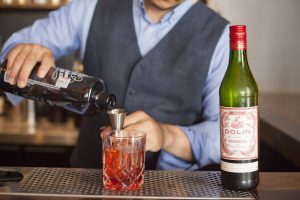 1oz Bol's Genever Gin
1 oz Galliano L'Aperitivo
1 oz Dolin Rouge
Dash of orange bitters
Garnish with lemon peel
Method:
The Negroni being served for Negroni Week will be batched in a keg and matured under nitrogen, so the whole cocktail matures under no influence of oxygen.
1878 Sylvan Avenue, Dallas, TX 75208
Website // Facebook // Instagram
NATIVE HOSTEL, AUSTIN, TX
Native Hostel is situated in a historic 1890s railroader hotel and adjoining mid-century warehouse in downtown Austin, Texas. Native is an experiential luxury hostel offering a kinetic collision of music, arts, warm beds, sleepless nights, culinary delights and spirits.
The Grapefruit Negroni at Native Hostel is not typically on the menu, but it's made available for Negroni Week. It costs the bar $3.62 to make and the price of the drink is $12. It pairs well with the pork lettuce wraps which are on the Native lunch and dinner menu.
The Grapefruit Negroni by Lance Posey
Ingredients:
Gin
Campari
Sweet Vermouth
Lemon
Grapefruit
Citrus bitters
Website // Facebook // Instagram
BAMBOO SUSHI, PORTLAND, OR AND DENVER, CO
At Bamboo Sushi located in Portland and Denver, Negronis aren't technically on the regular menu, but they are designed and paired specifically for Negroni Week. The restaurant group promotes the week via social media and just created some video content for Campari America's Instagram account.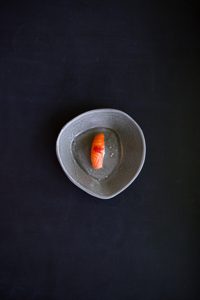 The Bamboo Negroni
Ingredients:
1/4 oz Campari
1/4 oz Cappalletti
1/4 oz rose water
1/2 oz Logia pisco
3/4 St. George Terroir gin
3/4 oz Interrobang Sweet Vermouth No. 4
Website // Facebook // Instagram
BOTTIGLIA CUCINA & ENOTECA, LAS VEGAS, NV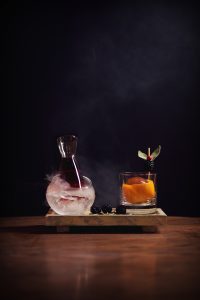 Bottligia Cucina's Blackberry Sage Negroni
Ingredients
1 oz Bulldog Gin
1 oz Blackberry Sage Tea Infused Campari
1 oz Cocchi di Torino
Method: Add all ingredients into mixing glass.  Add ice and stir for 20 seconds. Then strain over blackberry sage ice sphere. Ice Blackberry Sage Tea Ice Sphere. Glass: Double Old Fashion .Garnish: Orange peel wrapped around ice, skewered blackberry and sage sprig
Website // Facebook // Instagram // Twitter
THE MONARCH, KANSAS CITY, MO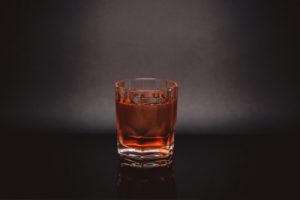 The Monarch Cocktail Bar & Lounge takes this cocktail classic seriously, with a dedicated menu offering seasonal Negroni variations year-round. In honor of
Negroni Week it's asking you to vote for a favorite! As an official sponsor, The Monarch has partnered with Campari to spotlight a full range of Negroni specials and to offer an added incentive: a portion of our sales will benefit No Kid Hungry.
Aristocrat Motors will be on site (6/7) to show you the latest models of luxury Italian cars. Pick up a ballot (here) with your cocktail menu and help choose a favorite Negroni:
The Monarch Negroni – A blend of our favorite spirits made with Midwest flair
The Branco Negroni – Floral White Negroni with elements of Portugal
El Pilli 2.0 – Minerality balances the sweet and spicy elements of this Oaxacan treat
Apollo – A fine balance of strong, sweet, and perfume notes
The 58th Parallel – A peated Scotch-based Negroni balanced with Chicory and coffee
Vecchio Amico – The Monarch's love for Rye and Dry comes together in our take on a French classic
Website // Facebook // Instagram // Twitter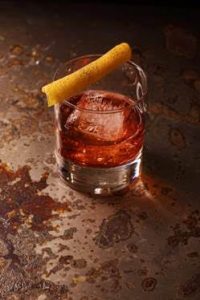 THE STILL, LAS VEGAS, NV
Classic Negroni
Ingredients:
Gin
Vermouth
Method:
Ice-filled tumbler; garnish with orange slice.
Website // Facebook // Instagram // Twitter