It's true. Beer goes down easier than wine or spirits, for most people. Then why shouldn't it be the obvious choice for your holiday dinner? Pairing food and beer is no longer taboo, and it's more than respectable to serve beer with your holiday spread in lieu of other alcohol beverages. Your guests will thank you, and it's really fun to switch them up during courses. The beers, not the guests. Although that's your choice, ultimately.
We've taken the guesswork out of which beers pair best with which food. It's not surprising that how you cook your turkey, for example, will alter our recommendations, so we've included traditional and smoked options. What is surprising is how well Japanese Craft Beers work with traditional American fare. According to this group of craft brewers, Japanese beers have been fashioned in close alignment with the American palate, so it's no wonder they make the best holiday pairings.
Centuries of sake-making have honed the skills of today's Japanese brewers, and the result is that Japanese Craft Beer has evolved into a ideally poised category for Americans looking for an elevated, meticulous, perfectly crafted beer.
After finding ourselves arriving at "Hmmm, this Japanese beer works better with ham than American beer", we decided to commit to this direction, and match all of the following courses with a Japanese Craft Beer brand. The results were astounding! You'll thank us later.
Traditional Turkey Finds A Not-So Traditional Pairing Partner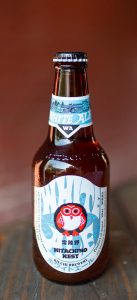 A traditional turkey requires a beer that won't overpower it, and at the same time can stand up to the oily meat (if you cooked it right), without losing structure on the palate. Any of the choices below will only enhance your traditionally cooked turkey, making the overall dinner a greater success.
Hitachino Nest White Ale makes an excellent choice for the holidays. This wheat beer has been flavored with coriander, orange peel, and nutmeg, creating a tart and subtle taste with a refreshing herbal aroma. This will complement the meat and make the centerpiece of your meal even more special. The reason we like Hitachino Nest White Ale so much is due to its exquisitely measured balance so often found in perfectly created Japanese craft beers. This white ale doesn't just handle your turkey, but it matches up with lots of other winter dishes too, including spicy ones.
Another great choice for a traditionally cooked turkey is Swan Lake Beer's Samurai Barley Wine Ale. Its gem-like beautiful amber body delivers rich flavor created by harmony of fruity ale yeast, strong alcoholic aroma and aging. You can enjoy mesmerizing constellated flavor.
Smoked Turkey Beer Pairing Made Easy 
Let's get on the same page: Akari's Tottori Ginger Brown Ale is amazing by itself, but pair it with a smoked turkey and you'll be giving thanks to the Japanese Craft Beer gods. This flawlessly crafted beer has the exact measure of sweet-spice to compliment (not fight) your smoked turkey flavor. We were excited to make this discovery because, in the past, the Drink Me team has not been a fan of ginger pale or brown ales. Finally Akari has turned us around with its aromatic rendering.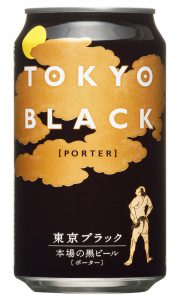 YOHO Brewery wants to bring worldwide attention to Japanese craft beer under its tagline, "Flavorful beers for a joyful life!" It produces the wildly famous Yona Yona Ale, an American pale ale that won the World Beer Cup in 2016, but it's the company's, porter that will make your smoked turkey taste five stars better.
YOHO's Tokyo Black is a genuine porter with an extremely rich taste and creamy top. The smokey flavor that comes from roasted malt combines with the pleasant bitterness of hops. This is a robust beer and boasts a long history of winning international beer awards.
Pairing a Ham? Look to Japan
Thank the beer gods for Kankiku Meijo. The Japanese Craft Beer gods to be precise. The company began producing beer in 1997 and it makes a weizen that will make your ham a talking point. The brewery makes a Kujukuri Ocean Beer Weizen whose tartness is refined but defined, making it a fairly perfect match for that otherwise boring ham you're thinking about cooking.
This hazy blonde is light-bodied and gently carbonated.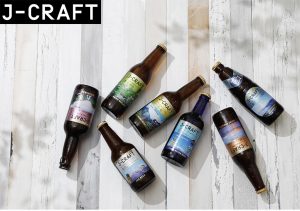 With a goal of making Japanese craft beer more accessible to the everyday beer drinker, food company Mitsubishi Shokuhin launched J-Craft. The label includes weizens and pale ales from around Japan, that represent the terroir of their individual surroundings. J-Craft's weizen is a typical rendering of a well-made German beer, and a best-match for ham. It has a gentle taste and bright golden yellow color with muddiness. The fruity and sweet scent reminiscent of banana brings out the saltiness of your ham, and if you choose to make it with honey, it will highlight that sweetness too, without competing. J-Craft Weizen is also a great place to start for people who are introducing themselves to the beer category as a whole.
Gingerbread's Perfect Pairing Partners
This was a tough one. The myriad of spices found in gingerbread makes for a challenge when it comes to pairing with anything, not just beer. We needed a beer that's layered enough to stand up to this holiday dessert icon, but not overpower it. We turned to our Japanese friends, and sure as bottle opener paper weight on my desk, they came through.
Coedo's Kyara Indian Pale Lager will treat to you to aromatic hops that carry notes of white grapes and spicy citrus, while a fresh, clean bitterness unfolds on the palate. Six different malts are combined with a slightly higher than average alcohol content, bringing a more expansive flavor to this well-rounded, medium-bodied brew.
Tokyo Black from YOHO Brewing is a genuine Porter with extremely rich taste and creamy top. The smoky flavor that comes from roasted malt combines nicely with the pleasant bitterness of hops, adding up to a perfect gingerbread pairing partner.
---
 Participating Brands:
 Abashiri Beer
AJB Co.
Akari Brewing
Baeren Brewery Co., Ltd.
Baird Brewing Company
COEDO Brewery Kyodoshoji Corp., Ltd.
Far Yeast Brewing Company
Kankiku Meijo
Karuizawa Brewery Ltd.
Kiuchi Brewery
Kizakura Co., Ltd.
Mitsubishi Shokuhin Co., Ltd.
Miyazaki Hideji Beer Co., Ltd.
Niken Chaya Mochi Kadoya Honten
Rise & Win Brewing Co.
Sekinoichi Sake & Beer Brewery
Taikyokusha Co., Ltd.
Tenchokaku Group
Voyager Brewing Co.
WAKU WAKU Tezukuri Farm Kawakita Co., Ltd.
Yamaguchi Hagi Beer Co., Ltd.
Yamaguchi Ji-Beer
YOHO Brewing