Kanazawa Hyakumangoku Pale Ale
Beautiful rusty color to elevate anticipation of this orange-peel-aroma beer. Delivers heavy at first taste which is what we want from an ale, but tapers quickly so as not to build, but rather maintain. Wonderful balance there. That orange peel reappears at the end with almost a Campari-ish after taste. Ale drinkers, and rye whiskey-based cocktail lovers will enjoy this one.

SUIYOUBI NO NEKO Belgian Style White Ale
Light amber resembling the color of straw. The nose implies effervescent pilsner but the aroma dictates ale, and quickly asserts the Belgian white ale notes on mid-palate and long into the aftertaste. The bitterness cuts short in perfect timing, making this a Belgian ale for ale drinkers and non-ale drinkers alike. This is the perfect "something different" for the traditional pilsner drinker. Alternately, it's a light, tame, Belgian white ale for the traditional ale fan. A great food pairing partner.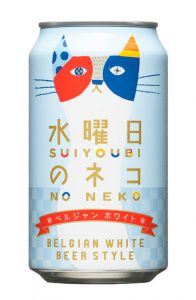 Cyonmage Pale Ale
We love the cap pull which opens the bottle with incredible ease. A mid-amber color, darker than usual for a pale ale, with wonderful effervescence. Lots of lovely fruit/peel on the nose. Delivers a surprisingly, refined taste on the palate with light lager finish. The delivery of a robust flavor is truly restrained perfectly on the aftertaste so you experience all the notes all over again with the next sip. Genius.

Cyonmage Alt
A clever cap pull opens the bottle quickly. Rich brown color, with frothy inviting head motivates salivation from the outset. Nutty on the nose, and so smooth on the taste it makes you take a step back for another look. Truly balanced flavor makes this ale easy to pair, and the roundness of the liquid encourages every sip. A fantastic find.

Kanazawa Hyakumangoku Dark Ale
Black like a stout, and almost as frothy as one, this is for ale lovers. Amazing chocolate on the nose, the milky kind, like Cadbury, and on the palate you'll experience a tame, curated dark ale flavor but without all the residual build. This ale is a "must" as it delivers the parts we love: the color, creaminess and chocolate notes, with none of the overloading that can be associated with big black ales. We loved it!