Chocolates, roses and love potions — we have it all in 25 cocktails that will blow your partner's mind without blowing your budget. We're Drink Me and no matter what the occasion, we have a cocktail for that!
The Ruby Slipper
Ruby Slipper from Grange Restaurant & Bar in Downtown Sacramento
Complete with Ketel One Citron, baked lemon syrup, Naranja Orange Liqueur, Meyer lemon juice and infused with hibiscus tea for a vibrant red color, Grange's Ruby Slipper offers lovely hints of local citrus and is served warm as a way to light up your soul and make you feel happy from the inside out!  Red, as with roses, is the color of love, of course.
1 oz. Ketel One Citron

.5oz. Baked lemon syrup

.5oz. Naranja orange liquor

.5oz. Meyer lemon juice

Hibiscus tea
Build: The Ruby Slipper is shaken and served in a martini glass with beautiful edible flowers as a garnish. (In case the boyfriends/husbands forgot to buy flowers!)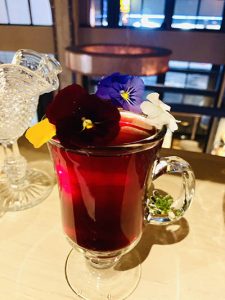 The Rye Not
Rye Not from Grange Restaurant & Bar in Downtown Sacramento
A play on an Old Fashioned, Head Bartender, Teresa Loughner created this straightforward cocktail with Bulleit Rye, Scrappy's Bitters and a tamarind syrup used as the sweetener. Tamarind is spicy and fragrant and has a tartness to it (just like one may feel on a day like Valentine's, without having a lover!) while the rye whiskey is spicy and hot so the elements play well together.
2oz. Bulleit Rye

.5oz. Tamarind syrup

4 Dashes, Scrappy's Bitters
Build: The Rye Not is served in a double Old Fashioned glass, over a large cube, stirred and strained over the cube.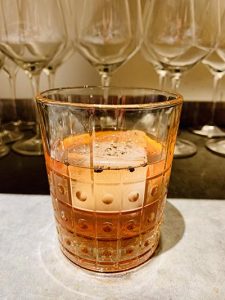 Heart Beet
Heart Beet from bar-driven restaurant Tratto in San Francisco's Union Square
The combination of Four Roses Bourbon, Bruto Americano, Yellow Chartreuse, Blood Orange Beet cordial and lemon in Tratto's Heart Beet provides a warming, cocoon feeling, perfect for those who want to snuggle up with their significant other.
1.5 oz 4 Roses Yellow Label

.75 oz Blood Orange – Beet Cordial

.5 oz Bruto

.5 oz Yellow Chartreuse

.25 oz Lemon



Build: Shake and strain. Collins w/ Kold-Draft pebbled ice. Garnish with burnt Cinnamon stick and dehydrated blood orange.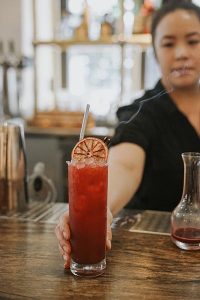 Loveless
A spirited, bar-driven restaurant serving rustic Italian fare with modern sensibilities, Tratto means the stroke of a pen in Italian, a nod to the neighborhood's artistic history. A flavorful menu of simple, delicious and shareable dishes coupled with casual, communal-style dining creates a neighborhood bar experience inspired by the Italian happy hour tradition of "aperitivo." Dishes such as house-made pastas and sausages, pizza, seasonal vegetables and seafood are prepared with as little manipulation as possible, ranging from slow-cooked braises to "à la minute" cuisine. The full bar features traditional Italian cocktails with a twist, house-made Italian Sodas and limoncellos, and beer and wine sourced from the best of the West Coast and Italy. www.tratto-sf.com
1 oz Vida Mezcal (with Activated Charcoal)

1 oz Cardamaro

1 oz Gran Classico

Atomized Green Chartreuse
Build: Stir, spray footed cocktail glass , strain. Glass: Fancy Cocktail Garnish: Cocktail Cherry.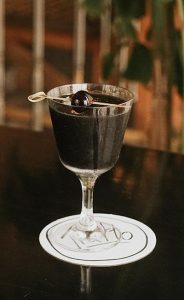 Love Potion #9
1.5 oz. CÎROC Black Raspberry

1. oz Pomegranate Juice

.75 oz Simple Syrup

.5 oz Lemon Juice

1 Dash Bitters
Build: Combine all ingredients. Shake, strain. Top with 2 oz. Ginger Beer. Glass: Highball. Garnish: Berries.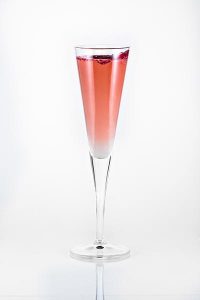 Pink Kisses
1.5 oz DeLeon Tequila

1oz Fresh Grapefruit Juice

.5oz Fresh Lime Juice

1 Bar Spoon Cane Syrup

Garnish: Grapefruit Slices

Sage Advice
From Sea-Guini at Opal Sands Resort / Clearwater Beach, Florida
Apparently egg whites have been known as an aphrodisiac since the ancient times since they contain significant amounts of protein and cholesterol known to boost testosterone and energy. The Sage Advice served at Sea-Guini at Opal Sands Resort blends Stoli, simple syrup, fresh lemon, an egg white, sage leaves and a tablespoon of fig preserve and is garnished with sage and a spray of rhubarb bitters.
2 oz. Stoli

1 oz. of simple syrup

1 oz. of fresh lemon juice

1 egg white

5 sage leaves

1 tablespoon of fig preserve
Build: Add all ingredients to shaker starting with egg white and lemon juice first and dry shake without ice. Add remaining ingredients with ice and shake until chilled. Double strain, pour into a martini glass, and garnish with sage a spray of rhubarb bitters.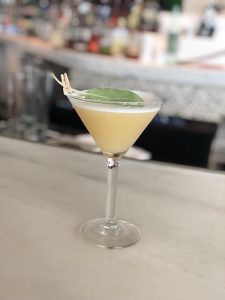 Down & Dirty Pineapple Martini
From Flame at Hedonism II / Negril, Jamaica
Light and refreshing, the pineapple martini is a libido lifting guest favorite at Hedonism II. Loaded with vitamin C (essential to the production of happy hormones,) pineapple serves as a powerful antioxidant helping us look good and feel good. Additionally, the tropical fruit provides the body with thiamine, a nutrient which helps provide the energy needed for an optimal sex drive. Crafted with freshly squeezed pineapple juice, the vodka of your choice, orange liqueur and lime juice, this sweet, yet tart cocktail will certainly satisfy your palate, and help get you in the mood.
1 1/2 oz. pineapple juice

1 oz. vodka

1 oz. orange juice

1/2 oz. lime juice
Build: Shake ingredients together in a cocktail shaker with ice, then strain into a martini glass. Garnish with a pineapple wedge and enjoy!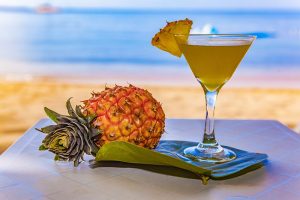 Spicy Senorita
VASO at the AC Hotel Columbus Dublin
Sure to heat things up, the Spicy Senorita is a refreshing and flavorful cocktail with a kick. It's made with Espolon tequila, mezcal, apple cider lime, chili syrup and is garnished with chili peppers, an aphrodisiac that stimulates endorphins and speeds up the heart rate.
1.5 oz. Espolon Silver Tequila

0.25 oz. Vida Mezcal

0.75 oz. Ohio Apple Cider

0.75 oz. Lime Juice

0.75 oz. Chili infused Simple Syrup
Build: Shake all ingredients. Double strain over ice in a chili salt rimmed rock glass. Garnish with a single Thai Red Pepper.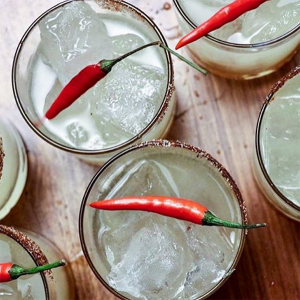 Black Magic
From W Punta de Mita / Punta de Mita, Mexico
Certain cultures believe the aromatic spice, cardamom, is not only a potent aphrodisiac but also helps men in need of a little "pick me up." W Punta de Mita's newest cocktail concoction, 'Black Magic,' is the perfect refresher when spending some time with your significant other. The craft cocktail features ingredients such as dry hibiscus, activated charcoal, Ancho Reyes liqueur, pineapple puree, and cardamom, which increases blood flow and releases muscular tension. Love potions might not work, but this aromatic cocktail will.
8 raspberries

1 ounce of pineapple puree

1/2 ounce of ginger

5 grams of dry hibiscus

2 grams of activated charcoal

1/2 ounce of Ancho Reyes liqueur

1/2 ounce of Campari liqueur

1/2 ounce of Absolute vodka

2 teaspoons of Licor 43

1/2 ounce of natural syrup

1/2 ounce of cranberry juice

1 piece of cardamom

2 grams of silver pastry dust
Build: First, infuse the Campari liqueur with dry hibiscus, let that sit. Mix the pineapple puree, raspberries, cardamom, ginger and Licor 43. Separately mix activated charcoal, silver pastry dust, and vodka together. Shake and stir the Campari infusion, pineapple puree mixture, Ancho Reyes liqueur, cranberry juice, and natural syrup with ice and pour using a double strainer into an old-fashioned glass with fresh ice. Top drink with crushed ice. Using a dropper top it off with the vodka mixture. Add red and yellow edible flowers and lemon spiral for garnish. Enjoy!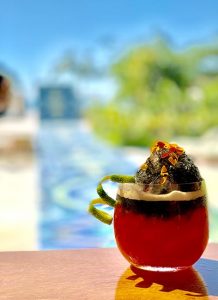 Cobra Love Bite
From Michelin-starred Rasa in Burlingham, California
Scotch

Mango

Ginger

Habanero Tincture

Caramelized Green Apple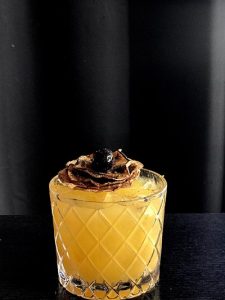 Dhuaan
From Michelin-starred Rasa in Burlingham, California
Mezcal

Lagavulin Single Malt Scotch

Ginger

Lime

Habanero Tincture

Quireda
From Michelin-starred Rasa in Burlingham, California
Tequila reposado

Mezcal

Green Apple

Lime

Cayenne Aalt

Caramelized Jalapeno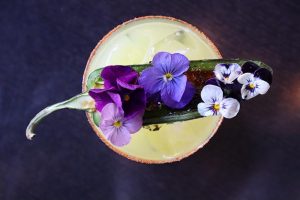 It Takes Two to Tequila, $12
Atop the marble Grand Stair inside Chicago's historic Merchandise Mart, Marshall's Landing, Chicago will get in the mood for Valentine's Day by serving specialty cocktails on Thursday, Feb. 14 and Friday, Feb. 15.
Don Julio Blanco Tequila

Godiva Chocolate

Chocolate Bitters

Half-and-Half

Chocolate Syrup

Splash of Orange and Lime Juice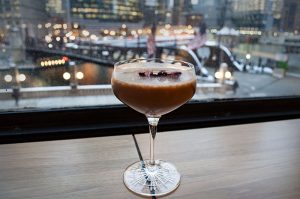 Sensual Chocolate, $12
Marshall's Landing, Chicago
Ketel One Vodka

Baileys Irish Cream

Simple Syrup

Godiva Chocolate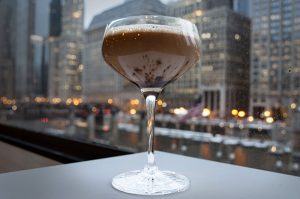 Kiss From a Rosé
Marshall's Landing, Chicago
Hangar 1 Rosé Vodka, $10

Topo Chico Sparkling Water

Simple Syrup and Muddled Strawberry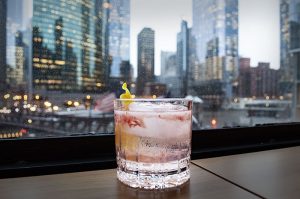 Hot, Hot Toddy
6 ounces hot black tea

1 ounce The Glenrothes 12 Year Old

1 ounce Cognac  ½ ounces

Bénédictine

2 dashes Angostra bitters

1 whole nutmeg

1 lemon wheel studded with a few cloves

1 cinnamon stick
Build: Stir tea, The Glenrothes 12 Year Old, Cognac, Bénédictine, and bitters in a mug; grate a little nutmeg over. Garnish with lemon and cinnamon.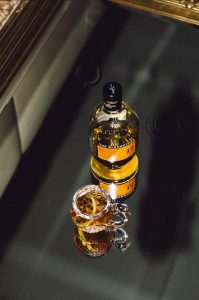 The Glenrothes Whisky Potion
1⅔ cups The Glenrothes 10 Year Old  \

1⅔ cups strong black tea

½ cup fresh clementine or orange juice

½ cup fresh lemon juice

½ cup Oleo-Saccharum

7 dashes Angostura bitters

1½ teaspoons freshly grated nutmeg, plus more for garnish

Lemon and orange wheels (for serving)
Build: Combine whiskey, tea, clementine juice, lemon juice, Oleo-Saccharum, Angostura bitters, and 1½ tsp. nutmeg in a large bowl or pitcher; cover and chill 3–8 hours. Strain into a punch bowl and add several lemon and orange wheels and 4 cups ice. Serve punch in cups over ice garnished with nutmeg.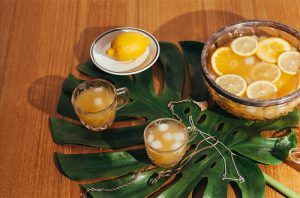 Forbidden Fruit
A secret romance deserves an equally flirtatious tipple. Created by Tim Herlihy, National Ambassador for Tullamore D.E.W.
Build: Add all ingredients to a mixing glass with ice. Stir and strain into a coupe glass. Garnish with an apple slice.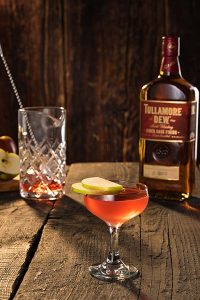 Riviera Rose
What's more romantic than red roses? This pink drink will have you falling in love all over again. Created by Mattias Horseman, Hendrick's Gin Ambassador
2 parts

Hendrick's Gin

1 part Giffard Pamplemousse

½ part apricot liqueur

1 part fresh lime juice

½ part egg white
Build: Combine ingredients and shake with ice, then shake without ice. Strain into a coupe and garnish with a rose petal.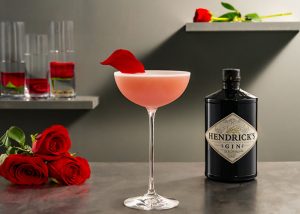 My Sweet-Tea
2 oz Vodka

4 oz AriZona Sweet Tea

.5 oz Lemon juice

Lemon wheel
Build: Shake all ingredients together with ice in cocktail shaker. Strain into a highball glass filled with ice. Garnish with lemon wheel.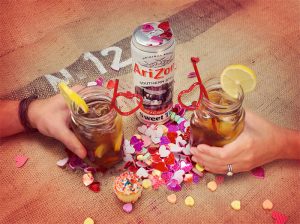 I Heart Margarita
1.5 oz Jose Cuervo Tradicional Reposado Tequila

.5 oz Hum botanical liqueur

.5 oz Yuzu juice

Lemon peel
Build: Combined all ingredients, except lemon peel, into cocktail shaker with ice. Shake well. Strain into chilled cocktail glass. Rub lemon peel around rim. Garnish with lemon peel.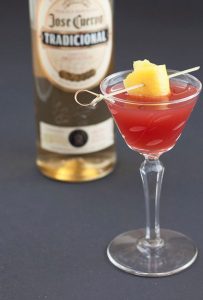 Black Raspberry Sangria Potion
5 oz Chambord® Liqueur

2 oz Jack Daniel's® Tennessee Honey

6 oz Spanish Red Wine

4 oz Ginger Ale

Raspberries (Garnish)

Lemon Wheels (Garnish)



Build: Mix all ingredients together with ice in a carafe and stir. Garnish: Raspberries and Lemon Wheels.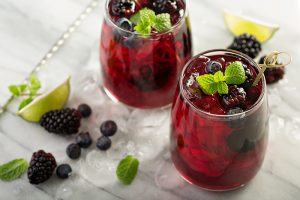 Panorama Daiquiri
It doesn't get more romantic than this. Located on the 40th and 41st floors of the Aliz Hotel in midtown Manhattan, guests can sip the Panorama Daiquiri while enjoying stunning views of New York City.  The Panorama Daiquiri features Owney's Rum – a blend of super-premium white rum with a two year-old cask Dominican Rum, blended and bottled in New York City.  Owney's Rum was founded by New York-native Bridget Firtle who left a Wall Street career to pursue her passion for creating the new style of American rum.
Owney's Rum

Pineapple gomme

Toasted coconut

Lime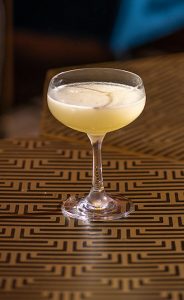 Sweetheart Sorbet Sour
1 oz. PAMA Pomegranate Liqueur

2 oz. vodka

2 oz. black cherry soda

Cherry vanilla sorbet

Maraschino cherries for garnish
Build: In a shaker, pour 1 oz. PAMA Pomegranate Liqueur and 2 oz. of vodka over ice and shake well. Strain and pour into a 9 oz. rocks glass. Top glass with 2 oz. of black cherry soda, garnish with Maraschino cherries and a scoop of cherry vanilla sorbet.