Started by longtime Sonoma friends, Matthew Allan and Kenny Rochford, West + Wilder—a great bottle of wine that happens to come in a can—is redefining the look and taste of canned wine and setting a new benchmark for quality within a growing category. Dedicated to sustainability and taste, the small wine company with big world values recently added a Sparkling White and a Sparkling Rosé to their portfolio of West Coast inspired wines.
With varied backgrounds in marketing and the wine industry, co-founders Matt and Kenny launched West + Wilder in May 2018 with the vision of making wine more accessible, approachable and fun. An opportunity for them to support causes they value, like protecting our National Parks, and making customers smile, they are excited about what they do and how they can share it. "West + Wilder is a celebration of the dreamers, the seekers and the thinkers. It's for those who appreciate good things in life with care, humor, mindfulness and beauty," explained the co-founders. "We scoured the West Coast to discover and uncover the best of each state's wine regions. Being labeled non-vintage with a broad appellation allows us to focus, without restriction, on quality while offering great value. Cans deliver immediate gratification; these wines are made to be enjoyed at release. No guessing."
Generating a buzz (and selling out of the Sparkling Rosé) at the Bay Area's annual Outside Lands Festival, cans of West + Wilder are readily available at hotspots up and down the California coast, such as the San Francisco's Ritz Carlton, the Pebble Beach Resort, Yosemite's Rush Creek Lodge, and the famous Hollywood Bowl. The wines can also be found in Oklahoma, Minnesota and as far East as New Jersey, Pennsylvania, Massachusetts, Rhode Island and Connecticut.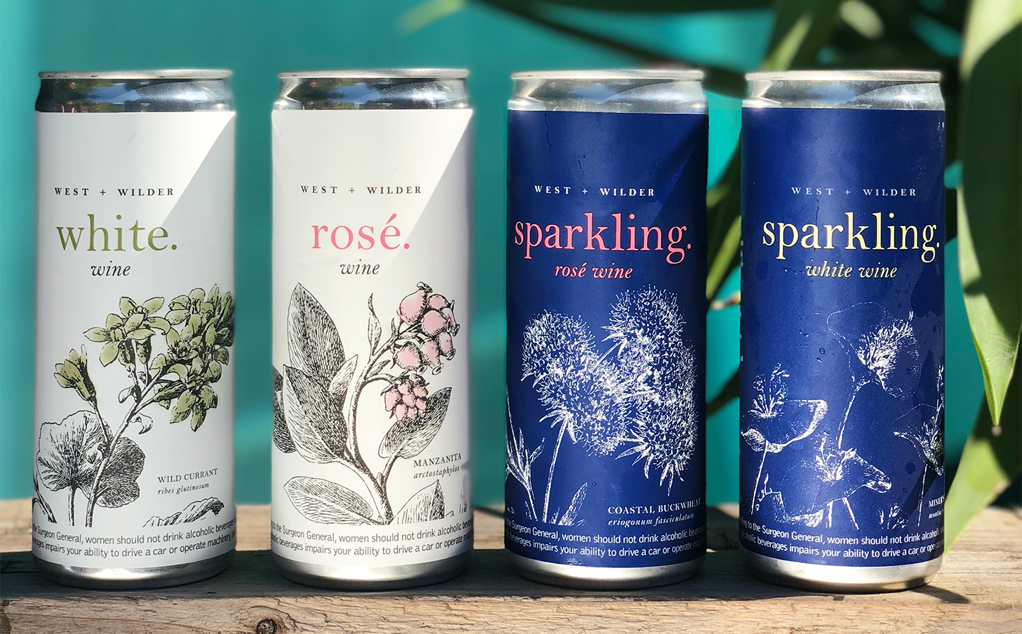 When asked about the packaging, "[We] use aluminum cans—one of the world's most recycled materials and the lightest way to package wine. It's one of the ways we're committed to sustainability. We're also dedicated to giving back and we've reinforced our commitment by partnering with 1% for the Planet. Our 1% goes to support the preservation of wild spaces for us all to enjoy—now and tomorrow. The illustrations that adorn our cans celebrate these places and the native plants that live there."
A 750mL bottle of great wine that happens to come in three 8.4oz cans, designed to pay homage to the special places where the wine is sourced from – an ode to the spirit of the West, West + Wilder's curated line-up includes a White Wine, a Rosé and now a Sparkling White and a Sparkling Rosé. Described as "sunshine in a can", the new Sparkling White is a blend of coastal Sauvignon Blanc, Chenin Blanc, and Albariño. Having playful acidity and balance, this wine has elements of green papaya, jasmine, and lemon lime zest. The Sparkling Rosé is crafted with a core of Pinot Noir and Pinot Gris. With delicate flavors of strawberries soaked in rose water, ripe yellow plums and watermelon rind, this sparkling wine has juicy acidity, and a weighty touch of plushness on the palate.
Unafraid of the unconventional, the brand breaks the perception of the can and makes good wine choices easy and rewarding; both for those who appreciate an active and outdoor lifestyle as well as those who enjoy high-quality, well-made wines. West + Wilder drinks well anywhere and anytime.
West + Wilder's line of products is available at retail wine and liquor stores, markets, and restaurants. For more information and a full list of retailers visit West + Wilder's website (https://westandwilder.com/) and follow them on Facebook and Instagram.