Drink Me readers love their cocktails, but that doesn't mean they're unhealthy. Sometimes you want both, like a healthy cocktail. Sounds impossible? Read on.
Bird & The Bottle in Santa Rosa, California offers a solution with their menu of Health Shots, specialty cocktails infused with fresh herbs and superfoods.
Seeing Double
Carrot juice and house-blended Bird Spices combine with New Amsterdam Gin, Tonic Syrup and Cali Bay Bitters. Our mothers have always told us carrots help improve our eyesight, but studies show they may also reduce the risk of stroke. The house blend of Bird Spices includes peppercorns, which assist in the breakdown of fat cells.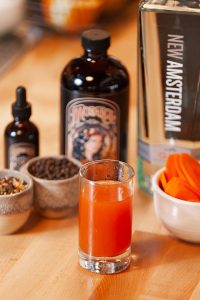 Sage Advice
Fresh sage is combined with Dr. Zyzzx Desert Sage Vodka to give a double dose of this healthy herb. Sage has been shown to lower inflammation, improve brain function, prevent chronic diseases and boost the immune system. Add in antioxidant-rich blackberries and vanilla, which is thought to reduce anxiety and stress, and this becomes an all-around exceptional elixir.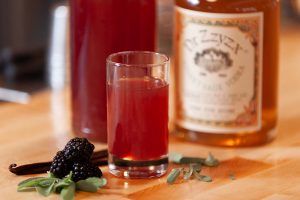 Local Vibe
Bee pollen is the health star in this cocktail.  Bee pollen is credited with a host of benefits including detoxifying the liver, improving prostate health, rejuvenating skin, and treating allergies.  It is mixed with Cynar (an Italian bitter liqueur), Bruto Americano (another bitter liqueur), Lemon Bitters, and a little honey to balance all of the bitter components. Honey has also been shown to lower blood pressure and cholesterol, promotes burn and wound healing, and can suppress coughs and allergy symptoms.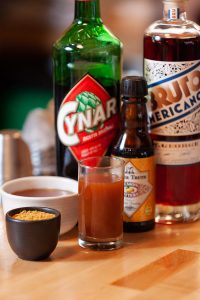 The Bird & the Bottle is open daily and located at 1055 Fourth Street in Santa Rosa.  Learn more at BirdandtheBottle.com.