What better way to kick off the new year than with National Hot Toddy Day. This Friday, January 11th create your own. What's a Hot Toddy, you say? Shame! It's okay…we're here to educate, and Tullamore Dew and Fistful of Bourbon came along to help.
The Hot Toddy, a delicious and simple cocktail, is perfect to warm up from the cold winter weather.
Hot Toddy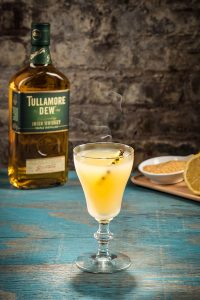 Created by Tim Herlihy, National Ambassador for Tullamore D.E.W.
2 parts Tullamore D.E.W. Original

0.25 parts lemon juice

2 tbsp honey

Top with boiling water and a clove studded lemo
Build: First warm a mug with hot water, then discard water and combine ingredients above. Stir before serving, garnish with lemon.
---
Fistful Toddy
Created by Charlotte Voisey, William Grant & Sons Director of Brand Advocacy
2 parts Fistful of Bourbon

2 parts hot water

½ part mint simple syrup

½ part fresh lime juice

1 bar spoon crème de cacao

2 dashes angostura bitters
Build: Combine ingredients in a mug. Garnish with a large sprig of mint and freshly grated nutmeg.