Trick Dog, the James Beard Foundation Award-nominated bar released its newest menu, Lucky Number 13, designed in collaboration with Idle Hand Tattoo. As the name suggests, this marks the thirteenth of Trick Dog's semi-annual menus, which are released every January and July. The Lucky Number 13 menu debuted this month and runs through the beginning of July 2019.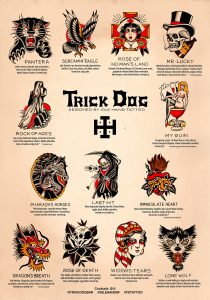 This collaborative project features 13 cocktails, paired with, and named after, tattoos drawn specifically for Trick Dog by Idle Hand, the acclaimed San Francisco tattoo studio, in the form of a "flash sheet", the traditional artwork that tattoo shops use to display their designs. In addition to the menu being for sale, Trick Dog is offering a limited edition, archival poster version, screen-printed by renowned poster artist Lil Tuffy. Sales from the poster ($40 for the limited edition print; $20 for a service copy) featuring the custom artwork will benefit the San Francisco Rock Project, a local non-profit rock music school for kids from seven to 17 years old.  
Continuing their practice of collaborating with local artists of various media, Trick Dog owners, Josh Harris and Morgan Schick, of BVHospitality, and the Trick Dog team were inspired by the classically styled flash created by the tattooers at Idle Hand. The artists chose traditional American tattoo pieces, and recreated them for this menu.
"We've been baking the idea for a tattoo menu for a long time, and as we approached our thirteenth menu, we realized now was the time to make it happen," says Harris. "Based on the friendships we share and the talent at Idle Hand, collaborating with them was a no-brainer."
Lucky Number 13 Cocktails
Pantera: Union mezcal, Rancho Tapua bacanora, Averna, Mr. Black Cold Brew liqueur, tejate liqueur, bitters, served neat

Rose of No Man's Land: Havana Club Anejo Blanco & El Dorado 3 year rums, grapefruit-infused Dolin Blanc Vermouth, lime liqueur, cherry bark bitters, served up

Mr. Lucky: Bulleit Bourbon, Charbay Double & Twisted whiskey, Hidalgo amontillado sherry, Campari, Tempus Fugit crème de banana, Honey Nut Cheerio orgeat, lemon, mole bitters, served on the rocks

My Ruin: Tanqueray 10 gin, Tio Pepe Fino en Rama Sherry, Italicus Bergamot Liqueur, lemon chamomile sorbetto, served up

Rock of Ages: Lot 40 rye, Dubonnet Rouge, pistachio vermouth, Clear Creek Loganberry Liqueur, Kübler absinthe, kelp, served on a big rock

Pharaoh's Horses: The Botanist gin, Amaro Braulio, Luxardo Amaro Abano, Leopold Brothers' Maraschino, sesame vanilla vermouth, served up

Screamin' Eagle: Jack Daniel's Rye, Bertoux brandy, Jägaermeister, Smith & Cross rum, pluot, urfa biber, bitters, served on a big cube

Last Hit: Altos Reposado tequila, Martini & Rossi Bitter, apple, basil, Kübler absinthe, served on crushed ice

Immaculate Heart: Ghee-washed Bombay Sapphire gin, Sacred Bond brandy, Cointreau, thandai, mango Ceylon tea, served on crushed ice

Lone Wolf: Talisker 10 and Ardbeg 10 single malt scotches, Les Alles de Bernardins Muscat Beaumes de Venise, pumpkin seed, maple, lemon, served on the rocks

Widow's Tears: Banks 5 rum, Martini & Rossi Ambrato vermouth, sweet & sour, lime, bouquet garni, soda, served on crushed ice

Rose of Death: Elyx vodka, Lillet Blanc, Combier blue curaçao, Gabriel Boudier crème de cassis, carrot, ginger, lime, white pepper, egg white, served up

Dragon's Breath: Toki whisky, Singani63, Ancho Verde chile liqueur, cucumber, watermelon, anise, lemon, Faction IPA, served on crushed ice
In addition to these signature cocktails, the Trick Dog menu will offer non-alcoholic cocktails, highballs, wine, beer, shots, and low proof cocktails, like the signature Trick Dog Aperitif featuring Hidalgo amontillado sherry, Gran Classico bitter and Carpano Antica sweet vermouth.