Forget presents, Christmas is all about the food. But, new research will make us all think twice about putting those mince pies in our mouth when we see how many calories are them – especially if you've bought them from Asda!
Online fitness coaches at Nuyoo, compared typical foods found in our cupboards at Christmas from five major supermarkets – Asda, Tesco, Sainsbury's, Waitrose and Morrisons – to see what supermarkets are more likely to make us pack on the pounds. The study examined nutritional information for goods, such as a mince pies, cranberry sauce and everyone's favourite – pigs in blankets, comparing the same portion size each time.
The study has shown that Asda's mince pies were the most calorific of all supermarkets, with each containing a whopping 28- calories per mince pie. To compare, that weighs in at a staggering 48 calories more than the lightest option: a 232-calorie mince pie from Morrisons. The study by personal trainers and nutritionists online shows that the largest calorie differences were found for stuffing (120 calorie difference), followed by pigs in blankets (34 calorie difference between Morrisons and Tesco) and cranberry sauce (65 calorie difference).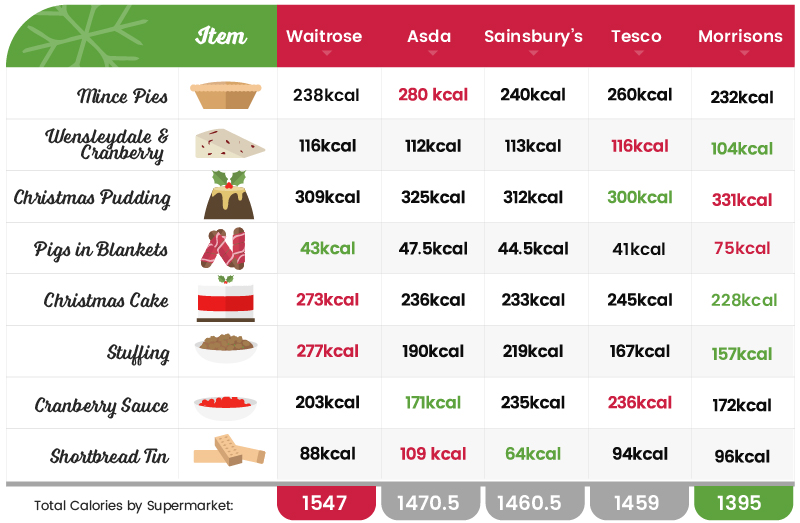 Nuyoo.co found that choosing the right supermarket is as important than ever if you are avoiding a waistline resembling Santa's this year! Shopping around to purchase the least calorific foods could save you a staggering 556 calories – 28% of a women's daily calorie intake, and 22% of a man's. As a result, the report suggests it is wiser to shop at Morrisons, however it's a disaster for your diet to buy from Waitrose.
Which Supermarkets have the most sugar per item?
In the analysis by Nuyoo.co, Sainsbury's on average pour the most sugar into their seasonal products, whereas Asda, on the other hand, include the least, despite being the most calorific supermarket. The difference between Sainsbury's and Asda was 20.7g of sugar, which is the same as over 5 teaspoons, which equates to 74% of your recommended daily allowance.
The study shows that if you decided to buy the lowest sugar-containing items each time you shop, you could save a whopping 46.4g of sugar – equivalent to 12 teaspoons, or 2 days' worth of sugar intake.
The Christmas purchases with the biggest sugar content difference were surprisingly cranberry sauce (buying in Sainsbury's instead of Morrisons could save you 17g of sugar), mince pies (8g difference per mince pie) and Christmas cake (sugar difference of 8g).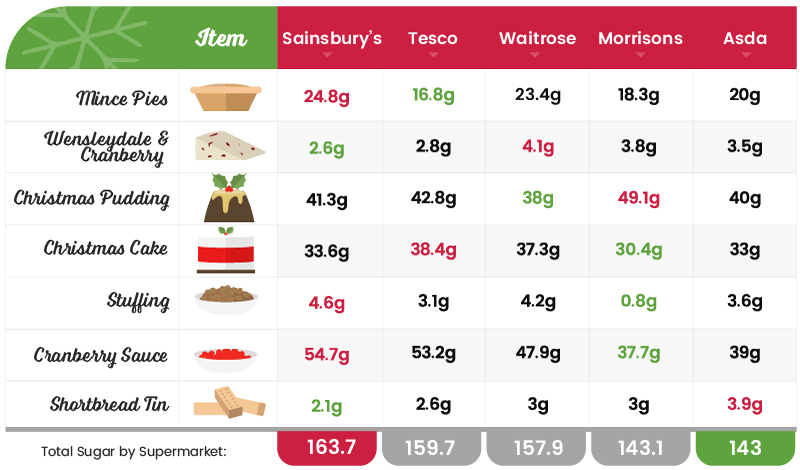 Rankings revealed for fat content
The data reveals that if you are wanting to stay clear of fatty food this holiday season, avoid purchasing food from Waitrose, where the total content of the seven selected Christmas items contained a shocking 19.3g more than the fat content at the Sainsbury's – the supermarket with the lowest amount of fat content on average.
If you choose to shop around this Christmas, you could in fact save yourself 31g of fat in total; a huge amount. It is definitely worth thinking about where you are purchasing your Christmas foods from, especially when taking into account that men should not have more than 30g of saturated fat a day and for women, no more than 20g.
The seasonal foods with the biggest difference in fat content were stuffing (Waitrose's stuffing includes 14.8g more fat than Sainsbury's), pigs in blankets (2.8g difference in fat per portion) and Christmas pudding (there was a 3.8g difference between Asda and Morrisons).
"It is hard to avoid Christmas treats, but smarter decisions could be made this year when it comes to your holiday shop. It may seem like an effort to go to different supermarkets, but the number of calories that you can save – 556 – is definitely not to be sniffed at, it's the equivalent of 7 roast potatoes!" Abby Chinery, spokesperson for NuYoo.co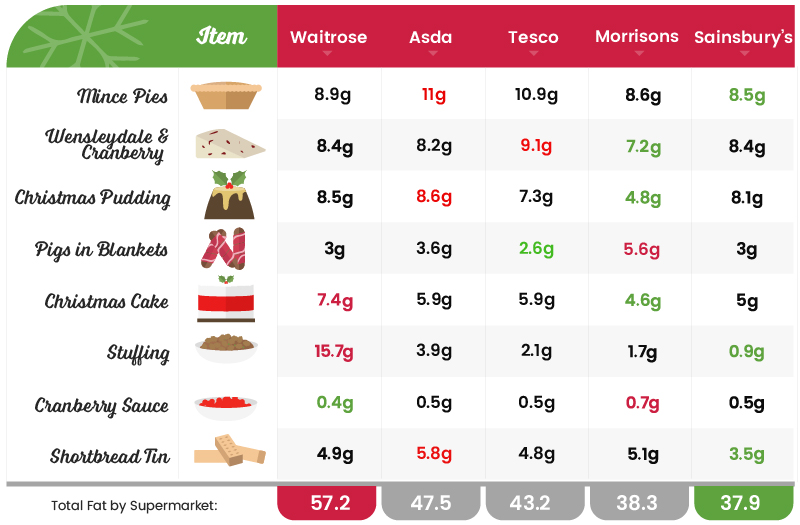 Some simple Christmas swaps for your cupboard this Christmas:
Stilton for goats' cheese: Stilton is higher in calories and fat than goats' cheese.
Christmas Yule log for Panettone: A slab of chocolate Yule log is of course very calorific, so instead try panettone, a lighter seasonal treat.
Roast potatoes for bigger roast potatoes! Cutting potatoes into larger pieces means they absorb less of the fat while they cook.