Valentine's Day is increasingly being referred to as Galentine's Day. It's not just for romance, it's for friendship and appreciating those who love you, the women who support you and the friends who are there for you. In honor of those indispensable gal-friends, here are six Valentine cocktails to make you feel sexy, especially if you're single.
French Rosé Sangria
1 bottle Lillet Rosé wine
3 oz. Grand Marnier
5 oz. club soda
2 oz. fresh raspberries
1 Spring Mint
Edible flower petals for garnish
Build: Pour each of the above in a tall bar glass. Shake with ice, pour into a cocktail or martini glass, and serve.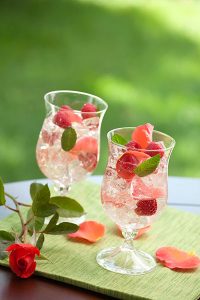 Sweetheart Sorbet Sour
1 oz. PAMA Pomegranate Liqueur
2 oz. vodka
2 oz. black cherry soda
Cherry vanilla sorbet
Maraschino cherries for garnish
Build: In a shaker, pour 1 oz. PAMA Pomegranate Liqueur and 2 oz. of vodka over ice and shake well. Strain and pour into a 9 oz. rocks glass. Top glass with 2 oz. of black cherry soda, garnish with Maraschino cherries and a scoop of cherry vanilla sorbet.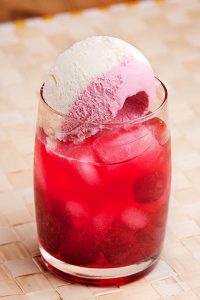 Frozen Rosé
1 bottle of Rosé
3 ounces of pink grapefruit juice
1 cup of simple syrup
2 cups of stem-less strawberries
Build: Pour bottle of Rosé into a sturdy container and freeze for 8 hours. Put frozen Rosé in a blender with the pink grapefruit juice, simple syrup and strawberries. Pulse until you reach a slushy consistency and serve!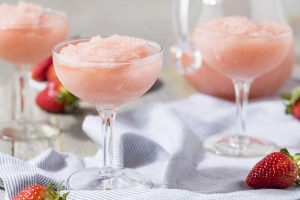 Femme Fizz
Ice
1 oz. vodka
1 oz. St. Germain Elderflower Liqueur
2 oz. watermelon juice
6 mint leaves
½ oz. agave nectar
1 lime wheel for garnish
Splash of seltzer
Build: Fill a cocktail shaker with ice and the ingredients, cover, and shake well for 10 seconds. Pour into a martini glass, then splash with seltzer and garnish with a lime wheel.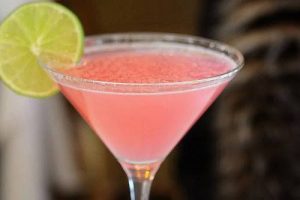 (Very) Cherry Ramos Gin Fizz
Created Charlotte Voisey, William Grant & Sons Director of Brand Advocacy
2 parts Hendrick's Gin
½ part fresh lemon juice
¼ part fresh lime juice
1 part cream
1 part cherry syrup
1 egg white
1 part cherry stem tea soda
3 drops cherry blossom water
Method: Dry shake and shake again. Garnish with mahleb and a small flower.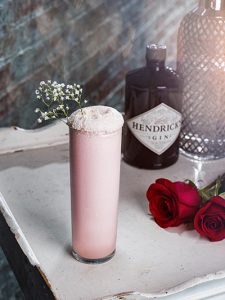 Irish Maiden
Created by Tim Herlihy, National Ambassador for Tullamore D.E.W.
2 parts Tullamore D.E.W. Original
½ part St-Germain
¾ part fresh lemon juice
¾ parts simple syrup
5 slices of cucumber
Method: In a shaker, muddle two Cucumber slices. Add remaining ingredients and fill shaker with ice. Shake and strain into a chilled rocks glass filled with ice. Garnish with three additional Cucumber slices.