What happens when you combine the sheer brilliance of lavish hospitality with some of the most renowned gin in the United Kingdom? Pure Gin-ius that's what. When Le Meridien & Sipsmith joined forces to transform the outdoor terrace at their luxury Piccadilly hotel into a Summer gin haven – we got pretty excited, so naturally we decided to check it out.
As the 2015 Summer has brought incredibly hot weather our way (which of course we still complain about), there couldn't be a better venue to relax, cool down and enjoy the view of one of the most happening areas in London; the heart of Piccadilly. Immerse yourself in a gin oasis, sitting amongst picnic benches, pillows and blankets – hand crafted bird houses sit in unison along the patio as a perfectly cut Astroturf allows you to elegantly float to your seat.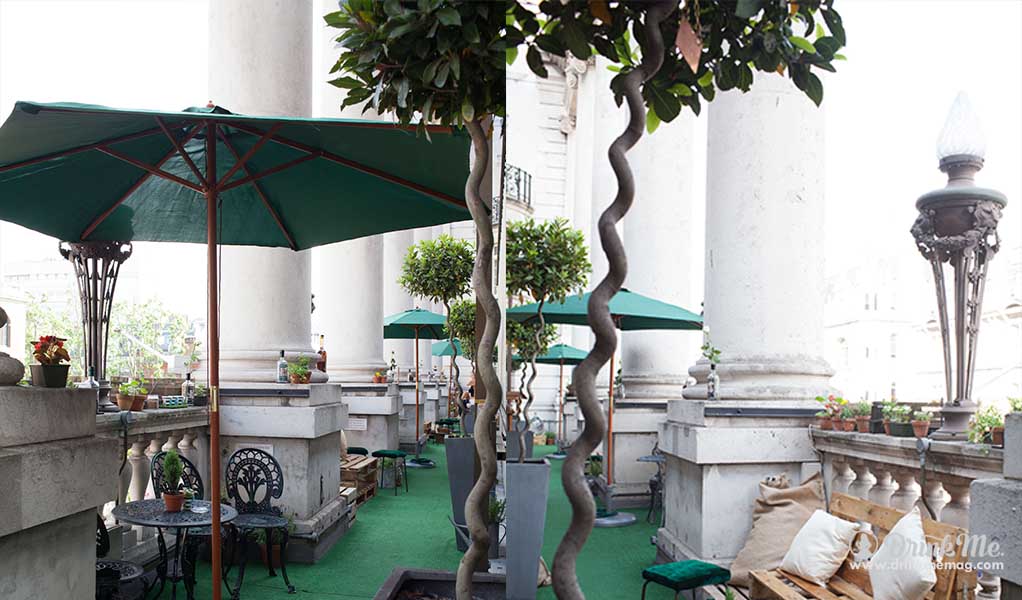 With each drink crafted from a variety of Sipsmith tipples, there's a little something for everyone. The Sipsmith Summer cup is perfect for those hot days; this take on the Pimms is a taste sensation with fresh lavender and lemon cleansing the palate. The British Bellini takes the best of our country's sparkling wine scene (Chapel Down Sparkling Wine), with a Sipsmith Sloe Gin twist to excite the mouth even more.
If you want something a little more macho, try the 'Three Ways Negroni', a unique concoction of Sipsmith's sloe gin, London Dry gin and V.J.O.P. combine with sweet vermouth and Campari to create the godfather of summer cocktails. Sip in style with your 'Dainty Damsel', a vodka based drink with more of that dashing English sparkle from Chapel Down or simply unwind with an after dinner delight, 'London Unlocked'; comprising of a unique blend of Sipsnith London Dry gin infused with roasted almonds, a dash of espresso and Disaranno amaretto.
Even for the pickiest of folk there's something, the ability to style your own G&T complete with homemade tonics, cordials and even down to the seasonal garnishes that top the glass.
You forget where you are for a split second after being overwhelmed with flavor sensations from the cocktail list until you glance at the food menu, that is. The Salmon gravlax open éclair reminding you you're in one of the most traditional patisserie venues in England. Delve further into this unique gourmet collection to discover Devonshire crab cakes with lobster hollandaise, juniper and chili sausage rolls or the smoked duck antipasti with crispy pork skin. Hey, as if you weren't already sweet enough, maybe the orange and gin sorbet tickles your fancy, or how about treating yourself to Jude's Sipsmith G&T Ice cream. Yes you read that correctly, G&T Ice-cream!
For only a limited time the Sipsmith Sipping Garden is all yours to enjoy. So bring a friend, a date (or even a book), get comfy and simply sip, savor and unwind.
Go on, you deserve it.
With special thanks to: Ruziel & laura
TASTE
Salmon gravlax open éclair with Sichuan pepper and dill crème fraiche.
Roasted beetroot with golden ash goat cheese and toasted pine nuts. (V)
Devon crab cakes with cucumber and coriander with lobster Hollandaise sauce.
Juniper and chilli sausage rolls with a grainy mustard dip.
Smoked duck antipasti with crispy pork skin, chicory and beetroot balsamic.
Berkswell cheese with elderflower and pear chutney and seeded cracker bread.
Orange and Gin Sorbet
Jude's Sipsmith G&T Icecream
TIPPLE
STYLE YOUR OWN G&T £14
Sipsmith London Dry gin, Fever Tree Soda, old style homemade tonic cordial, seasonal garnishes (lemon peel, orange peel, juniper berries and fresh herbs from the garden).
LONDON UNLOCKED £13
Sipsmith London Dry gin infused with toasted almonds, one single shot of espresso, Disaronno amaretto, homemade sugar syrup, served straight-up in a martini glass garnished with coffee beans and toasted caramelized almonds.
BRITISH BELLINI £14
Sipsmith Sloe gin, mixed English berries, a dash of grenadine and lemon juice, topped up Chapel Down English sparkling wine. Served in a flute with mixed berries and an edible flower.
THE SIPSMITH DAINTY DAMSEL £14
Sipsmith Damson vodka topped up with Chapel Down English sparkling wine, served in a flute with a lemon and prune twist.
SIPSMITH SUMMER CUP £13
Sipsmith Summer Cup, Fever Tree Lemonade, fresh lemon verbena, a slice of lemon and dry lavender.
THREE WAYS NEGRONI £13
Sipsmith London Dry gin, muddled fresh raspberries, Campari, sweet vermouth, Sipsmith Sloe gin and a dash of Sipsmith V.J.O.P. Served in a rocks glass with a dehydrated orange wheel.
Address: 21 Piccadilly · London, England, W1J 0BH · United Kingdom
Hours: Open daily from 12 to 10:30pm 21st June until September 2015