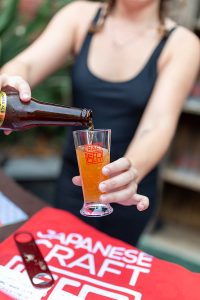 Get your bottle openers out for a sensory trip to the Land of the Rising Sun this fall as Japanese Craft Beer launches its first marketing and visibility campaign in the US. With "Drink in a New Language," the industry association of 23 craft beer producers invites Americans to discover the authenticity, richness and unique flavor profile of Japanese craft beer. With a focus on the West Coast, the campaign kicked-off with a Japanese beer garden party on September 20th in Los Angeles.
The move towards Japanese products transcends sake and whisky in 2018, as Japanese craft beers offer another level of clean, perfectly executed niche brews.
Born in 1994, following industry deregulation that allowed smaller beer makers to acquire brewing licenses, the Japanese craft beer movement has its roots firmly planted in traditional sake making. While German-Bohemian beer styles (alt, kölsh, pilsner) ruled at first in the 1990s and early 2000s, the industry has since widened its product portfolio to include seasonal pale ales, stouts and IPAs, among others, that today will inspire both beer amateurs and connoisseurs alike. To be considered craft brewers, Japanese breweries need to produce a minimum of 60,000 liters of beer a year.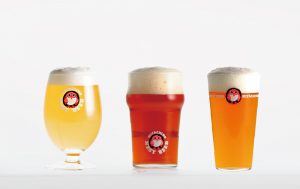 "Our craft beer is authentically Japanese," adds Toshiyuki Kiuchi, Vice President of Kiuchi Brewery, known for its Hitachino Nest Beer. "While our beer is inspired by western traditions, many differentiating factors contribute to making our products unique, including the impact of 190 years-old sake brewing traditions, local ingredients and a dedication to craftsmanship that can only come from Japan."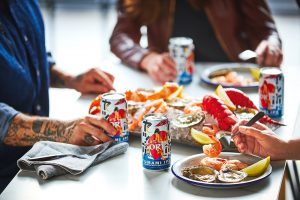 "The American market is obviously a top market for Japanese craft beer exports," concludes Yusuke Miyakoshi, Overseas Sales Manager at YOHO Brewing, famous for Yona Yona Ale and Umami IPA. "We want our beer to inspire Americans to be curious, try new things and realize the care and expertise Japanese craft brewers put into every single can of beer."
Event Kick-Off in Los Angeles
To celebrate the official launch of the campaign, Japanese Craft Beer threw a beer garden party at The Holding Co. in Los Angeles on September 20th. Participants enjoyed live music by Miss DJ Bliss and a special appearance by celebrity guest Kaley Cuoco.
The "Drink in a New Language" campaign is set to target both industry professionals and consumers across the West Coast. While a good range of products is available in the US, Japanese craft brewers are hoping to gain more visibility and influence, as well as introduce new beer to the market via continuous trade marketing relations, consumer events, PR and social media over the course of the next year.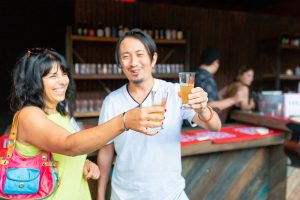 To follow Japanese Craft Beer news and activities, follow @JapaneseCraftBeerENG on Facebook and @Japanese_CraftBeer on Instagram.
---
 Participating Brands:
 Abashiri Beer
AJB Co.
Akari Brewing
Baeren Brewery Co., Ltd.
Baird Brewing Company
COEDO Brewery Kyodoshoji Corp., Ltd.
Far Yeast Brewing Company
Kankiku Meijo
Karuizawa Brewery Ltd.
Kiuchi Brewery
Kizakura Co., Ltd.
Mitsubishi Shokuhin Co., Ltd.
Miyazaki Hideji Beer Co., Ltd.
Niken Chaya Mochi Kadoya Honten
Rise & Win Brewing Co.
Sekinoichi Sake & Beer Brewery
Taikyokusha Co., Ltd.
Tenchokaku Group
Voyager Brewing Co.
WAKU WAKU Tezukuri Farm Kawakita Co., Ltd.
Yamaguchi Hagi Beer Co., Ltd.
Yamaguchi Ji-Beer
YOHO Brewing