Summer may be slipping away but there is still time for one last celebration. Labor Day Weekend is known as the last "unofficial" weekend of summer, and we want you to go out with a bang! Fortunately, we're here to help serve up some seriously-satisfying summer cocktails that will leave you reminiscing on the sunny days and warm nights for weeks to come.
From hair dye colors and infused face lotions to the ever so popular pool floaty, watermelon has become the ubiquitous muse of summer 2018 and we don't want this tasty trend to stop!
complimenting your go-to summer cocktails with refreshing, true-to-fruit, watermelon flavor.
Keep the summer alive this Labor Day weekend, and stay on trend by celebrating with some of these easy and delicious watermelon cocktail recipes below! Fruity beverages aren't your thing? We've also included some refreshing recipes, sans watermelon, should you be one to go against the grain.
WATERMELON MOSCOW MULE
Ingredients:
½ lime, juiced

1 can/bottle of ginger beer

1 part freshly squeezed watermelon juice
WATERMELON ROSE REFRESHER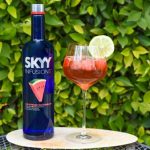 Ingredients:
1 part

Aperol

3 parts Sparkling Rosé

1 part Soda or Tonic Water

Glass: Large Wine or Spritz

Garnish: Melon Balls, Lime Wheels & Cucumber Ribbon

Build in a Large Wine glass over ice. Garnish with Watermelon Balls, Lime Wheels and a

Cucumber Ribbon.
SPICY COLD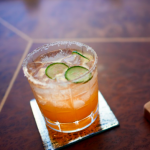 Ingredients:
2 oz

SKYY Vodka

0.75 oz Fresh Lime Juice

0.75 oz Simple Syrup

2 Dashes Hot Sauce

3 Cucumber Dimes
THE CABINET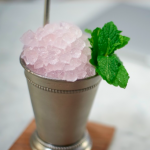 Ingredients:
2 oz

SKYY Vodka

0.25 oz Apricot Liqueur

1 Muddled Sugar Cube

8 Mint Leaves
CITRUS POMEGRANATE PROSECCO PUNCH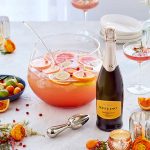 Ingredients:
½ part orange juice

½ part pink grapefruit juice

¼ part pomegranate juice

1 part Ruffino Prosecco, well chilled

Slices of assorted citrus and pomegranate seeds, to garnish
Preparation: In a large pitcher or punch bowl with plenty of ice combine the fruit juices. Pour the Ruffino Prosecco over top. Garnish generously with sliced citrus and pomegranate seeds. TIPS: For best flavour use freshly pressed juices as available. Ruffino Sparkling Rosé is a great choice for this recipe too.
EASE UP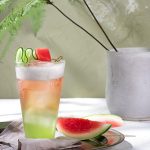 Ingredients:
4½ parts Ruffino Sparkling Rosé

¾ parts cucumber syrup

Watermelon cube

Thinly sliced cucumber
Preparation: Muddle cucumber with water and allow to sit overnight. Strain the water and then combine the liquid with equal parts sugar. Build in a highball glass, garnish with small watermelon cube and a cucumber slice on a skewer.
FROSECCO FIORE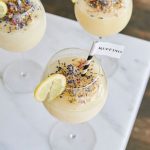 Ingredients:
25 oz Ruffino Prosecco

12 oz St Germaine

8 oz Lemon Juice

4 oz Vodka

8 oz Simple Syrup
Preparation: Mix all ingredients and pour into a frozen drink machine. Mix until frozen and pour in an oversized wine glass. Garnish with fresh lavender, elderflower and a lemon wheel.
NOBLE PUNCH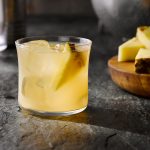 Ingredients:
1.5 oz Casa Noble Crystal Tequila

0.5 oz lime juice

1 oz pineapple juice

0.75 oz simple syrup

Soda water

Dash bitters

Pineapple wedge
Preparation: Place Casa Noble, lime juice, pineapple juice, and simple syrup into shaker with ice. Shake until chilled. Strain into glass; top with soda and bitters. Garnish with pineapple wedge.
AMERICAN DREAM PUNCH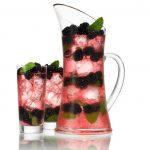 Ingredients:
2 parts SVEDKA Vodka

½ part Orange Curaçao

½ part simple syrup

1 part fresh lime juice

Dash grenadine
Preparation: Combine ingredients in a pitcher and top with ice. Garnish with blackberries and mint.
BITTER PINK PEACH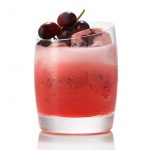 Ingredients:
1½ parts SVEDKA Peach

1 part Campari

¾ part fresh lemon juice

½ part simple syrup

3 grapes
Preparation: Muddle grapes in a cocktail shaker, add remaining ingredients, and shake well. Strain into a rocks glass over ice. Garnish with grapes.
KIWI MARTINI
Ingredients:
½ of a kiwi fruit, skinned

½ oz fresh lemon juice

½ oz simple syrup

¾ oz vodka

1 ½ oz Kim Crawford Sauvignon Blanc

½ oz pomegranate juice
Preparation: In the bottom of a mixing glass, muddle the kiwi in the lemon juice and simple syrup. Add remaining ingredients and shake well with ice. Strain into a chilled martini glass (or over ice into a rocks glass). Garnish with a kiwi slice on rim of glass. Servings: 1 martini