The family behind Willett Distillery, the celebrated makers of Kentucky Bourbon and Rye Whiskey, will add a culinary component to their intimate guest experience. Located at the site of the historic family owned and operated distillery, The Bar at Willett will tell the Kulsveen and Willett story through imaginative dishes, timeless cocktails, and vintage pours.
"We have always been a family of storytellers," proclaimed Britt Kulsveen, Willett President. "The food we serve and the timeless atmosphere we serve it in, all tell a story. Our story, like so many, gets better after a glass of cask strength whiskey."
Leading the spirited kitchen team is Executive Chef John Sleasman. Sleasman, who was formerly Chef de Cuisine to a Five Star Five Diamond restaurant in Charleston SC, has developed a menu inspired by the family's French heritage and Nordic roots. Sleasman's initial attraction to Willett was the family's emphasis on approachability in their elegant whiskies. The menu he has designed for The Barat Willett is an extension of that commitment to complexity and approachability.
"Developing seasonal menus has always been my favorite approach," explains Sleasman. "I love how distinctive Kentucky seasons can be, and I am working to incorporate as many indigenous ingredients as possible."
"Chef Sleasman is talented," asserted Drew Kulsveen, Willett Master Distiller. "Every plate coming out of the kitchen looks and tastes amazing."
Opening dishes range from a classic country ham spread served with pork rinds and white cheddar, to a simple beef tartare served with grilled shiitake mushrooms, oyster, endive, and thinly sliced pumpernickel. Chef Sleasman's personal favorite, the egg salad sandwich with smoked mayonnaise and cured egg yolk, is something he worked tirelessly on until perfection was executed. The turkey tail with peanut, honey, lime and basil has quickly become a staff favorite and pairs exceptionally well with the flagship Willett Pot Still Reserve.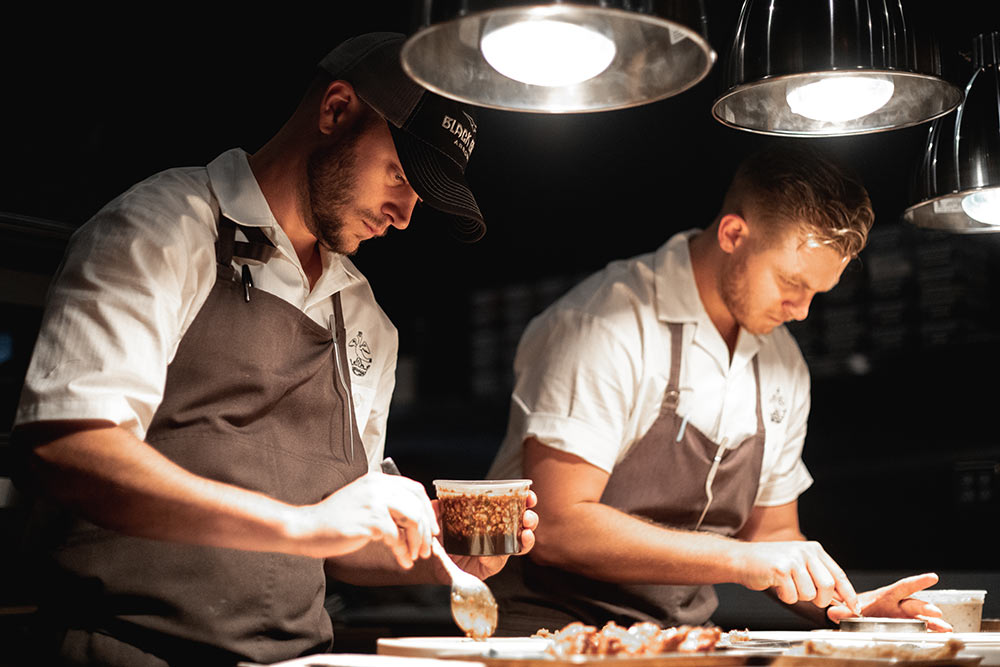 The elevated small plates are designed to be enjoyed alongside choice drink. The Bar at Willett will pour whiskey from vintage collections allowing guests to sample from storied bottles. The bar program led by Barkeep Andrew Pope, will feature timeless classic cocktails and unique interpretations of the classics. During opening celebrations the "Classics with a Twist" menu will incorporate locally-sourced honey with $1 from each cocktail being donated to support local bee farmers. Local beer and a curated list of reserve wines are available by the bottle.
Immediately upon joining the Willett family, Pope took up residence in a tiny historic stone building on the property and began building an ice domain complete with slow freezing technology, chainsaw and sculpting tools. Pope takes pride in chiseling perfectly clear ice for guests.
"Behind the bar is the best seat in the house," explains Pope. "I get to know guests, share my passion, and I can see everything happening in the kitchen."
The open concept kitchen adds to the intimacy with great smells and gratitude flowing freely between the kitchen and the dining room, engaging a full sensory experience.
The timeless atmosphere is an inviting extension of the Kulsveen home, complete with family photos and treasures.
Reservations Essential.
1869 Loretto Road
Bardstown, KY 40004
502.507.9396
Thursday – Saturday lunch is 11-2:30 
Thursday – Saturday dinner is 5-9
Sunday brunch 11-3:30