Photo Credit: Colin Hampden-White
We read a lot about Glenfarclas, and with good reason. There is a fabulous history, people behind that formed their story and of course the incredible whiskies they produced, and their descendants make today.
One of those descendants is George Grant.  We also read a lot about George. He is the very public face of today's Glenfarclas. His travel schedule is immense and he finds himself globetrotting in every season, spreading the word, exciting people about the brand and in doing so he allows people the world-over to understand at some level what Glenfarclas is.
But what do we understand about George? He is a fabulous story teller, he continues day in, day out, to be interested in people. He has the knack of making you feel like the only person in a crowded room for the few moments you might get to spend with him. He never makes you feel like you have asked a stupid question and, if you ask a question which is beyond his knowledge, he'll say so and will try and find the answer out for you. George has inexhaustible energy; he is just as motivated at the start of a show or tasting as he is at the end. And as many will know, well into the night afterwards.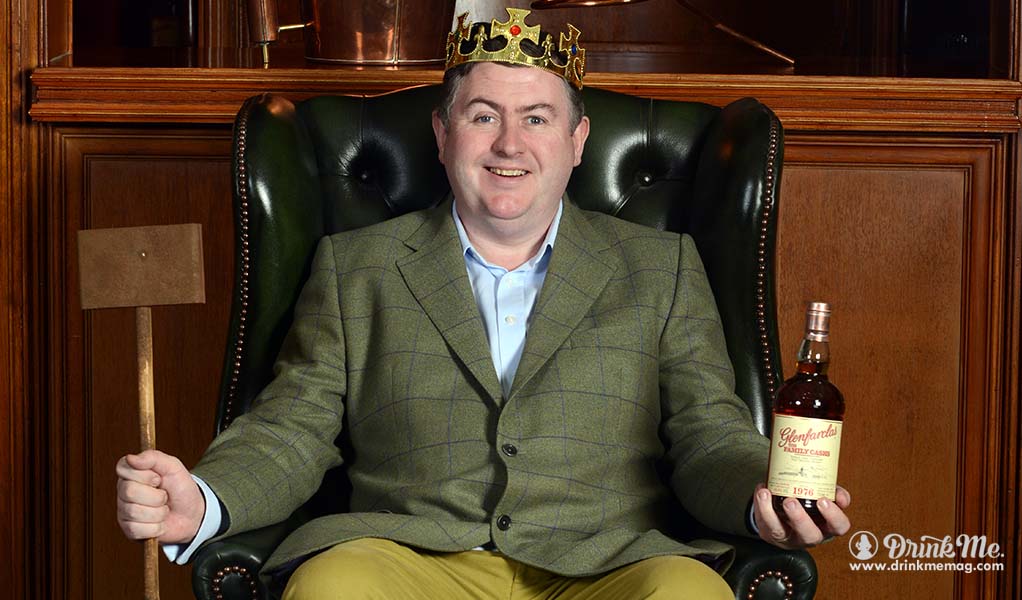 Photo Credit: Colin Hampden-White
He gives his all. When asked how he manages to do it, he gives one simple answer, "pride".  That's pride not just in what he does, or self-pride in the way he conducts himself, but in the product, the distillery, the family history that he helps to carry on and share with the world. Glenfarclas is lucky to have him. There are many families throughout history who have fared far worse with offspring unwilling to carry on the family business or tradition. Fortunately for Glenfarglas, George loves whisky and, beyond that his love for Glenfarclas is far-reaching, hence it's 360 degree "pride".
This pride, however, is underpinned by many people. George readily admits he wouldn't be able to do what he does without a large amount of support, at home and away. At home, he has an extremely supportive family. Being away from his daughters and wife for weeks at a time takes not only discipline from George but a deep understanding from them. The pride he has for his family, and that they have in him, allows them to understand what he does and support it. Although he is away a considerable amount, he loves being at home and he says this time is very precious to him.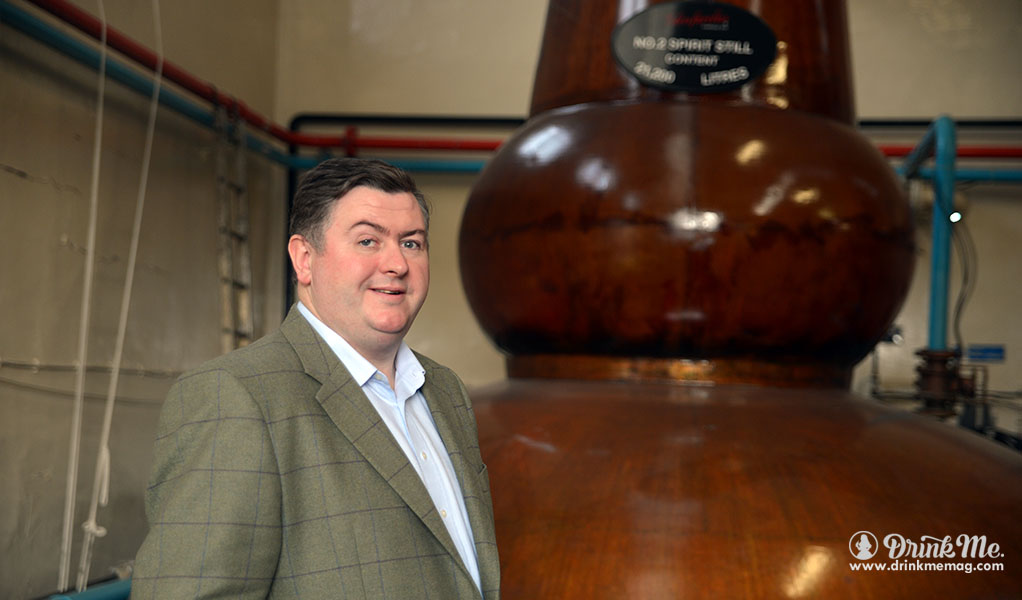 Photo Credit: Colin Hampden-White
George also has great support from his father. They may not always agree, George's father is also a very strong character, but George says he couldn't achieve all he does without the support of John Grant.
George tells a story of when he was around eight years old.  He was taken to a graveyard where four graves lay with his name on them.  Things looked up, however, when he was first taken into a warehouse in his early teens where there were thousands of casks, also with his name on them. It was at this time he remembers realising the extent to which his family might affect his future.
Visiting Glenfarclas is a wonderful experience; you hear the family history, see all around the distillery and warehouses and get a chance to taste the whisky.  The staff are fabulous and carry that same infectious enthusiasm for the whisky as George. One can never escape the fact that if you are being shown around a property where the owner is absent, there will always be the slight feeling of visiting a stately home or museum. However if you ever get the chance to visit the distillery with George, it is utterly different. Not because George is more enthusiastic, or has a greater knowledge of the family history, in fact it is quite the opposite: George becomes extremely relaxed on home ground. He is where he is most comfortable, almost nonchalant sometimes as he walks you through the distillery, because he is, and therefore can be, completely at home. He makes you feel like you are being welcomed into a personal space, a space so familiar he doesn't need to worry about being candid, which certainly adds an element of being let into family secrets as he tells tales, standing in the spaces where the tales are set.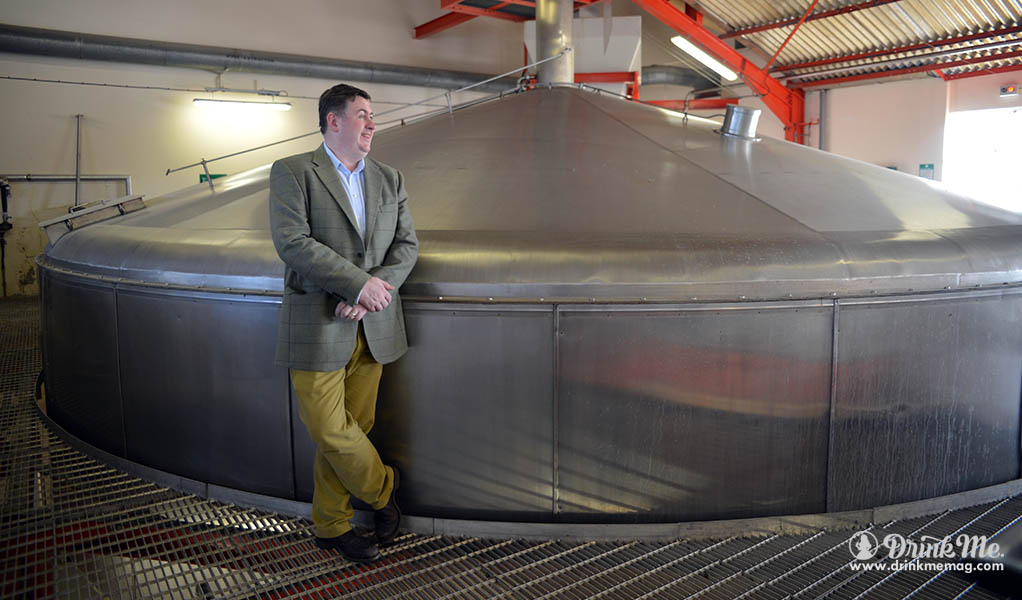 Photo Credit: Colin Hampden-White
If George were reading this, I am sure he would be blushing because at heart he is an adorably humble man. He takes nothing for granted and is always grateful to those who either taste his whiskies in far flung places or visit the distillery. He is always willing to make the experience as enjoyable and memorable as possible. Last year I took a group of more than twenty students from the French Business School INSEEC to the distillery. George happened to be in his office working away and, although busy, as he always is, he found time to come to the visitors' centre and meet them.  He graciously answered questions, told more of the family story and even made time for an impromptu interview on film.
I can't believe for a second that this type of dedication is forced, or manufactured for the crowds, it is natural and stems from this innate sense of pride in all that is Glenfarclas.
Family history
John Grant 1805-1889
Born on Lynbeg Farm in Glenlivet in 1805 John Grant lived at Blairfindy Farm. He married Barbara Grant in 1827. They had six children, one of whom in 1830 was called John. As a successful farmer, John Grant bought the Rechlerich Farm on which Glenfarclas distillery was situated, on the Ballindalloch estate, in 1865 for £311, 19s, 0d. The distillery had been previously established by Robert Hay in 1836.
George Grant 1830-1890
John Grant sent his son George to look after Rechlerich Farm whilst he stayed at Blairfindy. The distillery was sub-let to a distant cousin, John Smith. In 1870, John Smith left Glenfarclas to build Cragganmore distillery and John Grant went into partnership with his son. That year George married Elsie Gordon.  They had five children, including two sons called John and George. In 1889 John Grant passed away, leaving George to run the distillery and the farm. Only a year later, George passed away leaving the license to his widow and his two eldest sons, John and George.
George Grant 1874-1949
In the 1890s, George and his brother John went into partnership with Leith-based Pattison, Elder & Co. Together they formed the Glenfarclas-Glenlivet Distillery Company. This partnership nearly ruined John and George as Pattison was found guilty of fraud. Many other whisky distilleries in partnership with the Pattersons didn't survive. It had left John and George at the brink of financial ruin, and it took fifteen years of hard work to resolve the situation. By 1914 Glenfarclas was secure in the hands of the J. & G. Grant company. The family would never take outside investment again. In 1921, George married Jessie Stuart Scott and they had two sons, George Scott Grant, and John Peter Grant.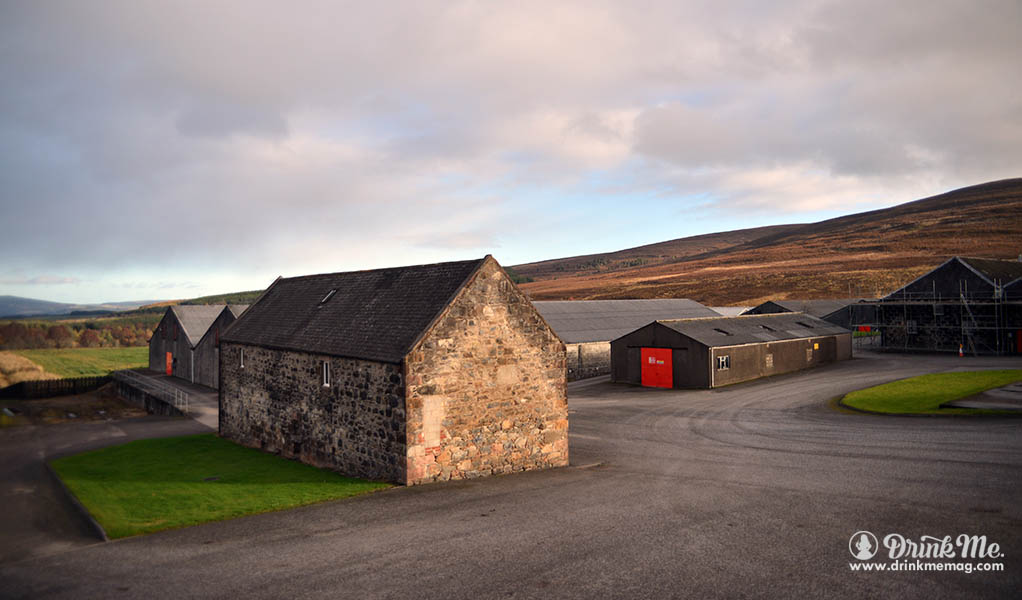 Photo Credit: Colin Hampden-White
George S. Grant 1923-2002
In the early 1950s, the 1860s Spirit Act which had prohibited simultaneous mashing and distilling was repealed.  This effectively doubled the capacity of the distillery. By the early 1960s, demand was so strong that George had to ration the sale of new make to the blenders. After this period of boom, there was the inevitable bust and in 1968 many customers announced they would not be able to place orders for the following year. At this point George laid down stock for the distillery's own bottlings, so that they could sell their own whisky rather than relying on the blending markets in the future. It was this action that is the reason for the good stocks of aged whisky at Glenfarclas today. George S. Grant, Chairman for 52 years, passed away in 2002.
John L. S. Grant – Chairman
John L.S. Grant, joined the company in 1973 and succeeded his father as Chairman in 2002. On joining, John focused on building sales of Glenfarclas by the bottle, rather than in bulk to blenders. John has since appointed distributors in more than 30 markets around the world. John was responsible for the creation of the Family Casks series, a collection of single cask bottlings, with at least one cask for every year from 1952 to 1998
George S. Grant – Sales Director
George, son of John, is the sixth generation of the family. George joined the family business in 1997 after working for two years with the Glenfarclas distributor in Hong Kong; Fine Vintages (Far East) Ltd. George returned to Speyside in 1999. George then took on the responsibility of promoting Glenfaclas in North America, Germany and the UK. In his present position he oversees Glenfarclas in over 70 markets around the world. In 2013, George Grant joined the board at Glenfarclas.