Photo Credit: Alen Lin Photography
Downtown L.A. is an energetic center of commerce during the day, and entertainment during the night. Fueling the busy folk that work and play in the City of Angels is a crucial mission for local restaurants. Competition for the well-earned dollars being spent dining out drives the city's culinary creativity. A recent new-comer to downtown L.A. is Astro Doughnuts and Fried Chicken – a purveyor of inventive interpretations of two of the most popular comfort foods ever invented.
Astro was founded in Washington, DC, where two friends, Elliot Spaisman and Jeff Halpern, grew up playing hockey together. Their love of doughnuts after playing hockey, and a general fondness of cooking, inspired them to take their favorite foods to the next level. Astro's inimitable take on fried chicken and doughnuts has had loyal customers lining around the block for years. Recently, the first West Coast location of Astro was established in downtown L.A. by Art Levitt, a former entertainment industry executive. His new eatery features stunning décor that includes reclaimed wood with industrial metal accents and quartz countertops. Customers can peruse the fresh doughnut selection and chicken menu, while enjoying the view into the show kitchen where the frying magic happens.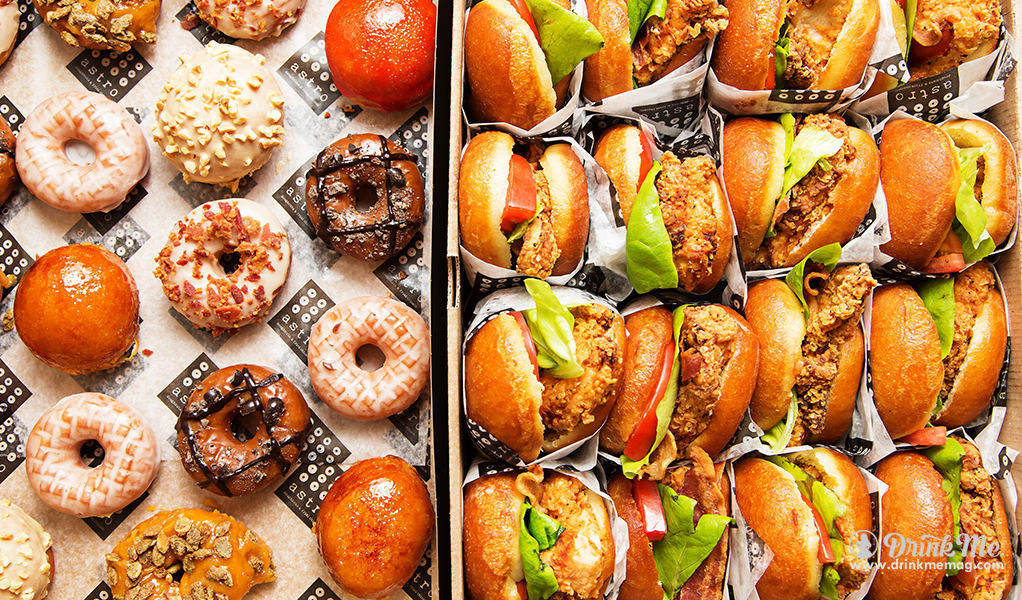 Photo Credit: Scott Suchman
Doughnuts, made from brioche dough, are made fresh throughout the day and include several standard menu items, plus a rotating selection of seasonal options. Fried chicken, cooked in a pressure fryer (to ensure it's served moist, with a light, crispy coating) is flavorful in multiple forms – bone-in chicken, chicken fingers, and fried chicken sandwiches. Among the menu items I enjoyed are their outstanding Crème Brûlée and Maple Bacon doughnuts; and the Fried Chicken Sandwich on a Cheddar Biscuit with Sriracha Mayo and a side of Kimchi Cole Slaw.
If you are living or working in downtown L.A. I recommend picking up a box of Astro's doughnuts and some chicken to share with your family, friends or colleagues – they will be very appreciative!