Hangovers happen and according to Don Roh of Chaser Products, LLC the hangover product market is estimated to be between $785 million and $1.6 billion this year. So, Drink Me readers, find refuge in knowing you are not alone in your history of hangover faux pas. But now, with Don's help, it's time to reclaim the "day after". 
Mother's Day is upon, followed closely by Memorial Day and the premier barbeque beer-swilling event of them all, the Fourth of July. Let's get organized!  
You've always wanted to be you mom's favorite, well this Mother's Day, you can. Boost her breakfast in bed with easy-to-digest Chaser Capsules, to pre-empt the Prosecco brunch you're about to bring her to later.  
On Memorial Day and the Fourth of July,  you can be the ultimate guest at your neighbor's barbeque when you show up to help  Chase It Away with a bottle of Chaser Capsules for all to share. You know you'll be everyone's hero when they wake up the next day without the headache. 
Chaser Capsules are easy to take, they don't affect the taste of your food or drink, and they effectively chase your hangover away. Adults take two capsules with their first drink, and two more capsules after four to six drinks. 
How Do Chaser Capsules Work? 
The capsules act like a filter to absorb the byproducts of your favorite drinks that can cause that morning-after feeling. The ingredients of Chaser Capsules absorb these by products in your stomach and digestive tract and pass them out of your system. "Remember it's the toxins in alcohol that give you the hangover, not the alcohol itself," Don explains.  
It's sort of like how soap works. The dirt clings to the soap, and then you wash the soap away, the dirt goes with it. "The Gelatin capsules open in your tummy and release activated charcoal. The toxins cling to proprietary ingredients including the activated charcoal which exits your system. That's why we recommend taking Chaser Capsules as you start drinking, and not after. This way the toxins never had time to settle in throughout the entire time you're drinking.  
According to BetterNutrition.com, "Activated charcoal binds with toxins in the stomach and helps them to be eliminated, rather than being absorbed and causing harm. Quite different from charcoal in a grill, supplements are treated to remove chemicals that would be dangerous if swallowed, and the charcoal is "activated." The activation creates many more internal pores, increasing the surface area to trap substances in the gut by hundreds of times. It can trap drugs, many poisons, environmental toxins, and components of food." 
It worth remembering that the charcoal used in Chaser Capsules is not the same that you'll be using on your barbeque grill this summer, so don't try to replicate Chaser Capsules patented formula at home. Also, Chaser® Capsules won't reduce your blood/alcohol level, but they will remove the toxins, therefore curing your hangover. 
Many drinks contain ingredients, in cocktail mixes or in the alcoholic substance itself, that are problematic. Wine, for example, naturally contains sulfites, which many people don't tolerate well. The activated charcoal and other ingredients in Chaser Capsules reduce hangovers by removing toxins or disagreeable drink ingredients, leaving you to make a full recovery the next day. The only thing left to understand is why would you not use Chaser Capsules?  
40 Count Bottle $26.99 Buy it here

 

Chaser Starter Pack contains two slim packs with 10 capsules each a free Chaser bottle opener. $15.00 Buy it here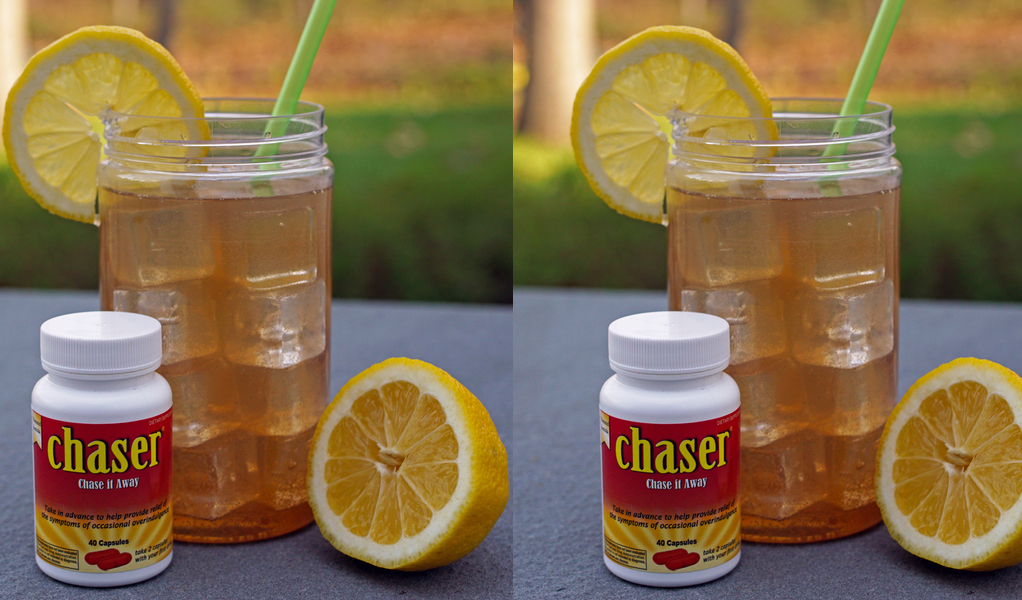 Sweet Liber-Tea   
Ingredients 
0.75 oz Silver tequila

 

0.75 oz White rum

 

0.75 oz Vodka

 

0.75 oz Gin

 

0.75 oz Triple Sec

 

0.75 oz Simple syrup

 

0.75 oz Fresh Lemon juice

 

Splash of Cola
Method 
Fill glass with ice 

 

Add and stir the liquors, syrup, and lemon juice.

 

Add a splash (or more) of cola to taste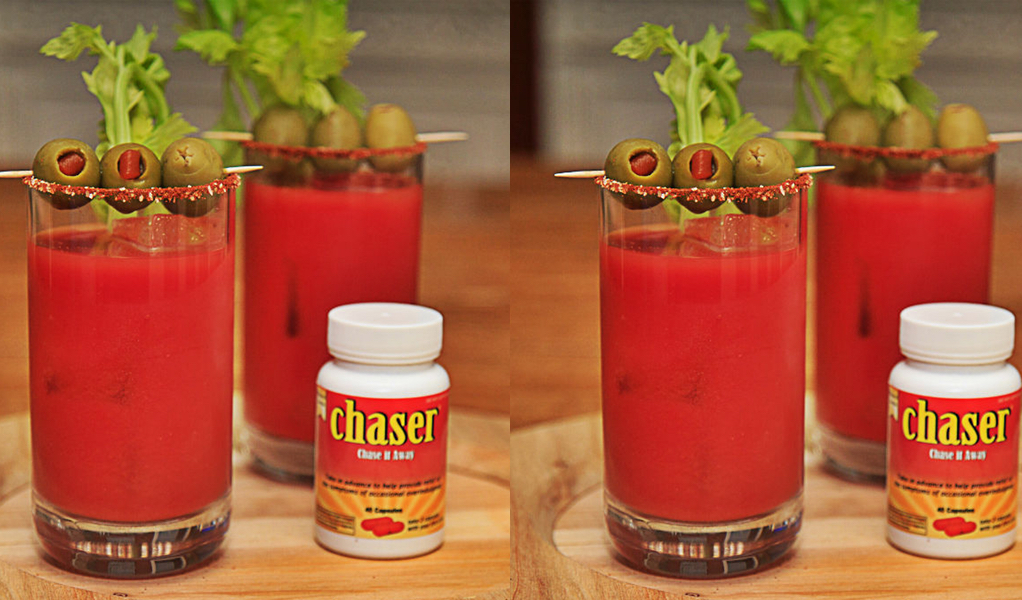 Mommy's Favorite  
Ingredients 
4-5 oz tomato juice

 

2.5 oz vodka 

 

0.75 ounce olive juice

 

0.5 ounce lemon juice

 

0.25 ounce​ worcestershire

 

0.25 ounce siracha

 

1 teaspoon kosher salt

 

1 teaspoon paprika

 

1/8 tsp cayenne powder

 
Method 
Combine: salt, paprika and cayenne powder in a small bowl.  Moisten the rim of the glass by rubbing a lime around the rim.  Evenly dip the rim into the spicy salt.

 

Combine all wet ingredients in a mixing glass and stir to combine.

 

Serve over ice in a spice rimmed glass with your favorite garnish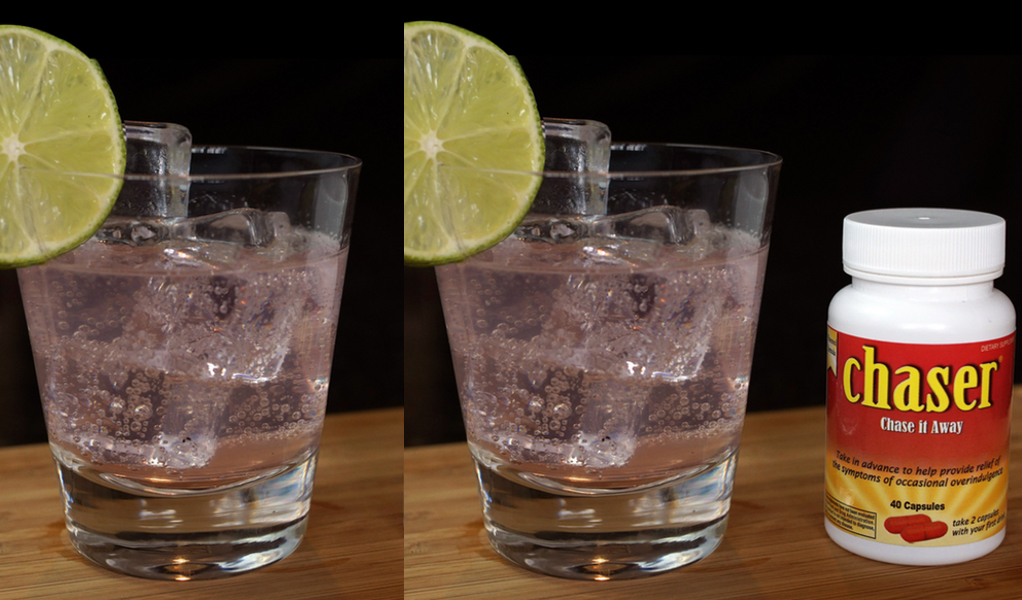 A Memorial Day to Remember 
Ingredients 
2 oz White Rum

 

0.75 oz  Fresh Lime Juice

 

3 oz Pink Grapefruit Juice 

 

Lime Slice

 
Method 
Combine rum and lime juice in a cocktail shaker and fill with ice; shake until chilled

 

Strain into a tumbler and fill with ice. Add grapefruit soda and garnish with a lime slice.