Mama Lion, the bar, lounge and social club featuring live entertainment and California dining in Los Angeles' burgeoning hip Koreatown, has brought in a state-of-the-art champagne vending machine for guests to use directly. Making its debut at Mama Lion, the vending machine is loaded with 320 mini bottles of Moët & Chandon champagne, giving patrons access to high-end brut and rosé at the ready.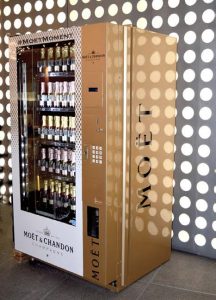 Mama Lion's collaboration with Moët & Chandon marks the very first lounge and bar in California to serve bubbly at the press of a button. The first-ever Moët & Chandon champagne vending machine debuted back in 2013, available in limited quantities and only in the most exclusive of locations. The champagne vending machine concept landed for the first time in the U.S. at The Mandarin Oriental Hotel in Las Vegas and has appeared at some of Hollywood and the fashion world's most high-profile celebrations including the Golden Globe awards, amfAR Gala and Harper's Bazaar Icons during New York Fashion Week.
Creating a fun and festive way to sip in style, this new vending machine installation includes a tiny champagne flute for every Moët Impérial Brut or Moët Impérial Rosé mini bottle purchase. The machine only accepts specially branded Moët golden tokens (which can be bought for $20 at the bar) as a form of payment.