Azuñia Tequila, a premium, organic, estate-crafted tequila has now signed up more than 34,000 people in its rapidly expanding No Plastic Straws 365 Challenge.  To meet the heavy interest, the fast-growing, sustainably farmed tequila brand is adding to their initial pledge of providing a reusable, recyclable stainless-steel straw to the first thousand people who signed up by allocating hundreds of straws to future participants in the program, as randomly selected.
The No Plastic Straws 365 movement has gone beyond the online space, to spawn local environmental advocacy events like Beach Clean-Ups throughout Southern California.
"The average American uses 1.7 plastic straws a day, so we thought why not go after that and see if we can just do better, join together on a fun initiative and make a difference," said Azuñia's Managing Director Joe Giansante.  "So far, collectively we've pledged to eliminate 21,000,000 plastic straws from use in 2019, and counting! If placed in a line, that is enough plastic to stretch from Los Angeles to Boston, and headed back to Chicago! Small personal changes can pay big dividends when we get together, and it really fits with Azuñia's farm and family heritage.  Our brand is one of the few tequilas on the market that is organic, sustainably farmed and 'honestly authentic', so why not take it a step further with this effort."
This voluntary grassroots initiative is aimed at bars, restaurants, and individuals eliminating the everyday use of plastic straws, or replacing them with a reusable and recyclable straw that individuals can carry with them and use as needed. The "365" represents the number of days in the year to reinforce the idea that making a small choice like refusing the use of one straw every day for one year can collectively make a significant impact.
Initially, Azuñia planned to give reusable straws to the first 500 people who accepted the "No Plastic Straws 365" Challenge, then increased it to 1,000 in November of 2018 when the response was positive as demonstrated through a steady stream of sign-ups. Since then, the campaign has taken off through Word of Mouth on social media and through communities and forums of eco-conscious bloggers and their loyal followers. Thanks to these tight-knit groups' and individuals' dedication to this cause, Azuñia has over 34,000 sign-ups for the challenge to date, eliminating over 21 Million harmful plastic straws from U.S. oceans and landfills.
Not only has the No Plastic Straws 365 Challenge taken off beyond expectation, so has the Azuñia brand, which has nearly doubled in size over the last two years. One of the main drivers is a hospitality industry application of the metal straw concept by providing straws to bars and restaurants as part of its signature cocktail program, the Azuñia Orgánica or Organic Skinny Margarita.  Made with USDA-certified Organic Azuñia Blanco or Reposado tequila, Azuñia Organic Agave Syrup and lime juice, the simple but refreshing and low-calorie cocktail is served in many locations, such as Tocaya Organica, with the reusable straw.

Azuñia Reposado recently won the "World's Best" designation at the San Francisco World Spirits Competition. The 10-year old brand prides itself on being Honestly Authentic – staying true to its roots of farming the land properly, without additives, to produce the finest agave plants by a family owned farm on the slopes of Volcán de Tequila.  In fact, all four of Azuñia's products – Blanco, Reposado, Añejo and Azuñia Black, its Private Reserve Extra-Aged Añejo – have won multiple gold medal awards.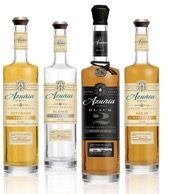 For more information on the "No Plastic Straws 365" Challenge: https://www.azuniatequila.com/noplasticstraws365/