National Margarita Day (2/22/19) is only three days away. Do you know where you'll be?  After all, this is no time to waste with substandard cocktails and, dare we say it, premixed drinks? No, this day, above all others, deserves the highest level of craftsmanship and ingredients. Our Drink Me gut tells you to go quality: organic, natural, open-air fermented as-pure-as-you-can-get tequila. Because, if you're reading this, then chances are you're likely to have more than one this Friday. Quality is king. So with that in mind, we singled out Azuñia Organic Tequila since it's pretty damn amazing, and far kinder to your body than a lot of its brand counterparts.
Here are 10 locations around the country who told us about their special offers on organic tequila Margaritas on February 22nd. Have fun and keep it pure!
La Flaca
By bartender, Jimmy Callahan, Olla Cocina, 17 N San Pedro St, San Jose, CA 95110.
Special: La Flaca Margaritas on special all day long $8/$35 pitcher.
Fresh Lime Juice

Light Agave Nectar

Served on the Rocks (salt if desired).
https://www.instagram.com/OllaCocina/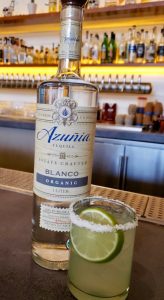 El Mirador
Special: $5 El Mirador margarita all day.
Created by Bartender, Jorge at Alfonsos of La Jolla, 437 S Highway 101 #301, Solana Beach, CA 92075.
Organic Orange Liqueur

Freshly Squeezed Orange Juice

Freshly Squeezed Lime Juice.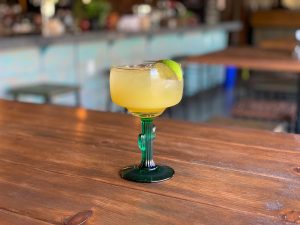 Contrabandista
Created by Kevin, bartender at Bootlegger , 804 Market St., San Diego CA 92101.
$10.
1.5 oz

Azuñia Blanco

0.5 oz Fresh Lime Juice

0.5 oz Agave

0.5 oz Guava Nectar

Muddled Jalapenos

salt rim
https://www.instagram.com/bootleggersd/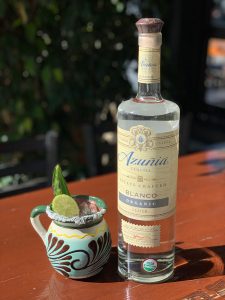 Organica Margarita
Playa Mesa, 428 E 17th St, Costa Mesa, CA 92627.
$2 off all day on 2/22
http://instagram.com/PlayaMesa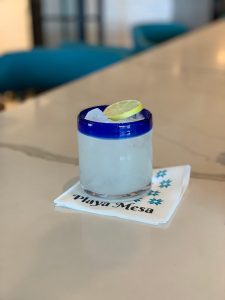 Skinny Organica + The Anejo Old Fashioned
Skinny Organica $8.00, Anejo Old Fashioned $9.00
By general manager, Kali at the Mellow Mushroom, 6727 South Tamiami Trail, Sarasota Florida 34231
https://www.instagram.com/mellowmushroom/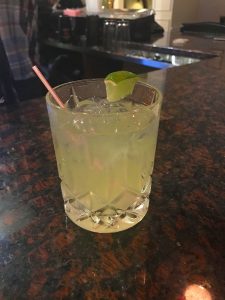 Skinny Organica
On happy hour all day every day for $5.00.
By Billy Pfiff, beverage manager at Tacos And Tequila, 10952 Eagle Village Dr, Estero, FL 33913. Also, available at Tacos and Tequila, 8971 Tamiami Trail Naples, FL 34104 and Tacos and Tequila, 4834 Davis Blvd, Naples Florida 34104.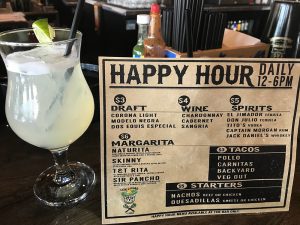 Azuñia Organica, Res Hermanas
Tres Hermanas, 2416 K Street, Sacramento CA 95816.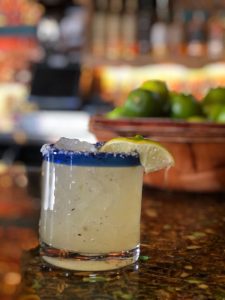 Azuñia Organica, Mayahuel
Mayahuel, 1200 K Street, Sacramento CA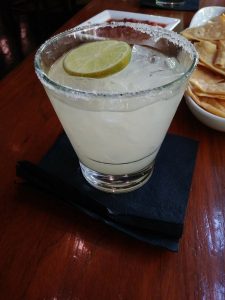 Azuñia Organica, Taco Loco
Taco Loco, 195 Blue Ravine, Folsom, CA 95630.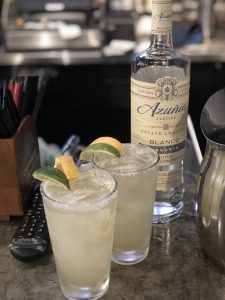 Mesa Mercado, 6241 Fair Oaks Blvd, Carmichael,  CA 95608.
Sweet and tart.
In-house Crafted Tamarindo Syrup

Organic Agave Nectar

Freshly Squeezed Lime Juice

Award-Winning100% Blue Agave Azuñia Reposado

Fresh cut lemon wheel.