What do you know about Japanese craft beer? Did you know there are 400 craft breweries operating in Japan, and that this all began as recently as the early 1990s? You might not know that just as Japanese whisky is inspired by Scotch, Japanese craft beer is closely linked to German pilsners and Belgian wheat and white beers, as well as other European influences.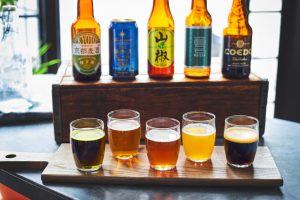 One night in Santa Monica, California, at a We Work building on 5th Street, I met with Ry Beville, Japanese craft beer expert, and founder of Japan Beer Times. He talked some other writers and me through seven iconic Japanese craft beers, carefully chosen to showcase the nature of the Japanese craft beer movement, and its increasing appeal to American consumers.
Ten of us gathered around a conference room table and learned, glass-by-glass, the recent and fast-paced evolution of this category and it became more evident by the sip that any Drink Me readers, who haven't explored Japanese craft beers yet, truly are missing out. We plan to remedy that.
Here are the seven beers presented that wonderful, fateful night, with consumer appeal correlations included to help you choose which ones are best for you. These brews will broaden the scope of your palate, as you appreciate the uniqueness of these brands born from a dedication to using local ingredients.
COEDO Ruri from COEDO Brewery Kyodoshoji Corp, Ltd.
Personally, I am a pilsner fan so I was already off to a great start with Coedo Ruri. Ruri means "blue sky", the messaging being this beer is sharp in appearance (not cloudy), and void of impurities of color, hence as clear as a blue sky. Also, all Coedo labels have the name of a color on them.
A crisp, light yellow pilsner, this is clearly German influenced. Light and clean on the palate, super refreshing with balanced hop bitterness.
If you like: summer beers, particularly German imports, this is for you.
Eat it with: sushi.
Alc. volume: 5%.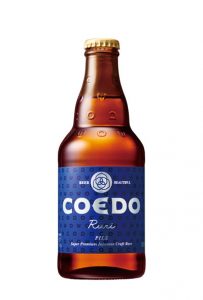 WEISS from Karuizawa Brewery, Ltd.
This white beer is less cloudy than I imagined a wheat malt, modeled from a Belgian or German white weiss to be.
Fruity in flavor with layered by subtle nuances. This will match up well to most light foods.
If you like: Belgian weiss beer, on the lighter side, you'll love this.
Eat it with: most light foods.
Alc. volume: 5.5%.

Kanazawa Hyakumangoku Pale Ale from WAKU WAKU Tezukuri Farm Kawakita Co. Ltd.
A really lovely pale ale made with homegrown wheat and rice and which is lighter than its English counterparts. No explosion of hops, just consistent well balanced-bitterness in a really refreshing beer.
If you like: very light ales, this is the crisper version you've been seeking.
Eat it with: sushi, chicken, light pastas.
Alc. volume: 5%.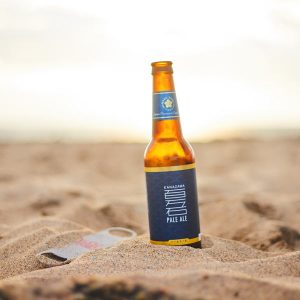 HITACHINO NEST White Ale from Kiuchi Brewery
Kiuchi Brewery has been around since 1996, according to our Japanese beer guide, Ry Beville, and is one of the key innovators in this category. It's based on the Belgian wheat beer style, and besides its fabulous packaging it also boasts a truly wonderful symphony of coriander, orange peel and nutmeg notes.
If you like: Hoegarden,but prefer it a tad lighter than usual.
Eat it with: more robust foods, but not quite steak. Try burgers, spicy salads, even tacos.
Alc. volume: 5.5%.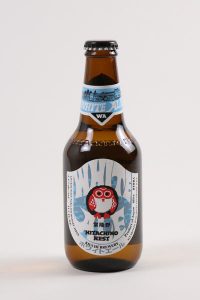 Wabi-Sabi Japan Pale Ale from Baird Brewing Company
Check out these ingredients: wasabi and green tea. Who knew they would make the perfect ale? Well, Bryan Baird did. Because the ingredients are minimally processed the overall result is fresh but coalesced. The dark color is a bit misleading as the palate is fruitful and light with an unusual but welcoming layered taste that is refreshing beyond belief.
If you like: light ales, flavorful ales.
Eat it with: sushi or by itself. Perfect for summer barbecues with chicken and shrimp.
Alc. volume: 6%.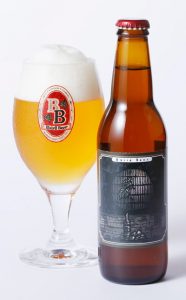 SORRY UMAMI IPA from YOHO Brewing
You've heard brewers and winemakers say "I make what I like to drink personally." It's a nice public relations line but is it true? Well it certainly is in the case of YOHO Brewing who brings us "I'M SORRY! I Didn't Ask You What You Like." This label is part of a series of adjunct beers that YOHO brewers wanted to brew and drink, regardless of consumer preference. The result is a beer flavored with Umami extracted from "bonito flakes", that's skipjack tuna to you and me. Not only do these fish flakes facilitate fermentation, but they also bring out refreshing and fruity tropical notes in the beer. And no, the beer doesn't taste like fish but I did find it bolder than its evening's counterparts during this tasting event.
If you like: IPAs with a kick but that still pair well.
Eat it with: most pastas, salads, sushi.
Alc. volume: 6.5%.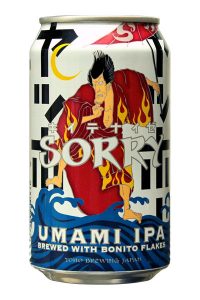 COEDO Beniaka from COEDO Brewery Kyodoshji Corp., Ltd.
What do you do with sweet potatoes that, because they're slightly misshapen, consumers won't buy ? You make beer. This beer was initially a lager, and then reinvented as an ale a few years ago, which dramatically improved the product. Made from Kintoki Sweet Potatoes from Saitama, Japan, its flavor is a balanced earthy hop bitterness. Note the caramel and sweet potato you get on the nose from this imperial sweet potato amber beer.
If you like: subtle earthy light beers.
Eat it with: barbecue and light foods like sushi and chicken.
Alc. volume: 7%.