The trick to a good wine lounge is finding the place that not only has great wines by the glass or the bottle but they should also have great food. I am not one to drink wine without taking some time to nosh on something delicious that compliments the wine and makes the food shine. When looking at wine lounges that would make my top list in any city it isn't a requirement that they have truffle popcorn but it does increase your chances that I will frequent if you do.   That said you will notice that my love for truffle anything and wine is interwoven into my Top 5 Wine Lounges in the Seattle area. Some of these you can have just a great happy hour, catch up with a friend, meet for a first date or enjoy an entire meal. Hopefully you find a place to try after reading my suggestions below.
Sip in Issaquah is top on my list for many reasons. They have truffle popcorn that I can put away in record time because it is so good! They have a great happy hour and Wine Wednesday offers. You can also get a simple cheese platter or a full blown dinner. This quaint little place also has TV's to watch sports games so you can take a guy there and he won't miss the action while you enjoy a great glass of wine. They have live music as well on various nights (if you are into this call ahead to ensure they are playing). The must do's at this place are explore the wines – they have an extensive iPad wine list that once you get over the AHHH factor of it you start diving in and realizing how much good stuff you can try without the anxiety of committing to an entire bottle. Their menu is seasonal and does change often but a few of my favorites are: Truffle Popcorn, Beachers Mac & Cheese, Scallops Entrée, and their cheese board.
Location: Issaquah Highlands – 1084 NE Park Dr, Issaquah, WA 98029
Cost of Visit: Varies
Opening Hours: Monday-Sunday 4pm-11pm
Happy Hour: Everyday 4-6 & Every Day Late Night 9- close
Connect: Facebook // Twitter // Website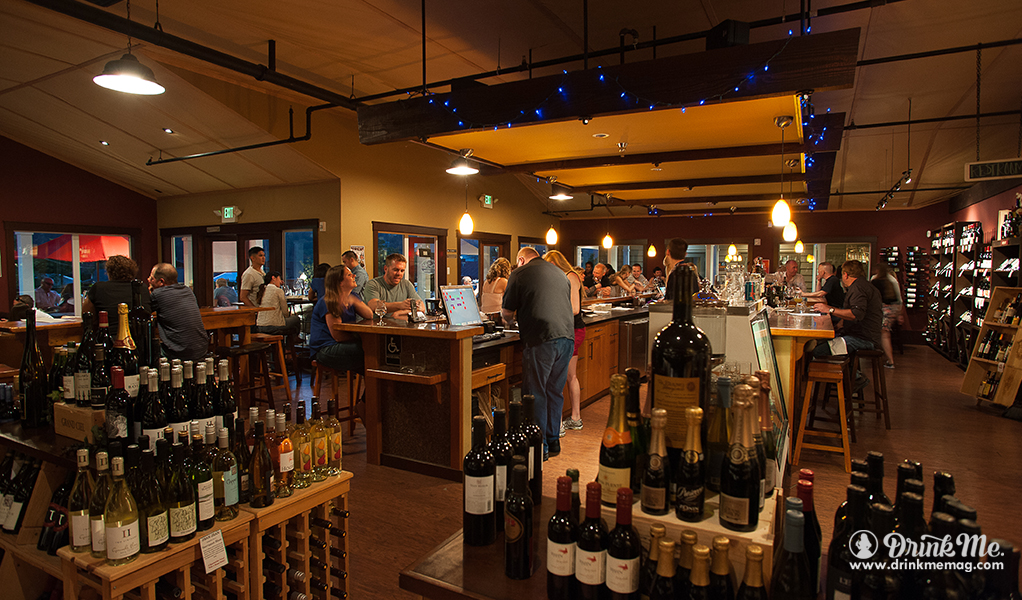 Ever thought about sampling all the wines in Washington without moving? Village Wines has "every" Washington wine you could ever want to try and even some you never thought you needed to try but absolutely must try. Their wine list by the glass and the bottle is awesome. Try various glasses of red or white wine, or if you fancy a bottle you can walk their walls that are stocked with local wines. They, like the other recommendations, have truffle popcorn, but they also have much more for eats. I have only done happy hour or eaten off the small plate appetizer menu, but they do have more food that you could pair with all sorts of yummy wines as well. Their Baked Brie, Truffle Fries and Hummus plate are all really great and compliment any wine you may have as well. Whether you sit inside at a table, one of the comfy chairs, the bar top or outside in the sun you can't go wrong with this casual wine lounge in Woodinville.
Location: Hollywood House Area – 14450 Woodinville-Redmond Rd. NE #111 Woodinville, WA 98072
Opening Hours: Sunday – Wednesday 11am to 9pm // Thursday – Saturday 11am to 10pm
Contact: info@myvillagewines.com
Connect: Twitter // Website

Live Music:
Friday         6pm to 9pm
Saturday     6pm to 9pm
Sunday        3pm to 6pm
Vino at the Landing is your spot for wine flights. The cool part about this place is their wine list is built into flights so you can order the flight, just a glass or get a glass after you do the flight. The wines to choose from are from all over, so get your passport ready so you can hit up Italy, Australia, Germany and of course the usual US wine regions in California and Washington to name a few. Their food menu is good and although they have truffle popcorn, I haven't actually eaten it there. Their flat breads and cheese board is great to pair with any wine flight selection you may get. If you are in the Renton area this wine bar is a good one to be adventurous at – pick a flight with a wine you may have never had you never know you may just find a new bottle to have at home. I may have to hit this one soon to try out that truffle popcorn; I am not sure how I missed it.
Location: Renton Landing – 800 North 10th Place, Suite E, Renton, WA 98057
Opening Hours: Sun – Thurs: 11am-10pm & Fri – Sat: 11am-Midnight
Happy Hour: Mon-Fri 3pm-6pm;
Wine Tasting:– Thurs 6pm-8pm; Live Music- Sat 8pm-1pm
Contact: info@vinoatthelanding.com
Connect: Pinterest // Twitter // Website
Bottlehouse is actually a house that has bottles in the restaurant wine bar area as well as a bottling plant for a winery downstairs. You can hit up happy hour here for under $30. With a great $5 happy hour from their Wilridge Winery that bottles their wine in the basement of the house, a $10 cheese plate with bread – you can't go wrong. Their cheese monger pairs the cheese to go with the wines you are drinking. The cheeses that were presented during my happy hour were a triple-crème, a chèvre and a truffle cheddar. Tucked away in Madrona you don't happen upon Bottlehouse – you have to know where to go, but it is so worth the drive to have a great local wine and perfectly paired cheese platter. They do offer other foods as well but during happy hour I am not sure how you could pass this deal up.
Location: Madrona Neighborhood – 1416 34th AVE Seattle, WA. 98122
Opening Hours: Daily 3 p.m. – Late (Happy Hour! Daily 3-6pm)
Contact: info@bottlehouseseattle.com
Connect: Facebook // Twitter // Website
This little gem in Bellevue is not on the beaten path and if you don't know where it is you may drive or walk right by it. With its unique seating (love the places that have couches and coffee tables – gives you a relaxed vibe from the start). As you might come to expect from my wine bar recommendations this place also has good truffle popcorn. They also have great local wine features and discounts on bottles along with a good food selection – hummus plate, flat breads, nuts etc… Have friends that aren't into wine but you still want a cool place to hang out? Bring them here they have a great mixology side of their menu where the bartenders geek out with orange peels, egg foam etc. So there is something for everyone.  You can go to this place in flip flops or a cocktail dress – anything goes. There is also free street parking right out front so no hassles there.
Location: Downtown Bellevue – 1020 108th Ave NE Suite 100 Bellevue WA 98004
Opening Hours: Mon–Sat 4PM–Midnight
Contact: (425) 455-4278
Connect: Facebook // Twitter // Website