Audrey Formisano is in-house "Tequilera" at Marriott Puerto Vallarta, a luxury resort in Puerto Vallarta, Mexico. A native of France, she earned a degree in service and hotel management as well as her Sommelier Certification.
One would think that Audrey would be in France teaching about wine, but instead, she enjoys everything Tequila and being in the sun. She started working at Marriott Puerto Vallarta in 2003, and immersed in the native drink of her new home, Tequila, her knowledge of agave spirits grew. She earned her Tequila Certification in 2006, when the resort starting creating its own Tequila, called Tequila CasaMagna.
Drink Me knows how much its readers like to be this smartest person in the room, so here are five fun facts, courtesy of Audrey to share with unsuspecting drinking buddies this Tequila Day, July 24th.
1. A Tequilera is a Tequila expert, similar to a Wine Sommelier, because my job is to open all of your senses. When you are trying out a new Tequila, you need to experience the color, the touch, the smell, the taste, and even the sound. All of your senses come together when meeting a tequila brand that's new to you, and a Tequilera will help you absorb it completely.
2. Yes, there was a shortage of agave in Jalisco, Mexico because of the demand of tequila, which increased the past few years. The price of the plant has risen six the amount in the past two years. Agave takes seven years to grow and is quite a long process. Farmers are now taking measures to ensure that this does not happen again.
3. Sipping Tequila is the best way to appreciate it. Taking your time when drinking Tequila is all about the experience you have drinking it, compared to taking a shot. When you take a shot of Tequila, you don't ever know the flavors of it; is it floral, herbal, smokey?
4. The greatest misperception of Tequila is that people always think it was the alcohol you used to get drunk on in college and it caused bad memories. Unfortunately, this is what Tequila is always associated with.  It's my job to change that image of Tequila and what people think; and I try to do that every time I do a Tequila tasting.
5. The world of Tequila is constantly changing. So many new techniques have been developed in the past few years. Just one example is filtering the colors when it comes to Anejo, so it wouldn't surprise me if Tequila makers are continuing to come up with new brilliant ideas right now.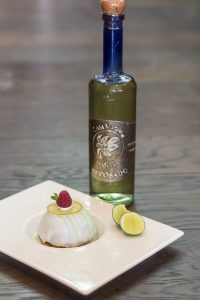 Tequila Cake Recipe
Ingredients:

10 eggs
600 gr sugar
600 ml oil
350 ml milk
750 gr flour
75 ml Baking Powder
4 pieces lemon zest
4 pieces lemon juice
Process: Add sugar and egg clears into mixer at second speed until get a foam. Incorporate oil and milk, mix them around 2 minutes. Aggregate flour and baking powder previously sifted. At the end add zest and lemon juice. Mix it around 2 minutes more and retire.
Preheat the oven at 300 °F. Put the mixture in the flexipan mold. Bake for 8 to 10 minutes until golden brown and it feel firm to the touch.
Let it cold and then unmold. If you don't need it at the moment, refrigerate it.
Tequila Reduction
Ingredients:
200 gr sugar
100 ml tequila
50 ml water