Most people view the stifling heat of summer as only a con, but honestly, without this oppressive time of year the fun and fruity cocktails wouldn't taste half as good. Drinking a strawberry mojito in anything less than 80 degrees just doesn't seem right. So we take the good with the bad and we thank whatever makes lemon, lime and rum go so well together. Listed below are a few of the summertime cocktails that allow you to actually enjoy this characteristically miserable season.
Summer Fizz
The only thing that goes better with summer than a lemon-flavored drink is a lemon and peach-flavored drink. Combining the best of both fruit worlds with some Don Papa 7 and you get a cool and refreshing Summer Fizz cocktail.
Ingredients:
1.5 oz Don Papa 7
0.5 oz Ginger syrup
0.5 oz peach purée
0.5 oz lemon
1 egg white
Soda top
Method: Dry shake, re-shake with ice, top with soda. Garnish with fresh ginger and lemon peel.
Ginger Zest Spritz
Zesty citrus and sweet honey make for a great combo on a sweltering summer day. Belvedere Ginger Zest pulls the flavors together perfectly for a cocktail with a
little kick.

Ingredients:

1 oz Belvedere Ginger Zest
0.75 oz Lime Juice
0.5 oz Honey Syrup
4 oz Soda Water
Method: Build in spritz glass. Garnish with ginger and lime slices.
The Don Mama
A slightly fancier version of the Summer Fizz, the Don Mama has a little more lemon and some prosecco for added class. Perfect for beating the heat in style.
Ingredients:
2 oz Don Papa 7
0.25 oz peach liqueur
1 oz lemon juice
Top up with prosecco
Method: Serve in a wine glass with edible flowers and ice.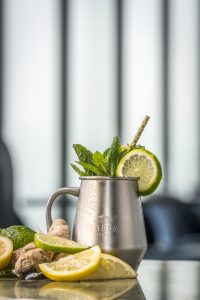 Polish Mule
A fun twist on the Moscow Mule, this cocktail gets the job done. In this case the job being enjoying a better summer.
Ingredients:

2 oz Belvedere Ginger Zest
0.5 oz Lime Juice
0.25 oz Simple Syrup
5 oz Ginger Beer
3-4 Dashes of Angostura Bitters
Method: Whip, shake, dump and top with soda. Garnish with lime wheel.
Tropical HEEET
HEEET combines vodka and cinnamon to make a base for any summer cocktail that is to die for. The drink becomes even more crisp and fresh when you add pineapple and Ginger Ale.
Ingredients:
4 oz Pineapple Juice
1.5 oz HEEET
1 oz Ginger Ale
Splash of grenadine
Method: Garnish with a slice of pineapple.