"Trust me" roared Marat, rolling the R with a pleasing jollity.  He'd just led us into a rubbish-strewn courtyard in Moscow's Chinatown, so we took some convincing.  We hung back as he approached an unmarked wooden door with an entry phone to the right.  A volley of angry-sounding Russian answered his call and our genial host responded in kind.  Disappointed with the outcome of this conversation he turned his back to the door and began to kick at it like an enraged donkey denied a whisky and soda.
Four hours earlier, our first night out in Moscow had begun in similar but more sedate surroundings.  We had left a main street for an unprepossessing courtyard; albeit this time on the insistence of Google Maps.  We had entered via an unmarked door; albeit this time to Evgeny Smoletov's celebrated Delicatessen bar.
Our early evening meeting with the owner soon turned into to a convivial, curated dinner from the Asian-inspired menu. We ate perfectly black squid ink pasta and a finely spiced Korean twist on the steak tartare before touring the homely former print works.  Our host took great delight in pointing out a sizeable barrel all the way from Smithfield Village, Dublin.  Inside, layers of Jameson and fruit were maturing into an infamous Deli punch for the following week's party to celebrate the bar's nomination for a 2015 Spirited Award.
Each time we were ready for a drink, 2013 Bacardi Legacy winner Elizaveta Evdokimova appeared.  A couple of questions later she would return with the perfect drink.  Somehow she could divine the need for a quince-laced Deli Daiquiri or a rum, elderflower and cherry Buddha's Hand from a glint in your eye.  Finally, as a special after dinner treat, she prepared an aged Pedro (Ximinez) Manhattan.  This came straight from the barrel on the bar top, and was presented with a big red button.  With delight, each drinker could press and watch the digital counter above the bar tick over (5,447 and counting).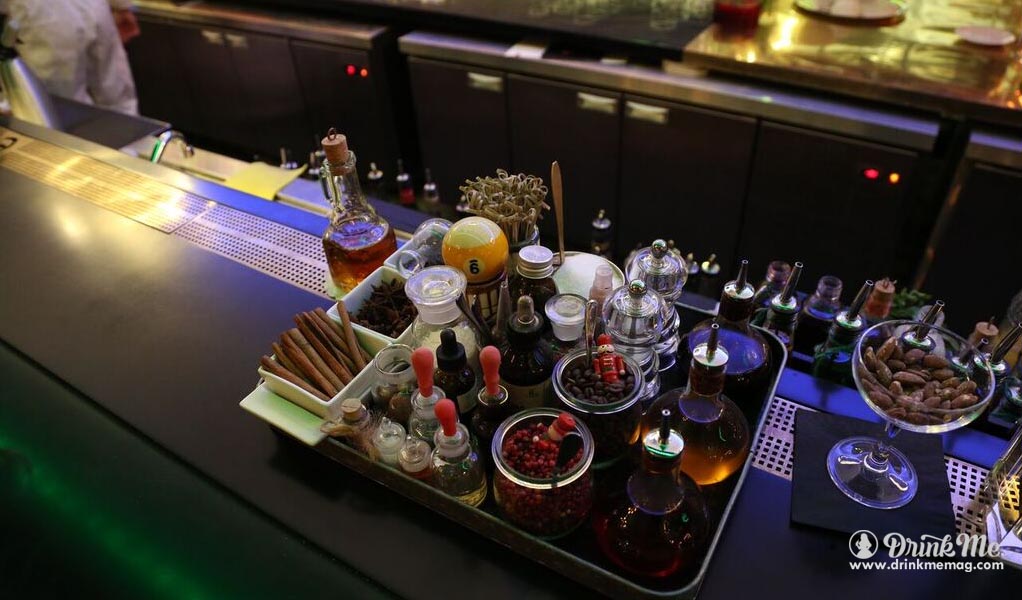 Our second stop that night was where things started to go swiftly wrong.  Or right.  We're still not sure about that.  Evgeny offered to walk us to our next bar, and there introduced us to two of the big names on the Moscow bar scene: Marat Saddarov, off duty principal bartender at Noor Electro, and his long-time accomplice and fellow Bartender Brother Vladimir Zhuravlev.  Larger than life Marat gave us the tour of his bar, pointing out historic features from its previous life as a cinema and clothes shop.
Back at the bar we sat with the locals calling for negroni sbagliati and the pomegranate martini.  We struck up a friendship with Marat and Vlad and enjoyed a local Gin Fizz with crème de mure and red Russian basil.
Before long our limited Anglo-Russian conversation turned to other bars in the city. We mentioned our plans to visit Chainaya. "Chainaya? Let's go now".
En route and just two blocks further north we paid a visit to another of the local Moscow Bartender Brothers, Alexander Kan at the Peking Hotel.  We rose sedately to the 12th floor courtesy of a creaking Soviet elevator (capacity four persons, no sudden movements, please) and emerged into the elegant surroundings of Time Out.  We ordered coriander-infused gin fizzes and a rich smoke and sherry twist on a Johnny Walker Manhattan and moved from within the former Central Committee offices to the roof terrace for views of the red stars of the Kremlin and Putin's 'White House'.
Twenty minutes later, Marat's Flintstone-esque knock had gained us entry to the fabled former tea-house, Chainaya.  We settled at the bar and ordered from a menu heavy in its use of tea and oriental spices.  We started with a Periodista Viejo, a fusion of date-infused rum and cardamom with apricot, orange and citrus, and a Speakeasy Martinez which sees its namesake form an unholy union with the much revered (in these parts) Corpse Reviver family.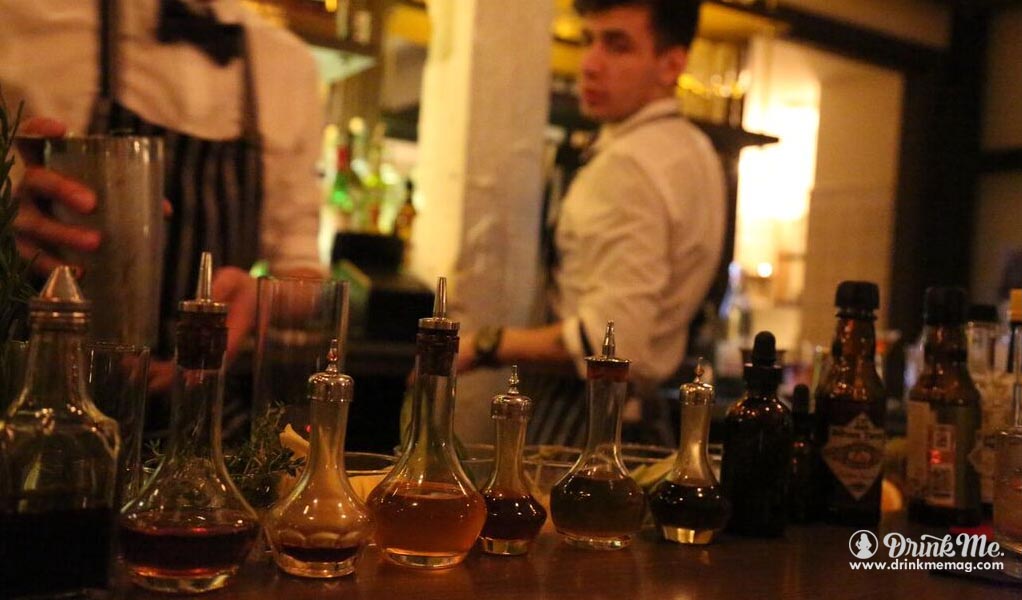 At this point we began to flag.  Even the most dedicated of bar reviewers can get battle weary when trying to keep up with two stalwarts of the Russian bar scene.  Luckily Marat never leaves a man behind, and despite the full three courses we had savoured at Delicatessen we were able to find room for a few platefuls from the Chinese kitchen conveniently located in the corner of the bar.  Dumplings and spring rolls consumed, chased by a round of classics from the talented Chainaya staff, and we were ready for our beds.
Vlad and Marat had other ideas, and trusting them once more we took to the backstreets of Moscow for a pilgrimage to their Clubaratory, Vlad's home from home and part office, bar, museum and laboratory.  Here the Bartender Bothers entertain and educate their brethren of Moscow, Russia and beyond.  We signed the guestbook – feeling significantly unworthy – and delighted in the range of antique barware, the extensive library, the penguin soda siphon and a damn good daiquiri.
Day two dawned bright and clear, and several hours later we awoke.  We took to Tverskaya Street, picking our way past the museums and the Bolshoi Theatre to Red Square and the Kremlin.  We can't spend 48 hours somewhere without a recommended daily allowance of history and culture after all.  From there we crossed the Moskva to visit the thriving new cultural centre growing within the shell of the former Red October chocolate factory.
After a brief lunch and restorative Heineken on the terrace bar of Strelka, we headed for an afternoon of retail therapy mixed with architectural sightseeing in the imposing GUM shopping mall.  Located opposite Lenin's tomb in Red Square GUM was particularly pleasing for the juxtaposition of old and new Moscow (at least for its views towards consumerism).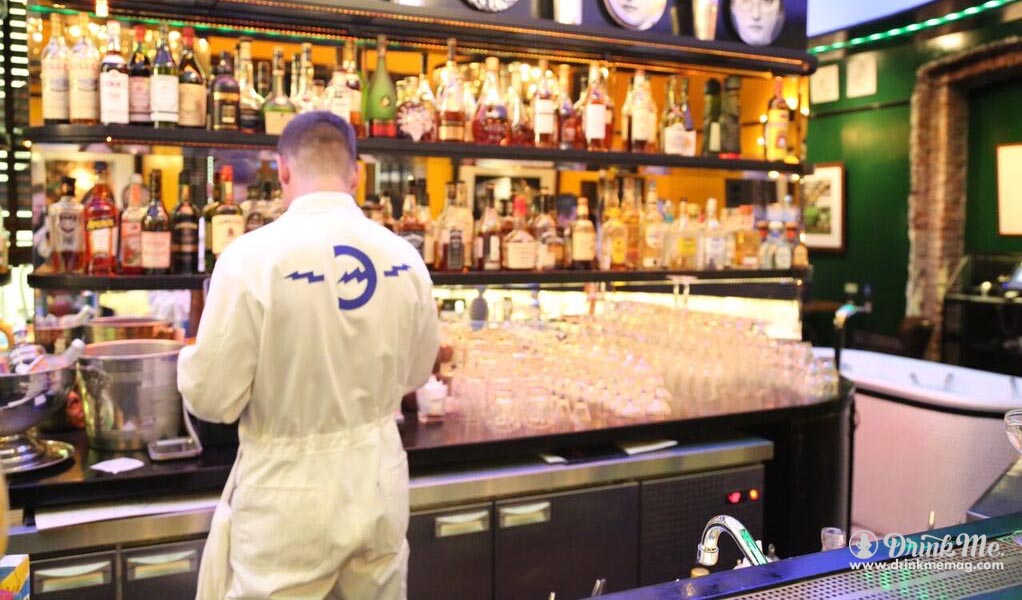 Later, we headed out of the centre of town via the fantastic statues adorning the Square of the Revolution metro station and dined at Ragout, a smart and modern café with a slight Italian vibe.  Dinner was rich, homely and well-prepared, the atmosphere welcoming and relaxed.
After dinner we headed to Saxon & Parole, the horsey American bar and grill which opened a Moscow outpost in 2013.  The decor stays true to the East Village original and the back bar cupboards swing open to provide the ingredients for some delightful riffs on old favourites.  The Calpol-reminiscent Camomile Sazerac and the from-draught Manhattan with leather bitters being particular favourites.
Moscow still bears some of the lingering problems of Russian hospitality.  Without the helping hand of Marat and Vlad we found ourselves 'face-controlled' away from one other venue.  But as long as you're one of the city's 'beautiful people', you'll find a serious cocktail culture, and bars gaining reputations on the global stage.  If not, just befriend two of the city's most-renowned bartenders and ask them to kick down the doors that would otherwise remain closed in your face.
Hotel
Golden Apple
Malaya Dmitrovka ul., 11, Moscow
+7 495 980 7000
www.goldenapple.ru
Restaurants
Delicatessen
Sadovaya-Karetnaya ul., 20/2, Moscow
+7 495 699 3952
www.newdeli.ru
Bar Strelka
Strelka Institute of Art, Bersenevskaya nab., 14
+7 495 771 7416
www.barstrelka.com 
Ragout
2-ya Brestskaya ul., 46
+7 495 662 6458
www.ragout.ru
Bars
Noor Electro
Tverskaya, 23
+7 903 136 7686
www.noorbar.ru
Time Out
Hotel Peking (13th floor), Bolshaya Sadovaya ul., 5/1
+7 495 229 0180
hotelpeking.ru/en/restaurants/TimeOutBar/ 
Chainaya
1-ya Tverskaya-Yamaskaya ul., 29
+7 495 967 3052
www.facebook.com/chainayabar
Saxon + Parole
Spiridonyevskiy per., 12/9
+7 903 755 0343
www.saxonandparole.ru