The summer season can mark the mark the beginning of our favorite cocktail season, but sometimes being creatures of habit works against us. In this case, as soon as it starts heating up outside we may reach for our favorite sangria recipe or our favorite mojito, but that kind of knee-jerk reaction keep us from experiencing the many wonderful cocktails that exist. Cocktails that were created specifically for the summer months. So why don't you try something new and exciting this summer with one of the delightful cocktail recipes below?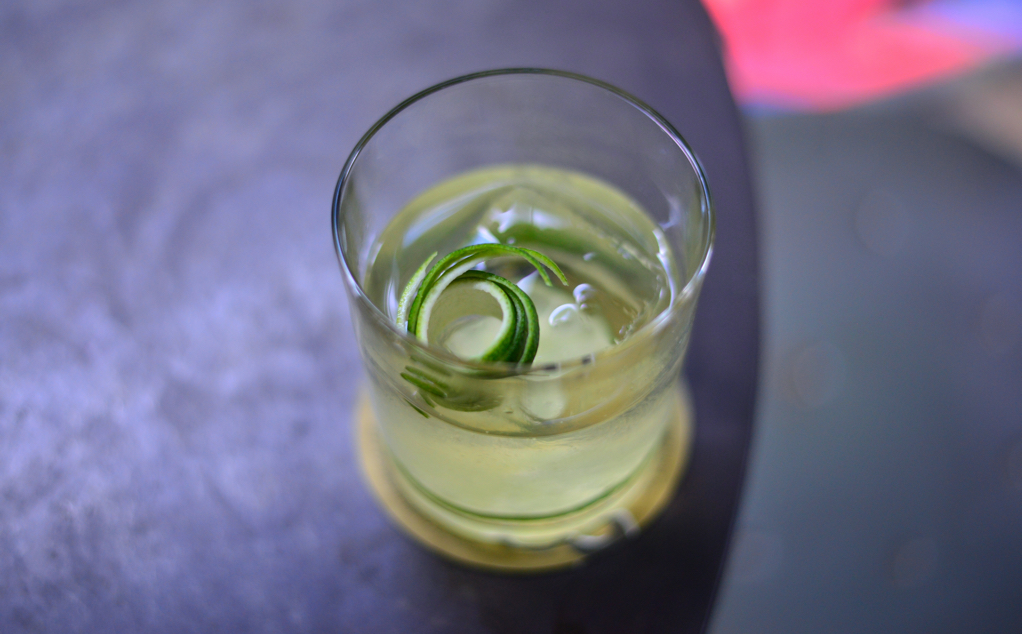 En Pointe
Is it "on point" or "en pointe?" We're not sure either. Regardless, this cocktail hits all the marks without trying too hard, and you can enjoy this drink with minimal effort, perfect for a hot summer day.
Ingredients:
2oz Beefeater 24 Gin
0.5oz Lemongrass Syrup
3 dashes of Cilantro-Wormwood Bitters
Method: Old-fashioned build: Add lime wheel, lemongrass syrup, and bitters to bottom of glass, lightly press lime wheel, add gin and large-format ice. Stir well. Enjoy! Glass: Rocks. Ice: 2"x2"x2". Garnish: Wide lime swath cut fancifully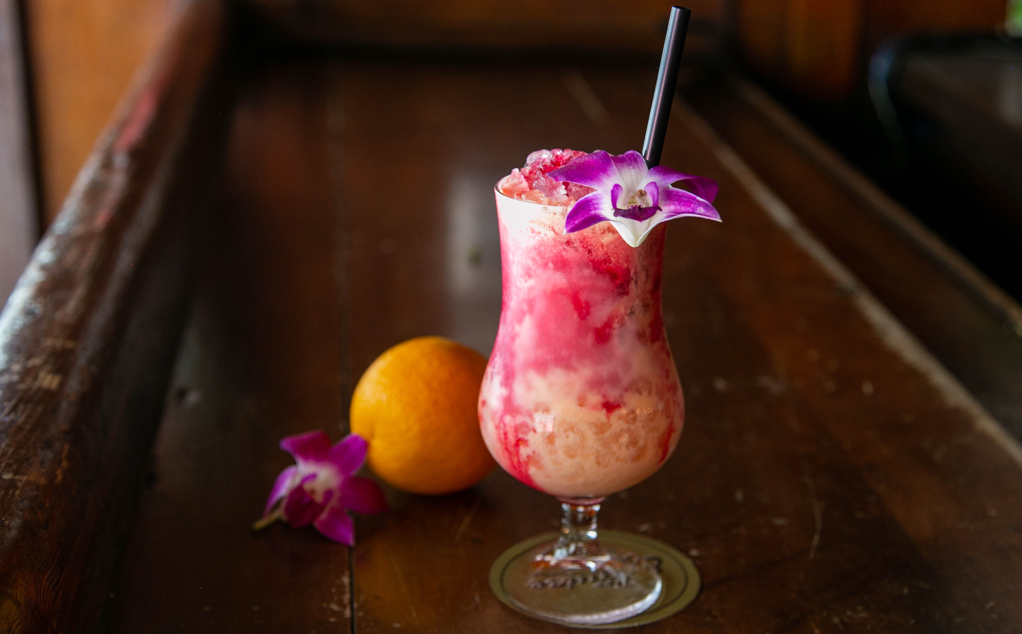 Alma Vampiro
Requiring a little more prep time, the Alma Vampiro is worth the effort. Fruit and alcohol go so well together we don't know why anyone would drink anything else.
Ingredients:
2oz Junipero Gin
1oz Sherry Blend #2
0.75oz Coconut milk
0.5oz Orange juice
0.5oz Carrot juice
0.25oz Petite cane syrup
Shake and strain over crushed ice
Float .5oz beet juice
Garnish with Karma Orchid
Sherry Blend #2
1 part Gonzales Byass Oloroso
1 part La Guita Manzanilla
1 part Dolin Dry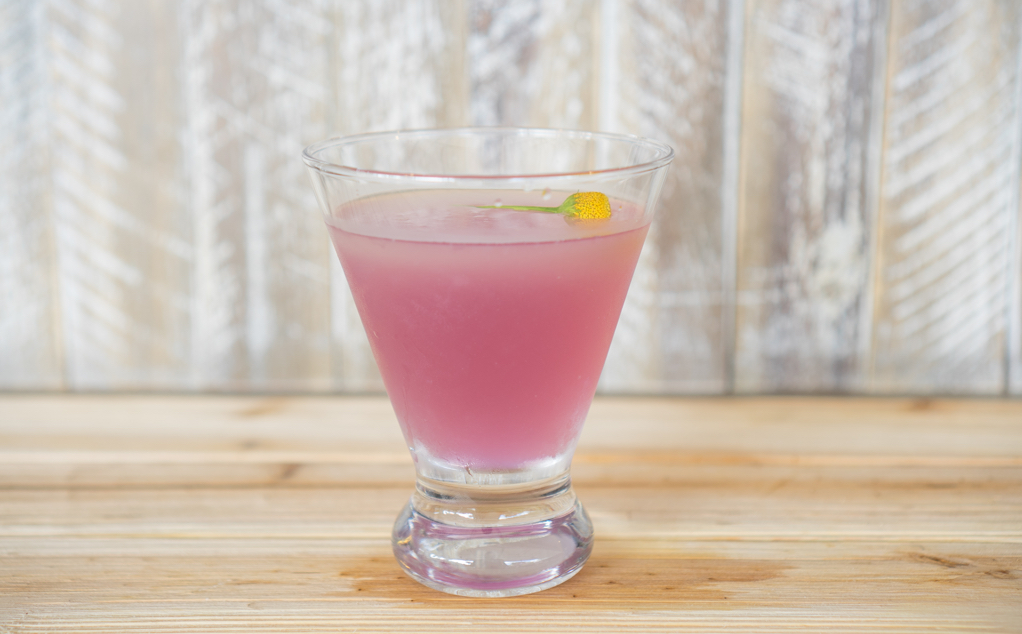 Electric Daisy
Basically the summer version of a Jägerbomb, with Patron instead of Jägermeister and you don't drop the alcohol into the Red Bull… okay so not exactly like a Jägerbomb, but delicious nonetheless.
Ingredients:
2oz Patron Silver
1oz Fresh squeezed lime juice
1oz Simple Syrup
Topped with blueberry Red Bull
Method: Pour Patron, lime juice, and simple syrup over ice in a tin and shake. Strain into glass and top with Red Bull. Garnish with a Szechuan flower.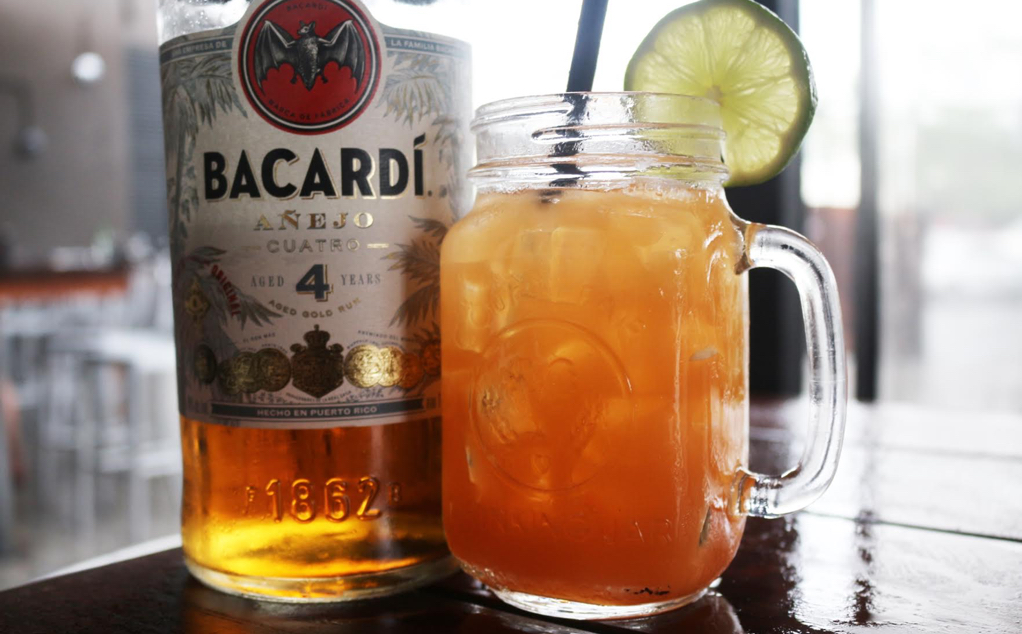 Patio Punch
Keep it sweet and simple with Patio Punch, designed to be consumed on a porch or patio after a long day of mowing the lawn or watching someone else mow the lawn.
Ingredients:
1.5oz Bacardi 4yr Anejo
1oz Pineapple juice
0.25 oz Passionfruit
0.5oz Orgeat syrup
0.5oz Lime juice
0.5oz Creme de Banana
2 dashes of Creole Bitters
Method: Combine all ingredients into a mixing glass, add ice, shake, and strain into a mason jar. Garnish with a lime wheel.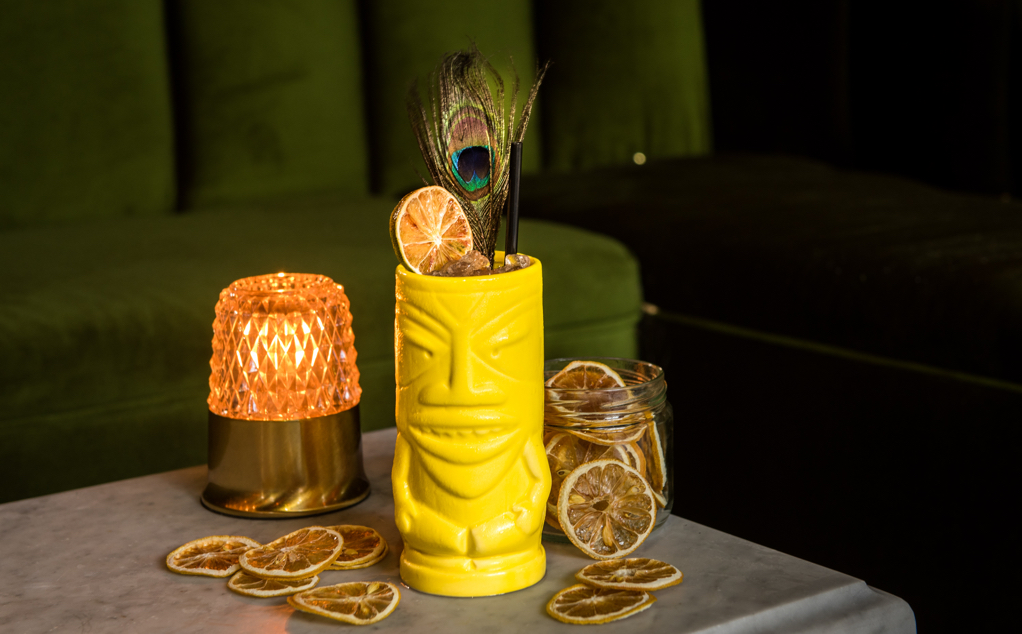 Don't Sleep on Me 2.0
Apparently this cocktail has been slept on and it has had enough. The prep time may seem like a lot, but take this drink's name at face value and know that by the end you'll have a drink worthy of relaxing to.
Ingredients:
1.5oz Afrohead 7yr Rum
0.5oz Giffard Vanilla de Madagascar
2oz Taro Milk Tea
0.5 oz Bitter lemon syrup
Taro Milk Tea
You will need Taro root powder, or you can go to a local Boba or bubble tea shop.
¼ cup Taro root powder
1 cup Green Tea
1 cup milk of your choosing (we use almond milk)
Bitter Lemon
Start with a mixture of 2 parts sugar to 3 parts water.
Cut at least 2 lemons into wheels using all of the fruit, and simmer over low-medium heat for about 15 minutes.
Strain and refrigerate.
Method: Build in a tin of your choice. Fill with one large scoop of ice. Give a good shake for roughly 8-10 seconds. Strain it over crushed ice. This is important in order to further dilute the cocktail and balance the sweetness. Garnish with a lemon wheel and pineapple horns, or if you want to be 100% authentic, we garnish ours with a peacock feather.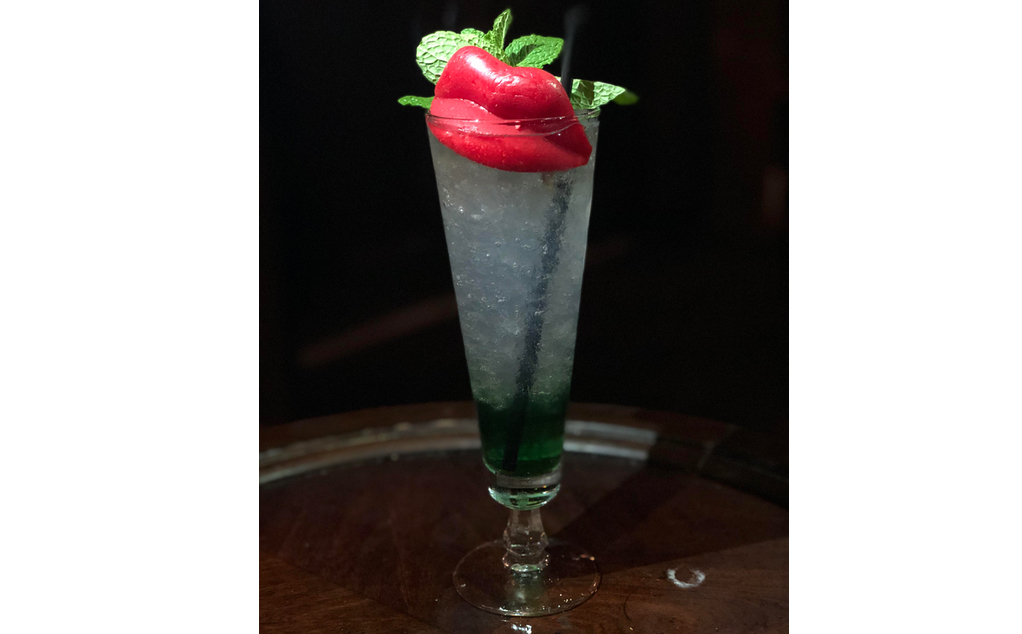 Pucker Up
Tired of sweet cocktails? We have the perfect solution. The Pucker Up does exactly what you think it might. Shock the senses a little and get away from the sweeter side of things with this delicious drink.
Ingredients:
1.5oz Titos
0.5oz Creme de Violette
1oz Pamplemousse
2 dashes Allure Bitters
0.5oz Lemon juice
0.5oz Apple Pucker Reductions
Top with Prosecco
Method: Add Apple Pucker Reductions to glass. Include Titos, Creme de Violette, Pamplemousse, Allure Bitters and lemon juice in mixing tin, add ice and shake. Pour into glass with Apple Pucker Reductions and top with Prosecco. Garnish with wax lips.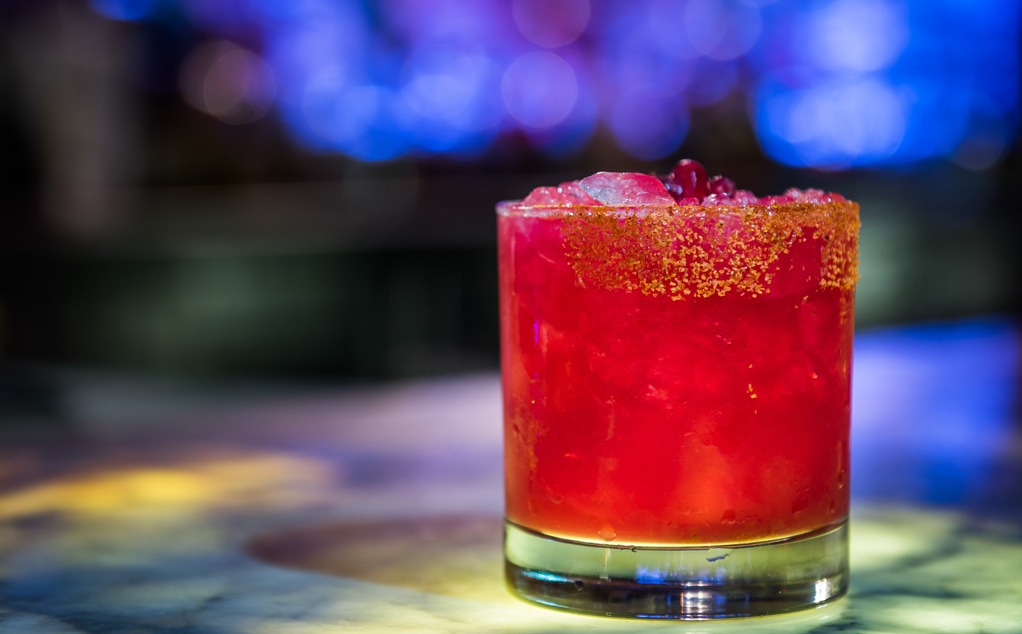 Jasmine Margarita
Definitely the easiest drink to prepare on this list, the Jasmine Margarita keeps things simple yet scrumptious.
Ingredients:
1.5oz Don Julio Silver Tequila
1oz Pomegranate Puree
Method: Combine Don Julio Silver Tequila and Pomegranate Puree in mixing tin. Add ice and shake. Pour into glass and top with pomegranates.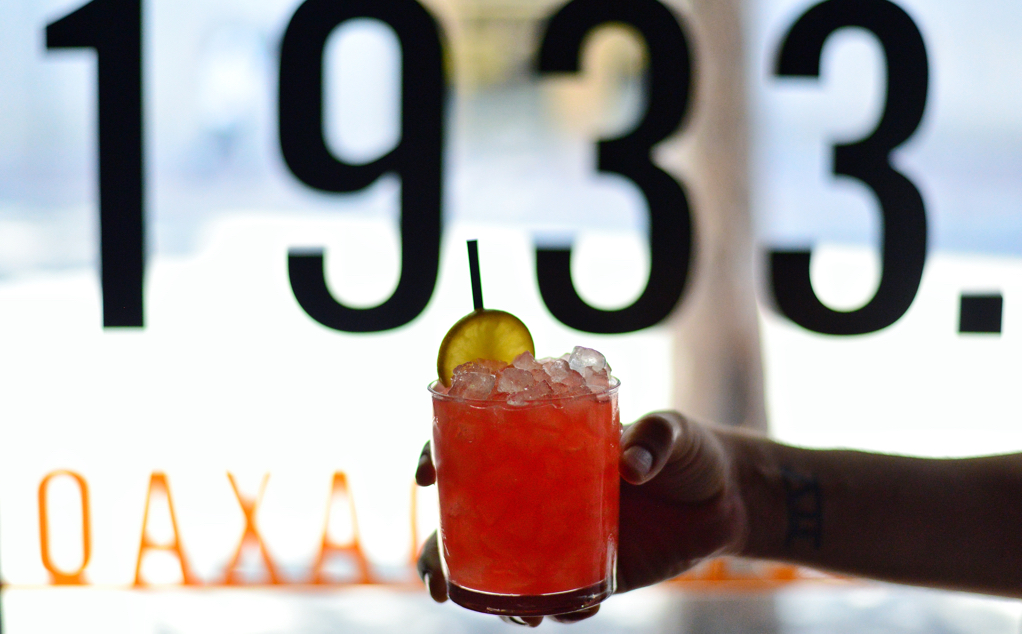 Blackberry Mint Margarita
Sipp's Mojo Berry soda brings the blackberry, mint and lime, while the tequila brings the, well, alcohol part of this cocktail. The added lime juice just gives a little kick to keep this from becoming boring.
Ingredients:
1.5oz Tequila
1oz Lime Juice
4oz Sipp Mojo Berry
Method: Add the ingredients in a highball or margarita glass filled with ice cubes. Garnish with a lime wedge or round.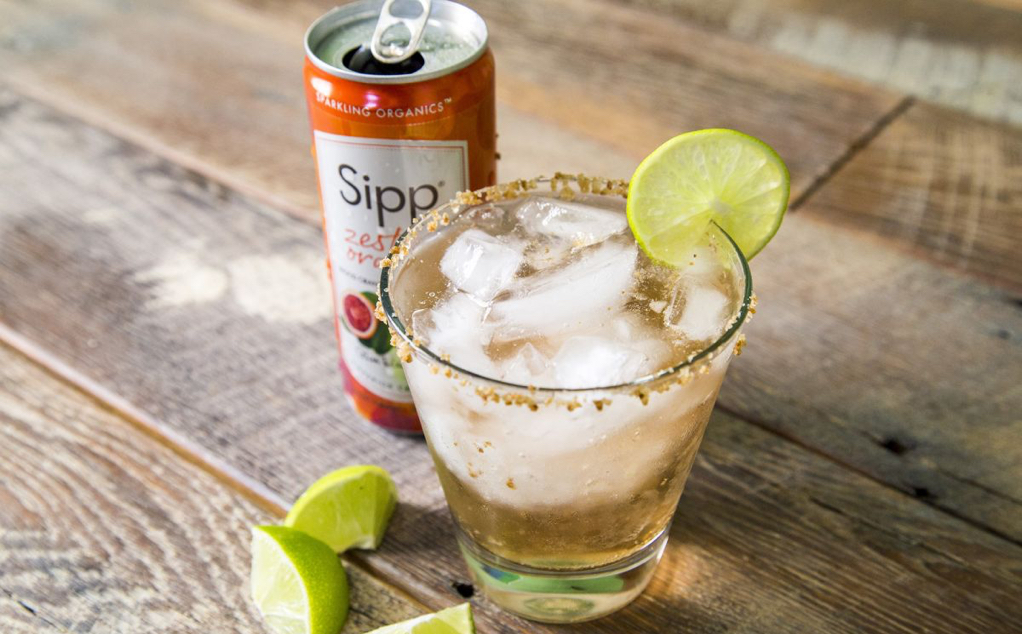 Zesty Orange Margarita
The word "zesty" in this case refers to the jalapeno that Sipp puts in their Zesty Orange soda. "Spicy Orange Margarita" doesn't quite have the same ring to it. Don't worry though, the lime, orange and more lime calms the jalepeno down a bit for a downright sippable drink.
Ingredients:
1.5oz Tequila
1oz Lime juice
Method: Add the ingredients in a highball or margarita glass filled with ice cubes. Garnish with a lime wedge.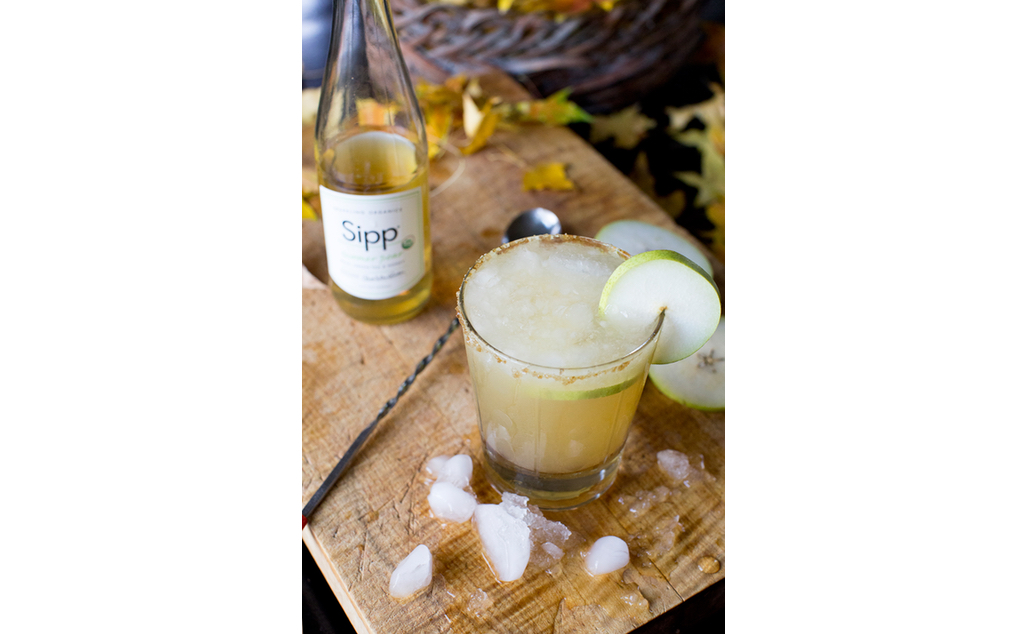 Pear Vanilla Cocktails
The Summer Pear drink from Sipp is delicious already, with pear, green tea and honey flavors woven together with a hint of agave. The vanilla vodka and pear nectar are added just so we can accurately call this a cocktail.
Ingredients:
2oz vanilla vodka
1oz pear nectar or juice
Method: Pour vodka and juice in a glass with ice. Top off with Summer Pear. Stir. Garnish with pear if desired.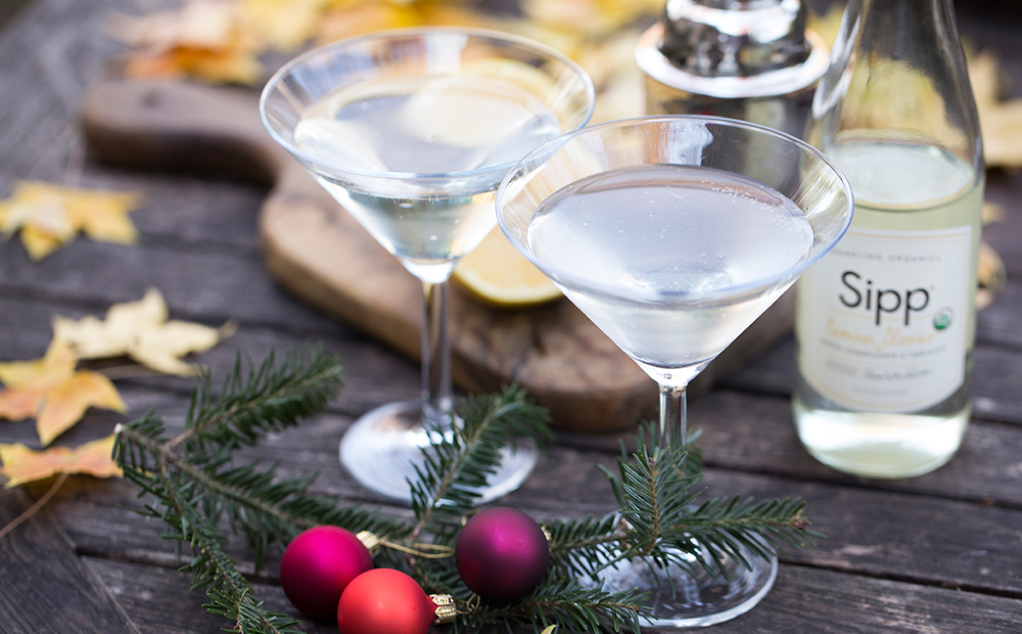 Lemon Flower Margarita 
For lemon lovers only, the Lemon Flower Margarita keeps the lemon flavor from becoming overwhelming, but only just. Sipp Lemon Flower is aptly named due to its lemon and floral flavors.
Ingredients:
2oz lemon vodka
Splash of lemon juice
Method: Add all ingredients to a chilled martini glass.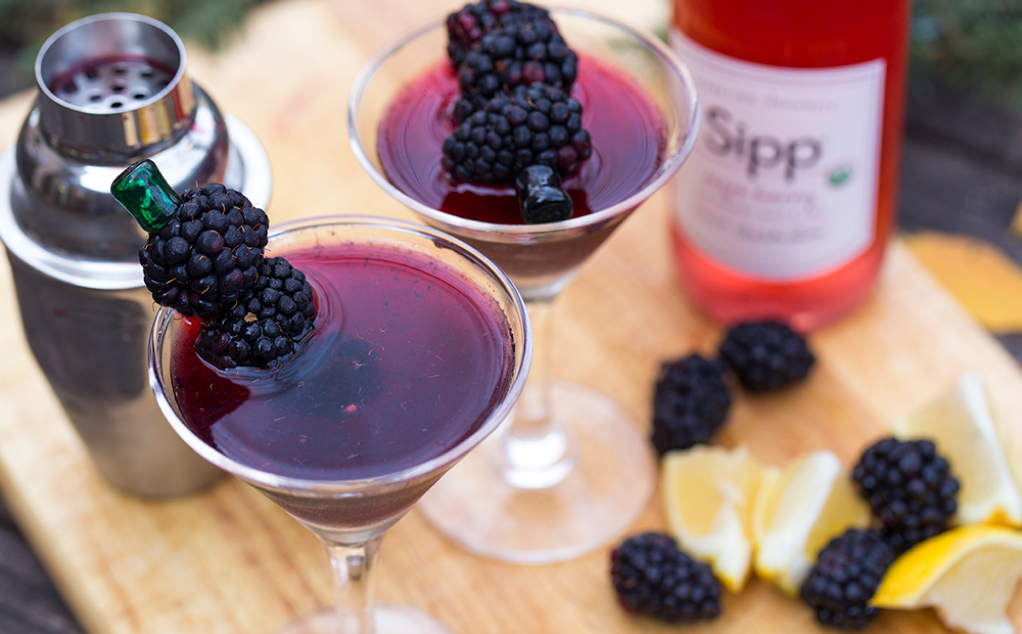 Pomegranate Mojo Lemondrop
Revisiting Sipp's Mojo Berry beverage, but this time with a few more flavors. Pomegranate and lemon are two fruits not contained in the Mojo Berry, but they make a lovely addition and the whole concoction makes a lovely cocktail.
Ingredients:
6 blackberries
4oz pomegranate juice
1oz lemon juice
1oz vodka
Method: Muddle blackberries and place in shaker with ice, juice and vodka. Shake for 20 seconds, strain into glass and top with Mojo Berry. Garnish with blackberries.
Sipp Sparkling White Cranberry Sangria
A bottle of chardonnay, some Sipp Lemon Flower and a whole lot of fruit later and you have a modern sangria that might be able to replace your tried-and-true sangria recipe, or at least make you think twice before you go back to your old ways.
Ingredients:
¼ cup sugar
1 cup white rum
1 cup diced red apple
1 cup diced green apple
1 cup cranberries (fresh or frozen)
1 bottle chilled chardonnay
1 cup chilled white cranberry juice
2 cups Sipp Lemon Flower
Method: In a large pitcher combine sugar and rum. Stir to dissolve. Add apples, cranberries, chardonnay and white cranberry juice. Refrigerate for several hours or overnight. When ready to serve, add Sipp and stir. Pour into ice-filled glasses and scoop in some of the fruit.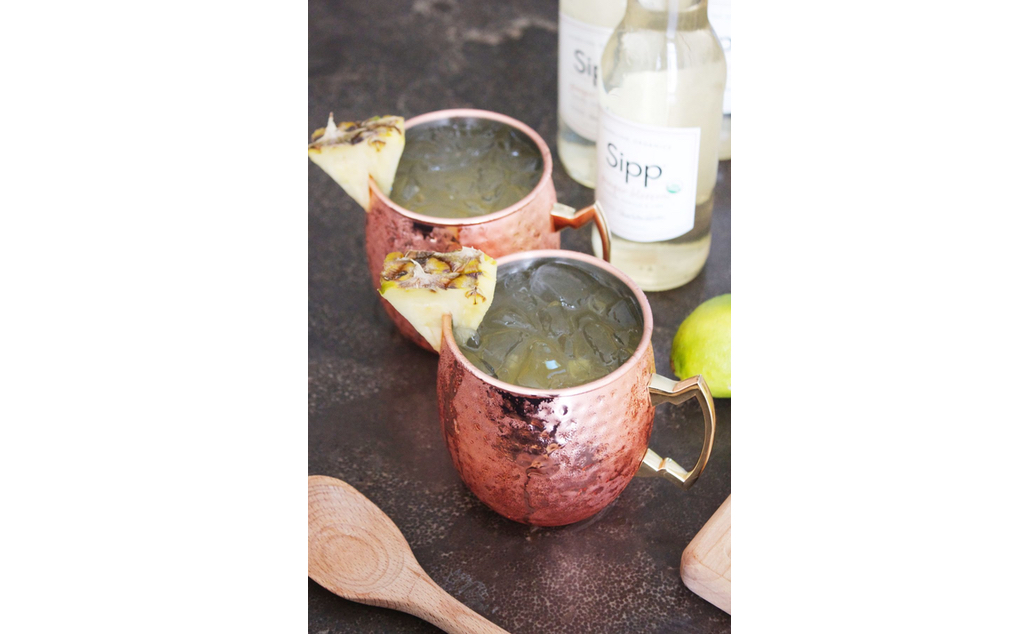 Ginger Pineapple Moscow Mule
We can't think of a better combo than spicy ginger and sweet pineapple, but then this twist on a Moscow Mule had to go and add lime and smooth vanilla flavor and things got even more delectable.
Ingredients:
¼ cup crushed pineapple
0.5oz lime juice
1.5oz vodka
Method: Crush the pineapple in the bottom of a copper mug. Add ice, vodka, lime juice and Ginger Blossom. Stir gently. Garnish with a pineapple wedge.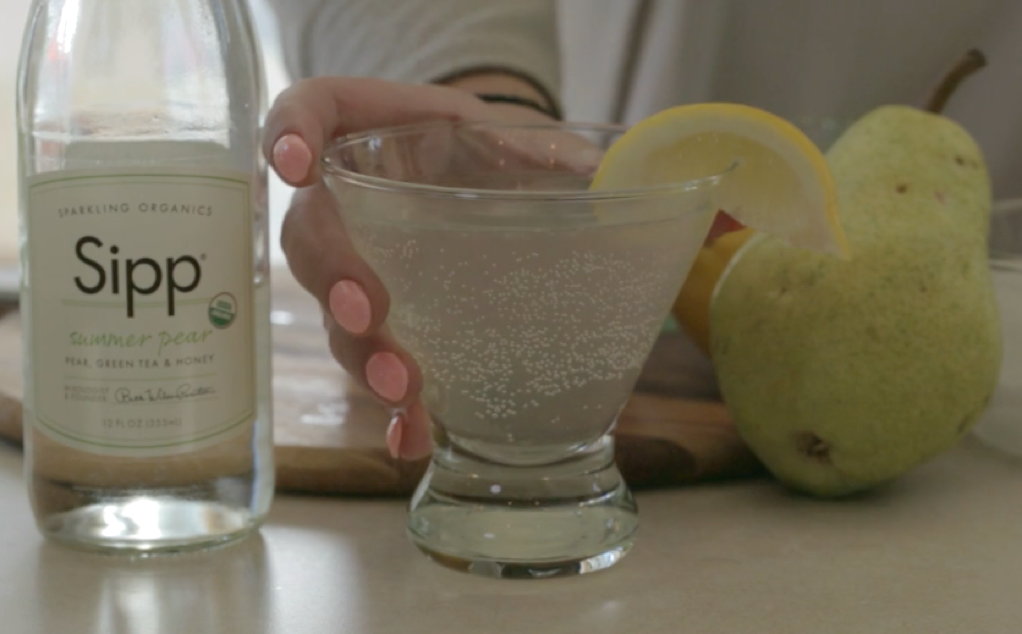 Pear Honey Drop
For those of you who are into pear but maybe aren't into vanilla, the Pear Honey Drop cocktail has your back. Here we see more of the Sipp Summer Pear, but this time with pear vodka and lemon juice for a cocktail as laid-back as you'll be drinking it.
Ingredients:
2oz pear vodka
1oz lemon juice
Method: Pour vodka and lemon juice over ice in a chilled collins glass. Top with Sipp Summer Pear. Stir well. Garnish with a lemon twist.