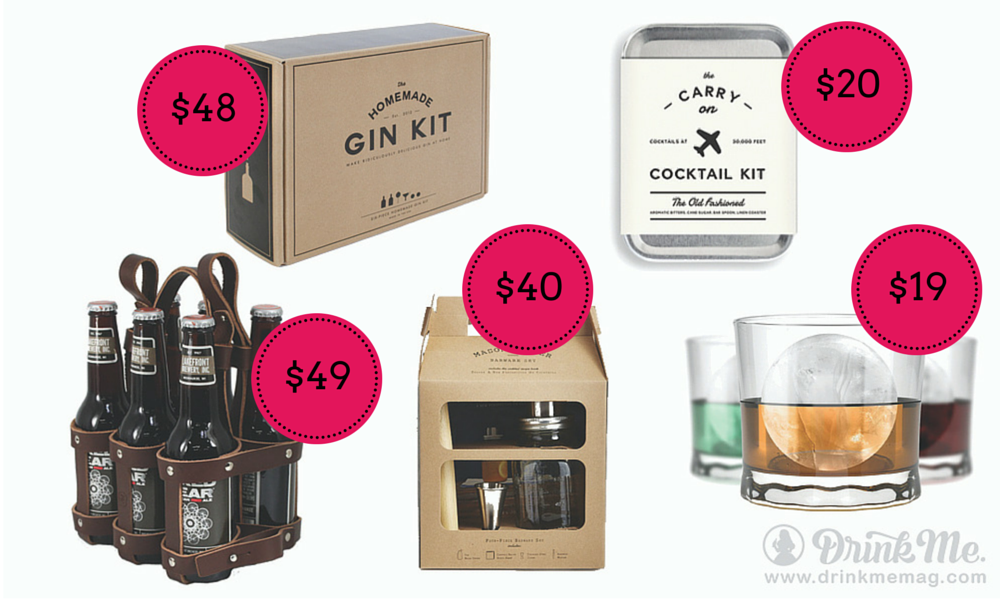 The Homemade Gin Kit contains everything you need to transform a generic bottle of vodka into a unique and delicious home-blend of your very own gin.
Includes
(2) 375ml Glass Bottles

Fine Stainless Steel Strainer

Stainless Steel Funnel

(1) Tin of Juniper Berries

(1) Tin secret Botanical Blend

Makes 750ml of homemade gin
The Carry On Cocktail Kit provides everything you need to mix two proper old fashioned cocktails at 30,000 feet. Simply carry on your kit (don't worry, it will make it through security just fine), order a mini-bottle of bourbon, and use the custom combination bar spoon / muddler to mix in the included cane sugar and small batch bitters. You are now free to cocktail about the cabin.
Carry On Tin

Recipe Card

Spoon / Muddler

Aromatic Bitters

Cane Sugar

Linen Coaster

With everything necessary to start crafting delicious cocktails. The Barware Set is the perfect companion for at-home bartenders.
The Mason Shaker

(1) W&P Muddler (10 in)

(1) W&P Jigger (0.75 oz / 1.5 oz)

Slow melting ice balls quickly cool your drink without watering it down. Invented by avid scotch-whiskey drinkers, The Whiskey Ball has more volume and less surface area than a traditional ice cube- so they melt slower. Now, you can bring the artesian science of slow-melting ice spheres to your home without any complicated or expensive machinery. Incredibly easy to use, just add water, and freeze to add sophistication to any drink.
Includes (2) Original Whiskey Ball molds

Round shape redoes water dilution caused by melting ice

Perfect for classic cocktails, nonalcoholic beverages, water, and even coffee

Creates a full 2 1/2″ ice ball – largest in it's class

Flexible silicone material allows instant removal of ice

Dishwasher safe

BPA-free

Made from full grain leather, Fyxation's beer caddy is the perfect companion for a night out on your bike
We've all been there before. Riding from the liquor store to your apartment or party with a six pack in hand isn't impossible but there's a lot of room for error. This leather six pack caddy securely fastens to your top tube and seat tube offering a secure and hands free way to deliver your precious cargo. Enjoy the ride and please bike responsibly.
Full Grain Leather Bicycle Caddy

Holds (6) Beer bottles or cans

Made in Wisconsin by local craftsmen