The way we enjoy our wine is forever changing, and you can rest assured that we'll always be here to keep you on top of the latest trends. We recently came across a new service in the UK that we're incredibly excited to share with you. A company called Vinoa are making wine exploration more accessible than ever before by bringing a variety of wines to your doorstep in a fun and educational format.
The premise is simple – once a month you're sent a Vinoa Box containing four 50ml samples of wines, which have been carefully selected to demonstrate the best varieties available from one of the wine world's best regions. You sip through the four wines whilst following an interactive guide which tells you all about what's in the glass, who makes it, precisely where it comes from and why it tastes so damn good!
So how does the wine make its way into the test tubes? The founder, Cyrus, described it to us as "Breaking Bad meets Weird Science". Their state of the art re-bottling process wastes or spoils nothing. Zero. Nada. The full contents of bottles are re-distributed to the miniature formats, and by using a combination of natural gases and a high quality closure there's no risk of oxidisation spoiling the wine. We were slightly apprehensive about the condition of the re-packaged wine (as anyone would be, right?), but can honestly say that it was showing all the freshness we would expect from a bottle that's just been opened for the first time.
The quality of the wine is very impressive. Each month there's at least one iconic, premium wine that's worthy of the price of admission by itself. The Meerlust Rubicon (Stellenbosch), the Lafaurie-Peyraguey Sauternes (Bordeaux) and the Borgogno Barolo (Piemonte) have all appeared in recent months. See below my tasting notes for the four wines included in the Southern Rhone box shipped out in May.
Chateau Mourgues du Gres Les Galets Dorés Costiere de Nîmes 2014
Costières de Nìmes is a little known White blend. This one had Grenache, Rolle, Roussanne and Clairette. The flavour was a combination a grapefruit, peaches and wet river rocks with some herbal and nutty secondary notes showing. It had grippy texture and some body, but it avoids intensity and richness to play more on the side of freshness and drinkability. Good acid balance. Overall very pleasing.
La Ferme Saint Martin Les Terres Jaunes Beaumes-de-Venise 2013
Beaumes-De-Venise is a Cotes du Rhone Village. This one skips 'M' in the GSM and sticks to 75% Grenach and 25% Syrah. It had a farmy, boozy nose with a bit of heat. The flavours were predominantly black fruit with some liquorice and a trademark peppery finish. It had low acidity and fine tannins, so not a huge amount of body, but the spice, alcohol presence and general potency ensure it retains a big feel. Definitely one to decant.
Domaine des Cigalounes Lirac 2012
I've enjoyed many Lirac's and often tip them as great wine for the price point. This punchy little number didn't disappoint. The nose was more goaty and leathery than typical CdR with 20% Syrah and 10% Cinsault throwing off meaty, savoury scents. It was rich and rustic delivery all the potency the nose promised. It had a slight baked feel about it, but was very charming with it. Even charming enough to hide the 15% ABV.
Clos Saint-Michel Cuvée Spéciale Chateauneuf-du-Pape 2011
It was lovely to finish off the flight with a premium Chateauneuf-du-Pape. This was classy, balanced and poignant. There was a lot to pick out underneath the layer of fresh black fruit, with earthy forest floor, cedar wood, balsamic vinegar, liquorice and tapenade. The spice is well integrated. It was hard not appreciate the brilliant combination of powerful flavours and graceful freshness on show.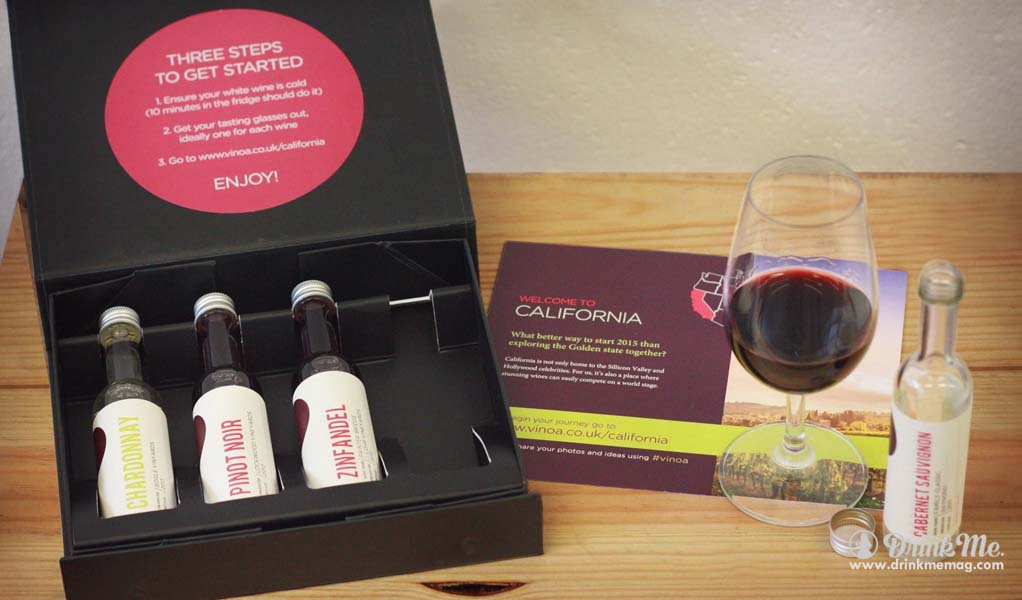 The interactive experience is perhaps the best part of the service. Each wine has a corresponding online video with facts, figures and interesting tidbits. It's pitched just at the right level to pique the interests of all, covering basic information about the grape and style to detailed description of winemaking methods and how this effects flavour.
You can test your nose and your palate by selecting the scents and flavours you find. Then you get the opportunity to rate the wine. Subscription also enables you to purchase any of the wines at a discount through the online Vinoa shop.
The experience and benefits are easily worth the £9.99 monthly subscription. In fact, we're so confident you'll fall in love that we've teamed up with Vinoa to get you your first box for free. This is an exclusive deal to Drink Me readers that isn't available anywhere else on the web. A big thank you to the folks at Vinoa for offering our readers such a wonderful perk. To take advantage, click below!