Vine & Dine returns for its sixth year, August 15-18, 2019. The weekend-long epicurean festival brings together foodies, wine and spirit connoisseurs, master sommeliers, top culinary talent and winemakers in the stunning destination of Big Sky, Montana. The festival incorporates outdoor adventure and unparalleled scenic beauty with food and wine tastings, educational seminars, cooking demonstrations, and curated lunches and dinners.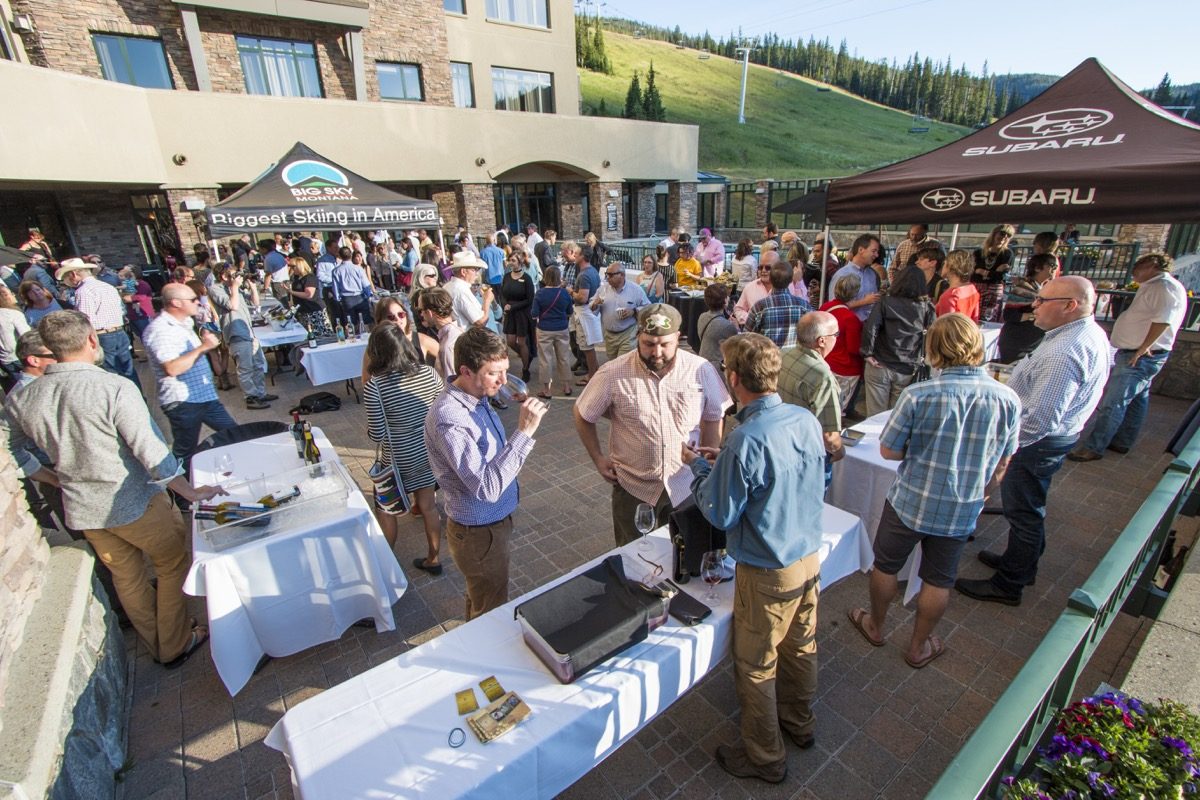 Big Sky's Vine & Dine offers the unique opportunity for foodies and beverage connoisseurs to clink glasses with extraordinary talent, including master sommeliers Fred Dame and Jay Fletcher, paired with the culinary talents of Chef Scott Giambastiani of Google, Kent Torrey of The Cheese Shop, and other movers and shakers in the industry.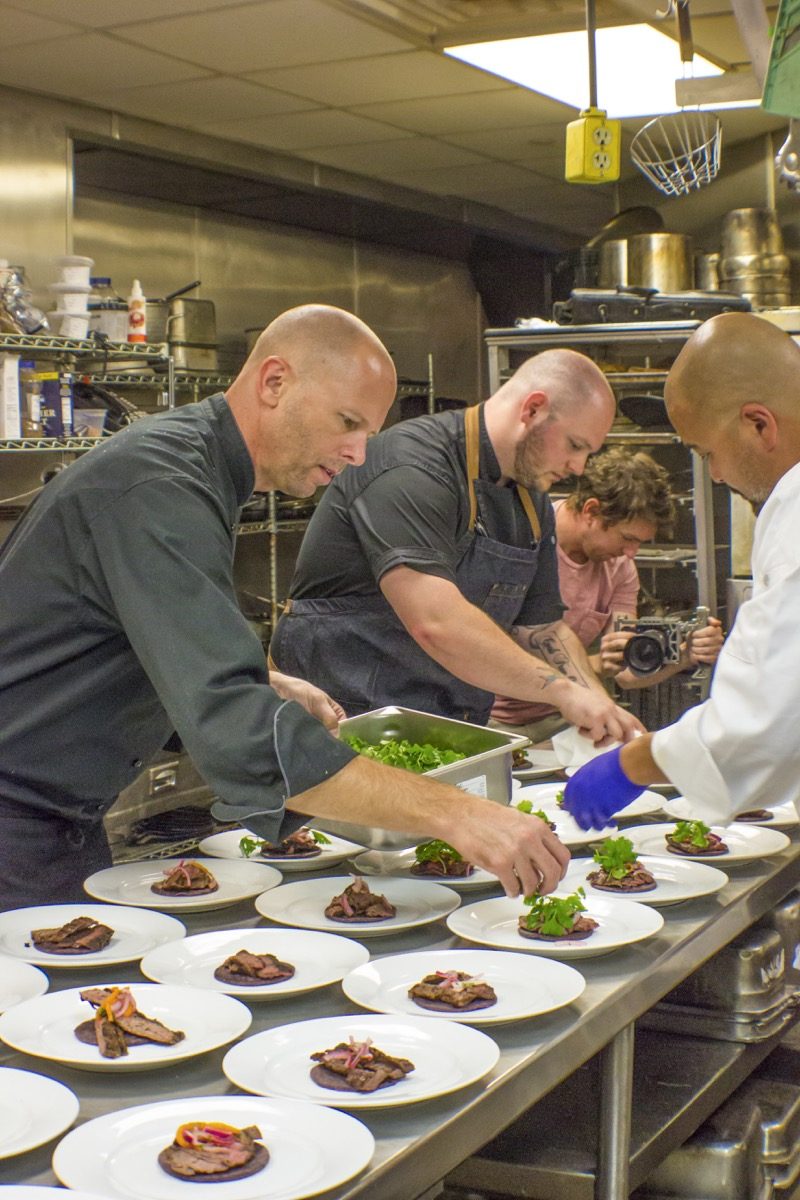 "What differentiates Vine & Dine from other culinary festivals is the combination of outdoor recreation and masterful food and wine pairings. Vine & Dine is the ultimate mountain après experience," said Adam Stevens, vice president of food and beverage at Big Sky Resort. 
Weekend highlights include Cheese & Wine…A Stinky Good Time, where cheese connoisseur Kent Torrey of The Cheese Shop in Carmel, California, presents eight unique cheeses perfect paired with wine selections from sommeliers Fred Dame and Jay Fletcher.
"I'm paired with major rock stars – I just have the cheesy jokes," said Kent Torrey, of the Cheese & Wine soiree on Saturday afternoon.
For those who enjoy drinking in the views, Pinot on the Peak features a toast and picnic at the summit of Lone Mountain, at 11,166 feet, no hike required. Vine & Dine events such as the Cocktail Codex Master Class presented by Death & Co, a New York City cocktail institution, provide an education on cocktail-crafting led by expert mixologists.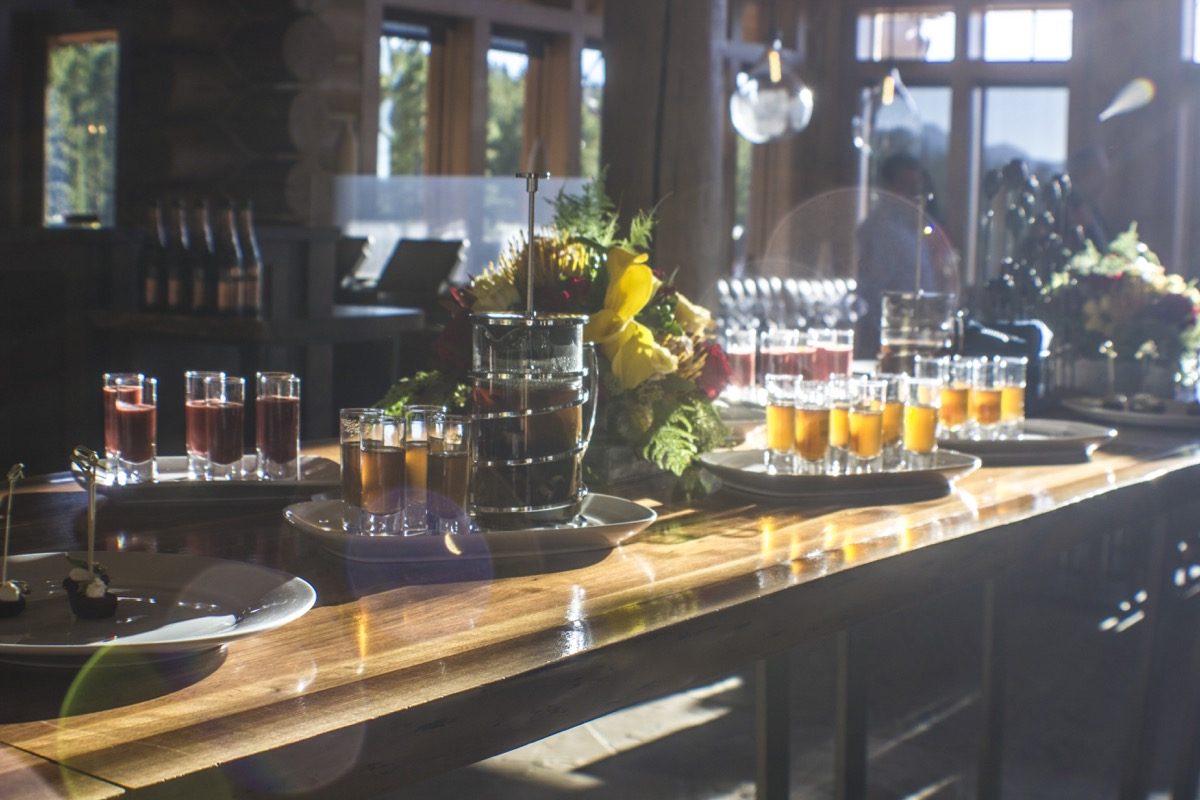 "I'm excited to be back at Big Sky for the sixth annual Vine & Dine, where our original quartet who started this event – master sommeliers Fred Dame & Jay Fletcher – join Kent Torrey and I for a series of exciting food and wine events in mid-August," said Scott Giambastiani, food program manager at Google.
Leading many of the weekend's events is revered master sommelier Fred Dame, affectionately known by his colleagues as "the godfather" of wine. Joined by master sommelier Jay Fletcher, Dame will lead the Vine & Dine Master's Dinner at Everett's 8800 on Friday evening, featuring unique and rare wines from the Guild of Sommelier's cellar.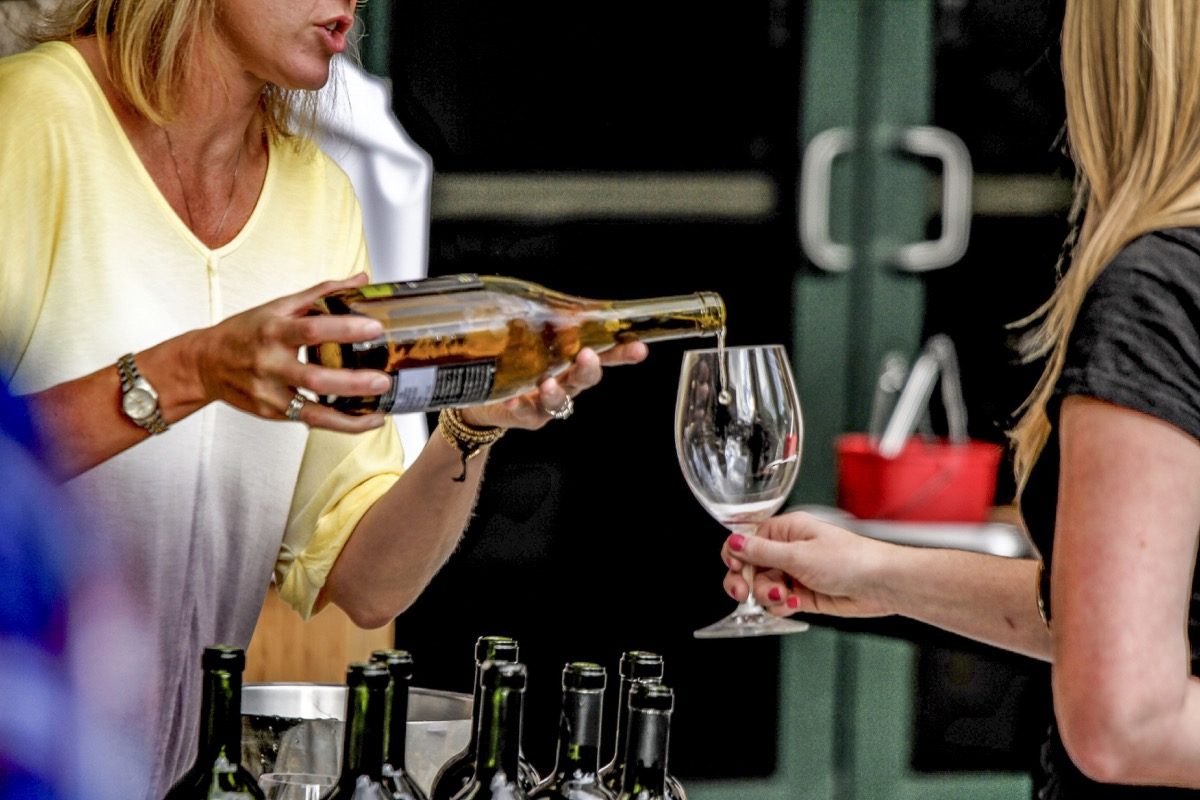 "There is no better place on the planet to drink fine wine, dine well and celebrate life," said Dame. "Big Sky's natural beauty and outdoor activities are world class," Dame added.
Kent Torrey describes Vine & Dine events as informative and entertaining, with a laid back Montana vibe.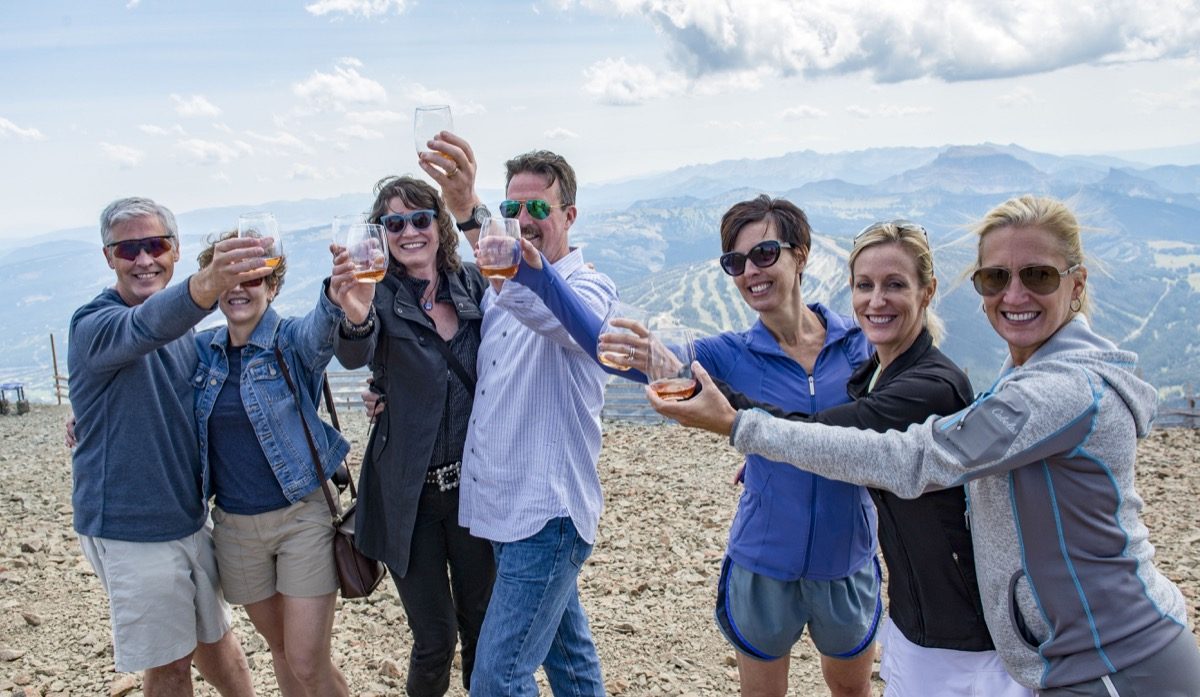 "This is the most fun groups of professionals to take you on a journey of eating and drinking. We could get really technical, tell you the history, and everything under the sun, but ultimately we know this: festival goers want to drink wine, eat cheese and have fun," Torrey said. "That's what it's all about." 
Master sommelier Jay Fletcher is most excited about hosting the Master's Dinner at Everett's 8800 on Friday evening.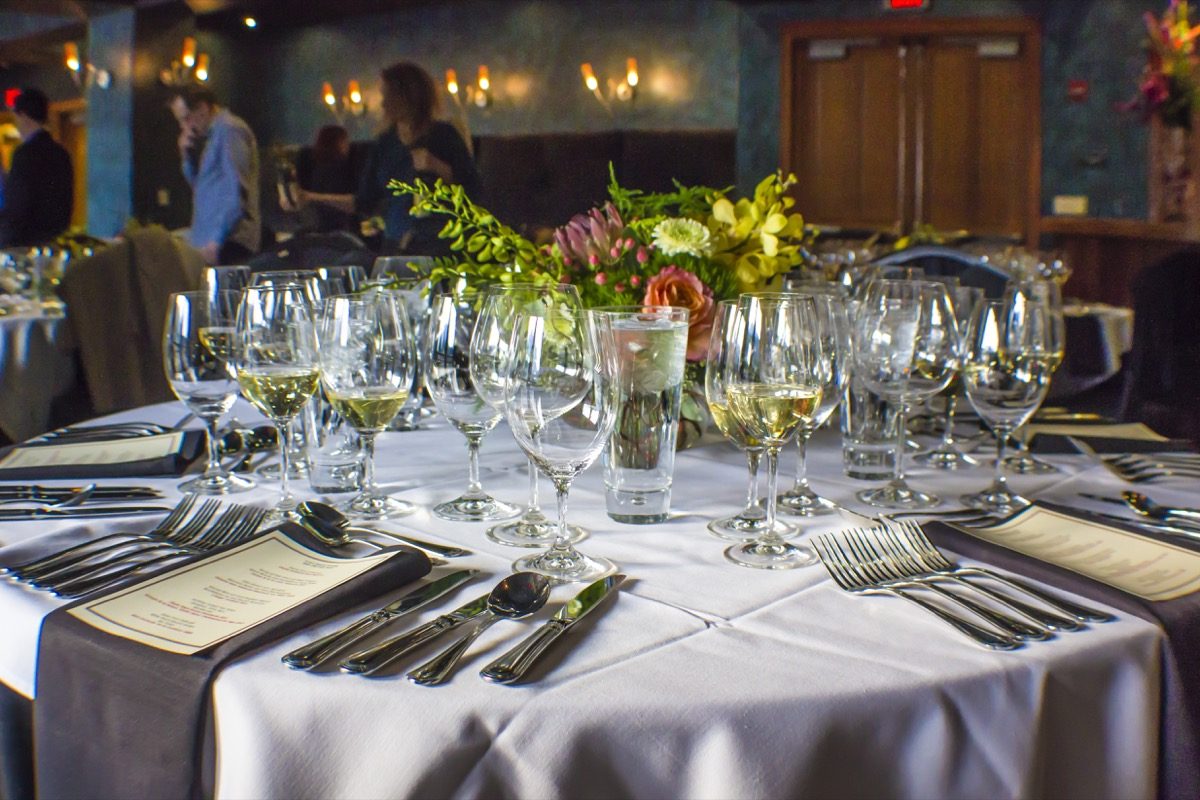 "Chef Scott Giambastiani from Google will be doing the cooking and his food is always crazy good. Paired with the wines I have selected from the Somm Foundation's Old and Rare Cellar – plus the views from Everett's – surely it will be an event not to be missed," said Fletcher. 
Vine & Dine guest chefs and sommeliers will be sharing the kitchen with members of the Big Sky Resort culinary team, including Chef Ryan Solien, Chef Eric Holup, Master Chef Sunil Malhotra, and resident sommelier Don Jost.
"The hospitality and friendship that I have received every year makes it feel like home," said Fletcher, who will be returning for his sixth year of Vine & Dine festivities.
---
Thursday, August 15
SEMINAR | High Elevation Wines
4:30 p.m. – 6:00 p.m.
Location: Peaks Restaurant, Summit Hotel
Big Sky Resort resident sommelier Don Jost hosts. Although the wine-growing challenges are numerous as vineyard altitudes increase, it doesn't stop some enterprising producers from carrying on the tradition of exciting alpine wines. The intense sunlight and massive temperature swings can produce wines of incredible power and balance that are the perfect complement to hearty, mountain cuisines. These are often dynamic wines of great character that offer a refreshing change from the super-soft fruity wines that dominate the mainstream wine market of today. This tasting should energize your palate and get you in sync with the mountains as you prepare for the ride up to Everett's for the Opening Reception.
Tickets: Complimentary event
---
OPENING RECEPTION | Vine & Dine Opening Reception
6:30 p.m. – 9:30 p.m.
Location: Everett's 8800
The perfect way to kick off the Big Sky Vine & Dine weekend of festivities. Ride Ramcharger 8 to Everett's 8800. Sip, savor, mingle and marvel in this picturesque setting at the top of Andesite Mountain. Pitchfork fondue, wood-fired grills, classic cheese fondue and other delights from the high regions of the world will be on display. Culinary students from Montana ProStart programs join Big Sky Resort and visiting regional and VIP chefs to show off a variety of culinary creations. Master sommeliers Fred Dame, Jay Fletcher, Google Bay Area Food Service Manager, Chef Scott Giambastiani along with The Cheese Shop's Kent Torrey host this incredible event. This is your chance to meet and mingle with master sommeliers, winery reps from over 30 wineries with over 120 wines, local distillers, and chefs from around the region. This unique event will elevate your expectations of both Montana culinary offerings, Montana spirits and premium wines of the world.
Tickets: $125
---
Friday, August 16
SEMINAR | Tasting the Master's Way
11:00 a.m. – 12:30 p.m.
Location: Talus Room, Summit Hotel
Learn to taste like a Master by joining master sommeliers Fred Dame and Jay Fletcher as they take you through the sensory evaluation and deductive tasting techniques of the master sommelier. You will be well on your way to tasting like a master. Please arrive 10 minutes early.
Tickets: $30
---
SPIRITS | Cocktail Codex Master Class
3:00 p.m. – 5:00 p.m.
Location: Talus Room, Summit Hotel
Death & Co has been a Manhattan cocktail institution since its opening in 2006, widely recognized as one of America's best cocktail bars and leading the revival of craft cocktail bars in NYC. Death & Co will teach you about the six root cocktails that shape all cocktails around the world. Class participants will then have the chance to master two cocktails in this hands-on class. An expert mixologist will walk you through how to shake, stir and mix the perfect signature cocktail using top-shelf Montana liquor. By the end of this class, you'll bring home newfound bartending skills sure to impress guests at your bar or at your next dinner party.
Tickets: $125
---
DINNER | Vine and Dine Aperitivo
4:30 p.m. – 7:30 p.m.
Location: Andiamo
Celebrate the magical hours of the day as they do in the grand Piazzas of Italy. Multiple wineries pour tastes and resort mixologists tempt you with their creations, all while an endless parade of delectable offerings pour out of the kitchen at Andiamo.
Tickets: $95
---
DINNER | Vine & Dine Master's Dinner
6:00 p.m. – 9:30 p.m.
Location: Everett's 8800
Master Sommeliers Fred Dame and Jay Fletcher will be your guide through a unique evening of inspiring wines and amazing epicurean delights as Chef Scott Giambastiani and resort chefs conspire course by course to bring a true alpine experience to new heights. This five-course dinner will be paired with unique and rare wines from the Guild of Sommelier's cellar. Reception starts at 6:00, seating begins at 6:30.
Tickets: $225
---
Saturday, August 17
TOWN HALL | Vine & Dine "ProStart" Education
10:30 a.m.-12:00 p.m.
Location: Dunraven/Obsidian, Yellowstone Conference Center
Students of Southwest Montana ProStart culinary programs meet in a town hall style setting to ask the opinions of Chef Scott Giambastiani, guest chefs and Big Sky Resort Chefs. This event is highly recommended for ProStart students and their families, as well as anyone looking for inspiration from some of the top hospitality leaders in the world.
Tickets: Complimentary
---
SEMINAR | Rhone Valley Wines and Grapes
11:00 a.m. – 12:30 p.m.
Location: Talus Room, Summit Hotel
Master sommelier Jay Fletcher brings you an Old and New world perspective of the grape varieties of the Rhone Valley of southern France. Matt Trevisan, Winemaker at Linne Calodo Winery and Chris Johnson from North Berkeley Imports participate. Please arrive 10 minutes early.
Tickets: $30
---
SEMINAR | Cheese & Wine… One Stinky Good Time
2:30 p.m. – 4:00 p.m.
Location: Talus Room, Summit Hotel
Join Kent Torrey C.E.O. (Cheese Eating Oenophile), grand fromage, or as they like to call him, "the big cheese," of the famed "Cheese Shop" in Carmel by the Sea, California. Kent will be joined by Scott Giambastiani and master sommeliers Fred Dame and Jay Fletcher for this seminar all about cheese and wine. Kent will present eight unique selections of cheese paired perfectly with Fred and Jay's wine picks of the day. A festival favorite and always a sellout.
Tickets: $55
---
LUNCHEON | Pinot on the Peak
Departure Times Vary, starting at 10:25 a.m.
Location: Basecamp
Welcome to the "Biggest Toast in America." This once in a lifetime adventure combines the Lone Peak Expedition and wine and food tastings along the way including a high altitude toast at the summit of Lone Mountain at 11,166 feet. Enjoy alpine picnic boxes at the top of the Swift Current chairlift and meet winery representatives from an array of producers. For lovers of high mountain adventure and all things Pinot.
Tickets: $165
---
MARKET | Evening Stroll and Market
6:00 p.m. – 10:00 p.m.
Location: Mountain Village Plaza
Local restaurateurs, growers, artists, distillers, musicians and wineries team up for a truly unique presentation of food, wine, art and live music. This is Big Sky's version of a Grand Tasting meets farmer's market held in the plaza of the Mountain Village. Over 25 wineries will be in attendance pouring over 100 wines, plus food stations provided by local culinarians.
Tickets: $125
---
Sunday, August 18
BRUNCH | Recharge Brunch
9:30 a.m. – 1:30 p.m.
Location: Everett's 8800
A great way to wind down from a weekend-long epicurean adventure. Enjoy bottomless mimosas, Bellinis and our famous 75's abound. Resort mixologists will be preparing a custom bloody mary bar. The menu includes Everett's brunch favorites with wood fired grilled options, winery representatives, and master sommeliers.
Tickets: $55
---
BRUNCH | 9 Hole Hangover Brunch and BBQ
10:00 a.m.
Location: Big Sky Golf Course
Vine and Dine VIPs and celebrity chefs mix it up with guests for a 9-hole scramble at Big Sky Resort Golf Course for some laid-back fun. After a day on the links, enjoy enticing cuisine from Master Chef Sunil Malhotra and a guest chef. Cast your vote at our signature bloody mary contest featuring Montana's best distilleries.
Tickets: $109
---
Stay Steps Away from Vine & Dine
After a long day of wine tasting and activities, you'll want a place to stay that's only moments away from all the action. Stay in the Village Center, a modern hotel suite located right on the slope, or the Summit Hotel, an elegant hotel in the heart of the Mountain Village.
For tickets & more information, please visit www.bigskyvine.com.