With California drearily nearing its' last year of water, we'd like to look at the glass-half full in America's finest city, San Diego, through its' surplus of sun, fun, and picturesque views. A standard most San Diegans set is fitting all three of those into one experience. With a "no drinking on the beach" law in full effect, the goal is to find the best places to drink while looking through your drinking glass.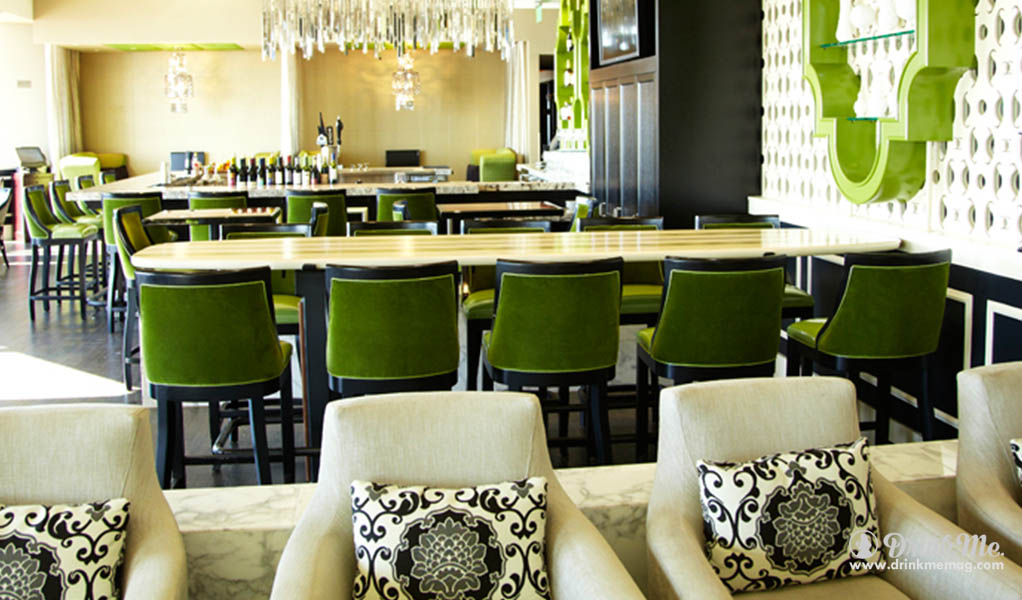 Step out of the hustle of downtown San Diego into the Symphony Towers and up to the 34th floor where 360 degree views of downtown San Diego are sure to take your breath away. The Apollo Bar's chic interior hosts contemporary furniture with pops of bright lime green. Yet, the focal point of the interior is a surf inspired communal table designed by local waterman, John Bishop. A first class menu, service, and view reinvent the term "social club," to keep you talking long after you have left the space.
Location: 750 B Street Suite 3400 San Diego, CA 92101
Hours: Monday – Tuesday: 7 a.m. – 9 p.m.
Wednesday – Thursday: 7 a.m. – 10 p.m.
Friday: 7 a.m. – 12 a.m.
Saturday: 5 p.m. – 12 a.m.
Price Range: $$$
Connect: | FB | Twitter | Web | Contact |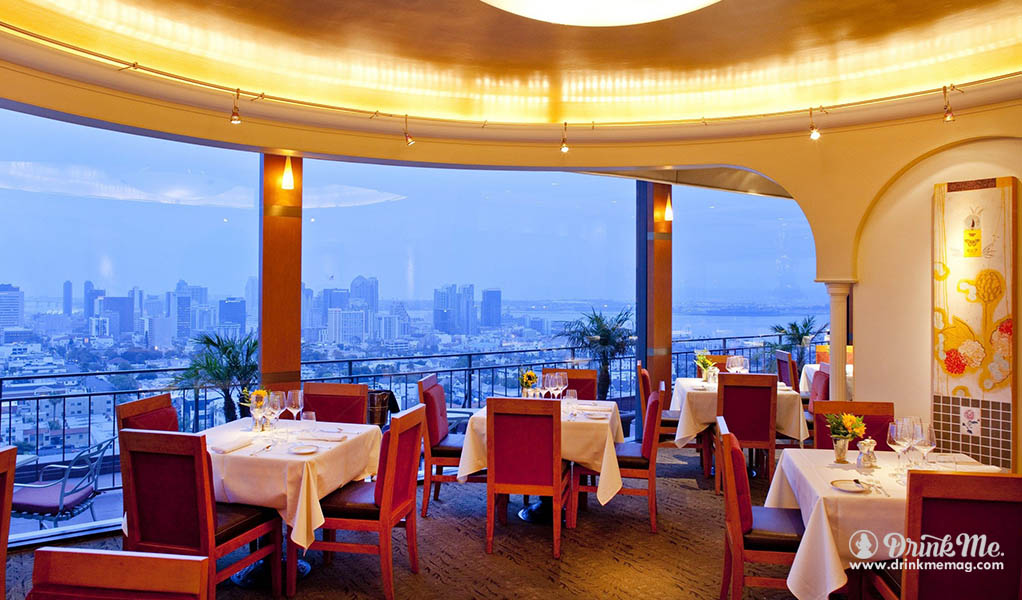 Voted "Top Restaurant in San Diego" and "Best Restaurant with a View" the twelfth floor penthouse has astounding views of San Diego from Balboa Park to Point Loma to Bankers Hill and everywhere in between. Currently celebrating its 50th year in business, the restaurant has an extensive cocktail list, with one drink especially dedicated to its celebratory year. Guests can sip on the scenic patio or enjoy the view from inside where they are transported into a classic old world Europe. The regal interior is filled with deep shades of red, dark wood walls, and glamorous golden chandeliers which allow the grade "A" menu to steal the spotlight.
Location: 2550 Fifth Avenue 12th Floor, San Diego, CA 92103
Hours: Monday-Sunday 11:30am – 10:00pm
Price Range: $$$
Connect: | FB | Twitter | Web | Contact |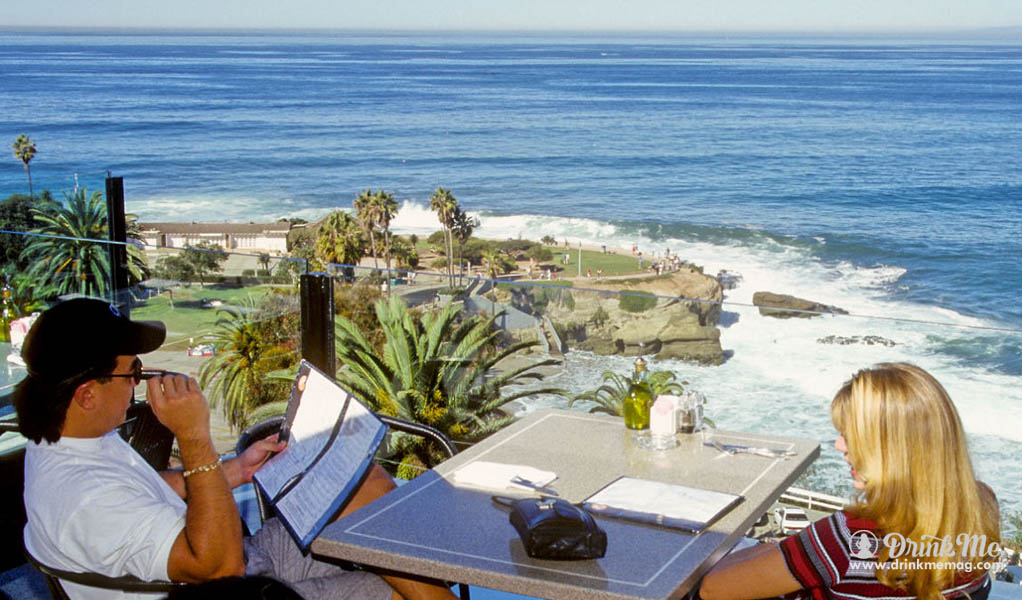 George's at The Cove presents three levels of chic ocean view dining, but the top known as Ocean Terrace rests outside under the luminous San Diego sun. With scenes of the La Jolla Cove and up San Diego's coastline, the space has been titled "One of the City's Best Views," that are sure to keep your eyes surfing. The intimate bar hosts up to 14 seats and serves a fine list of bottled beer, beer on tap, and specialty cocktails with ingredients including fresh squeezed lemonade, strawberry-infused vodka, or the house-infused pepper vodka.
Location: 1250 Prospect St, La Jolla, CA 92037
Hours: Monday-Sunday 11:00am – 10:00pm
Price Range: $$$
Connect: | FB | Twitter | Web | Contact |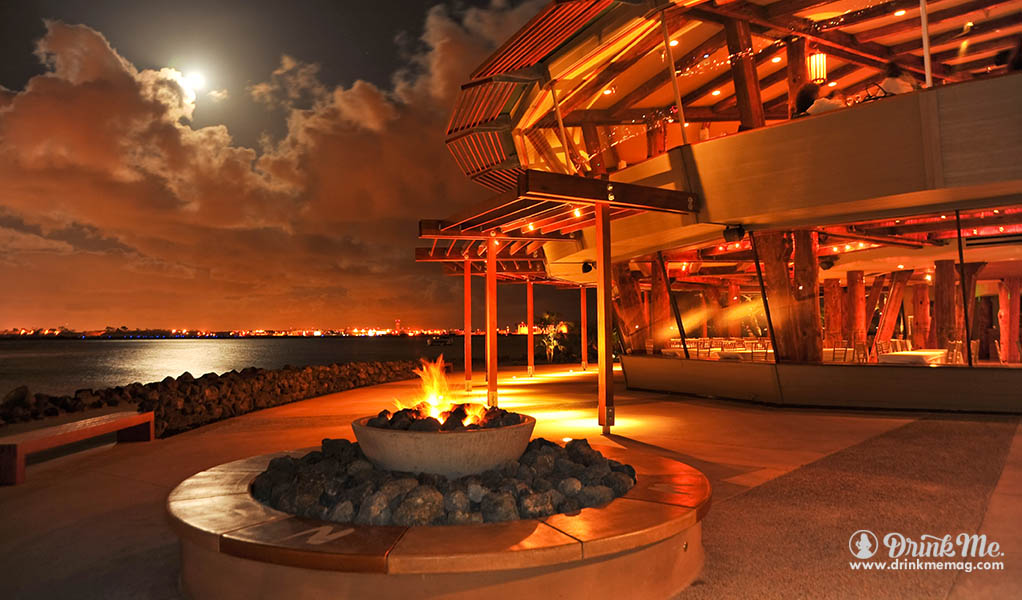 With a rich 60 years of history being nestled on Shelter Island in Point Loma, the Polynesian style restaurant has been named one of the "25 Classic Restaurants and Bars that has shaped San Diego." Bali Hai is waterfront bliss surrounded by lush green tropical landscape of soaring palm trees, vibrant bougainvilleas and birds of paradise, black lava rocks, and of course numerous tiki-heads. Guests have clear views of San Diego's bay and downtown skyline to accompany their choice from the extensive tiki bar drink menu. The menu boasts a no juice added, "World Famous Bali Hai Mai Thai" which has sold over 2 million to date and clearly warns consumers of its' potency by stating it is, "quite possibly the strongest drink you'll ever consume."
Location: 2230 Shelter Island Dr. San Diego, CA 92106
Hours:
Lunch:  Monday-Saturday 11:30-3:00pm Menu Service – (3:00-5:00pm Appetizers Only)
Dinner: Monday – Thurs 5pm – 9pm Menu Service
Friday & Saturday 5pm – 10pm
Sunday 4pm – 9pm
Brunch: Sunday 9:30am – 2pm Buffet Only – (3pm – 4pm Appetizers Only)
Price Range: $$
Connect: | FB | Twitter | Web | Contact |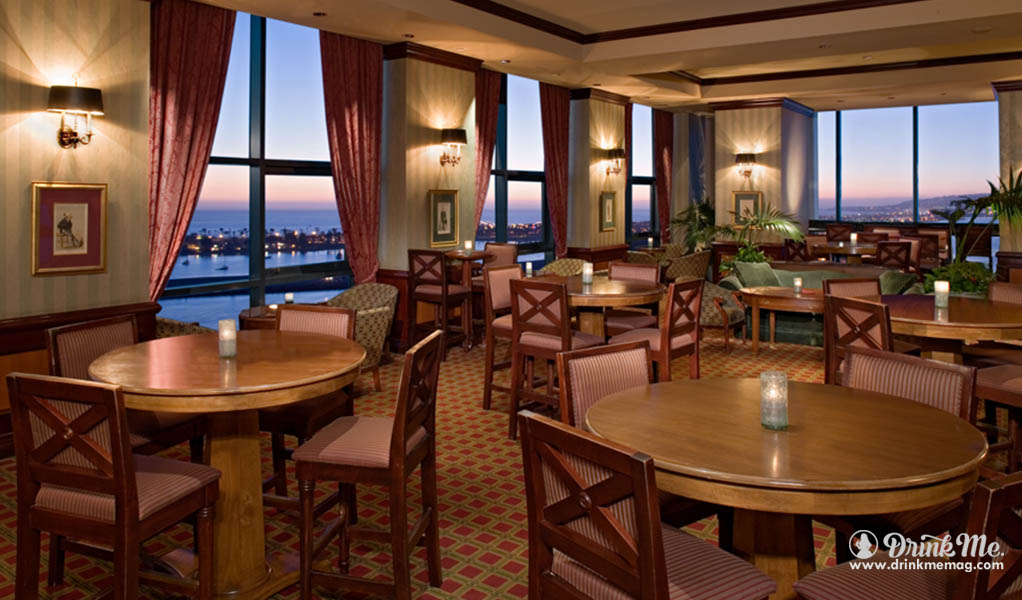 Location: 1 Market Place, San Diego, CA 92101
Hours: Monday-Sunday 3:00-1:30am
Price Range: $$$
Connect: | FB | Twitter | Web | Contact | 
The "Top of the Hyatt" inside the Manchester Grand Hyatt, literally raises the bar for views in San Diego hovering 40 stories above San Diego's streets. Located in the tallest waterfront hotel on the West Coast, the floor-to-ceiling panoramic city views also include the active harbor below, Coronado Island, endless ocean, and most importantly, perfect alliance to any days' vibrant sunset. To accompany your eyes you can even drink the "San Diego Sunset," appropriately poured tequila cocktail or any other another off their extensive 7 page drink menu. Make sure to hurry and visit the space before it closes in July 6th until September 2015 for renovation.
This special guest feature was contributed by Barbara Beran, and supported by DowntownRob.com.