The pyramid to excellent wine begins with location. Soil, climate, and precipitation amongst other natural and uncontrollable properties influence the flavor profile and overall characteristics of any fruit grown. So, how did one man create an extraordinary establishment within a region—the Lodi region—known for high yields and production of good but commercial quality wines? Let me introduce you to Jeff Hansen, whose inspiration runs a couple generations back.
Originally immigrating to California from Chiavari, Italy in 1908, Hansen's great-grandfather, Raffaele Garbarino, wove Italian tradition, including bringing grapes from the Sierra Foothills to make wine in his cellar, into his American born children's daily lives. As the eldest of the great-grandchildren, Hansen retains fond memories of Garbarino introducing wine into the everyday family affairs. To honor the sacrifices Garbarino made to bring his family to America, Hansen built Raffaele Garbarino Wines distributed by H.G. Vineyards. In each bottle is that tradition and lifestyle Garbarino held onto and brought to his American family from Italy.
Building a world-class wine reputation and breaking a location stigma begins in the vineyard. Of the 100,000 acres of vineyards contained within Lodi—known for massive production and historical Zinfandel Vineyards—grows Cinque Terre Vineyard. Uniquely set up in 5 varietal blocks, this exclusive vineyard is one of a kind and is the main factor that sets Raffaele Garbarino apart from other Lodi produced wines. The "Five Lands" are as follows: Cabernet Sauvignon, Cabernet Franc, Petit Verdot, Malbec, and Tannat.
Hansen devised a Bordeaux and European style inspired vineyard setup for Cinque Terre. Vines are densely planted at 1,800 per acre versus the standard California vineyard of 700 vines per acre. The vines' canopies are meticulously manicured allowing for exact sun exposure management. Each row is set at a 45o angle running east west to further maximize and manage sun exposure and ripening. All vineyard work is delicately and strategically carried out by hand to ensure no fruit is damaged. Limiting yields but maximizing the intensity of the fruit is the foundation of Raffaele Garbarino Wines.
When the grapes are deemed to be at optimal harvesting capacity, they are hand picked and delivered to the winery before noon. There, each grape is sorted and imperfect bunches are discarded to ensure only quality grapes go into the wine. After sortation, the grapes are transferred to small open top bins where they cold soak for 2-3 days prior to fermentation. Hansen uses a cool fermentation method to move as slow as possible to maximize the color complexities of the wine. Once properly and sufficiently fermented, the new wine is placed in French Oak barrels for a minimum 30-month sentence of aging. Using a combination of new and aged French Oak barrels helps to further the complexity and character of the future wine. Once the wine is deemed barrel aged enough, it's bottled and left to age an additional 12-14 months before its official release date.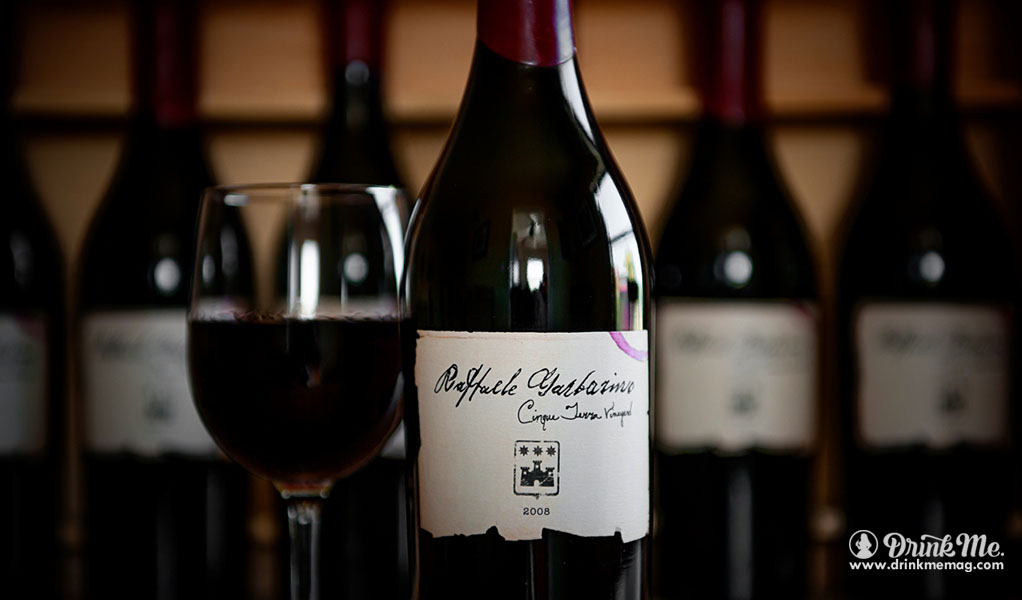 Such an exceptionally detailed process deserves equally fitting packaging. The bottle itself is reminiscent of the infamous Chateau Haut Brion from Bordeaux. Continuing on with the hands-on approach, each bottle is wax dipped by hand, individually wrapped in tissue, and placed in a six-pack wooden box. The label is the true cherry on top for the Raffaele Garbarino brand. Garbarino's original Italian passport is displayed on the back with the family crest and Garbarino's signature of approval on the front.
Currently, Raffaele Garbarino is celebrating the ripe year of 2008, which produced excellent quality fruit that became the much anticipated Raffaele Garbarino 2008. With only 500 cases made, their 2008 is in high demand. The wine contains a deep garnet hue that sits thick, deep, and rich in the glass. After a bit of aeration, wafts of fresh earth, cigar tobacco, cedar, leather, and slight tones of eucalyptus, coffee, and cocoa excite the olfactory receptors. With scent signal revving up your taste buds, they'll be happily pleased with the complex array of flavors and velvety feel on the wine. Hansen has connected smell and taste with dried fruit, dried mushrooms, toasted oak, and tannins. Each sip will present more layers of the flavor profile. Raffaele Garbarino boasts five different awards with high points from different wine competitions within California. This is truly one wine you definitely don't want to pass up.
Between the output of flavors, the handy work, and the history, Raffaele Garbarino is a well-rounded establishment producing incredibly highly regarded wine without overdoing it. The small batches keep folks running back year after year for a never faltering wine experience.