Photo Credit Gabi Porter
In a world of houses constructed with 2x4s and whiskeys over-processed with unnatural flavors and newfangled technology, it is refreshing to know that some consider the value in doing things the traditional way. When Mark Edwin Andrews and his wife Lavonne purchased the ramshackle Knappogue Castle in 1966 they not only set about restoring the property, but also began preserving casks of exceptional pot stilled whiskey.
The prestige of Knappogue Castle's label began with the Andrews' final bottling in 1987. Distilled in 1951 at the Tullamore Distillery, this gem remains one of the finest commercially available Irish whiskeys on the market. Aged for thirty-six years in sherry casks, Knappogue Castle 1951 offers a unique flavor profile. Fresh oat and barley gives way to a subtle sweetness and the rich, thick taste of starchy fruit. Doing things the traditional way does not mean that everything comes out tasting the same – many aficionados note the original flavors not often found in Irish whiskey. Presented in a smooth wooden case adorn with a plaque identifying the maker and the year it was distilled, this classic is for serious collectors of authentic Irish whiskey.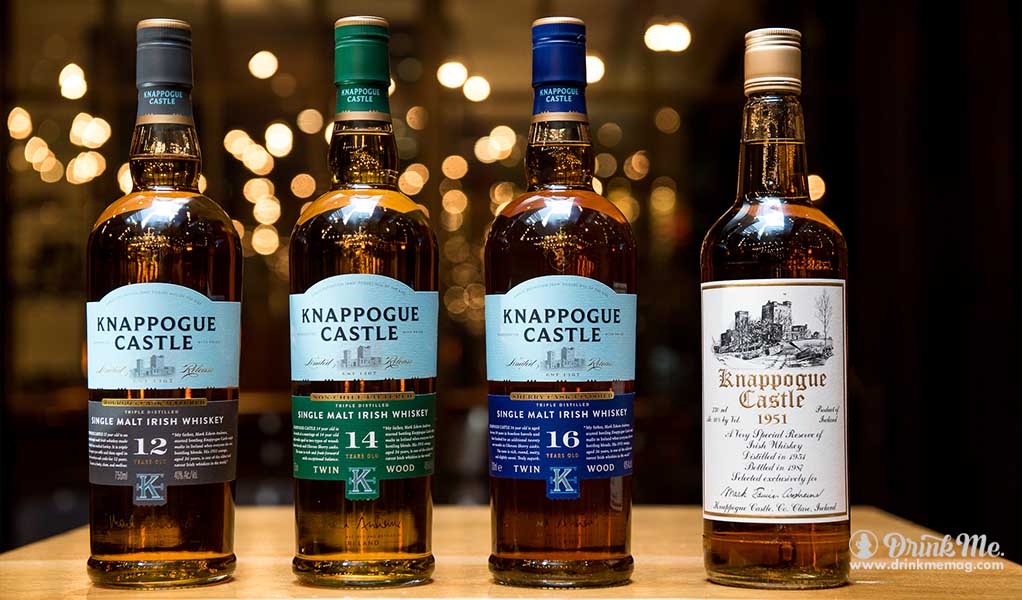 Photo Credit Gabi Porter
In addition to its crowning achievement, the Knappogue Castle Single Malt collection showcases three other main whiskeys, 12-, 14-, and 16-year old editions. All three are created with fresh Irish water from local springs and kiln-dried malted barley. The lack of peat ensures there are no smoky notes to overpower the fresh taste of the germinated grains. Triple-distilled in traditional copper pots, the clear spirit taps out at around 130 proof, strong, smooth and ready as a base for Knappogue Castle's trio of offerings.
Knappogue Castle 12 is the baby of the group, having rested in bourbon oak casks for only twelve years. It can be sweet, but that attitude quickly gives way to the sharp bite of green pepper. The two extremes in every sip give it a balance that plays on the tongue long after its smoothness is swallowed. This award winning 80 proof is perfect for everyday sipping and works well in the cocktail recipes that Knappogue Castle thoughtfully provides with a visit to their webpage.
Taking the taste up a notch with its twin wood aging is Knappogue Castle 14; which in 2016 won Irish whiskey of the year at the Irish Whiskey Awards. It is rested for fourteen years in a combination of bourbon barrels and Oloroso sherry casks. The additional woods add a sweeter, fruitier flavor with notes of vanilla and nuts before the rich barley finish to the whiskey, or 'water of life' as it is known in Gaelic, and the non-chill filtration method allows the flavors to truly shine. This 92 proof Single Malt Irish Whiskey is in limited quantity and popular demand and is perfect for celebrations that require more than the everyday offering.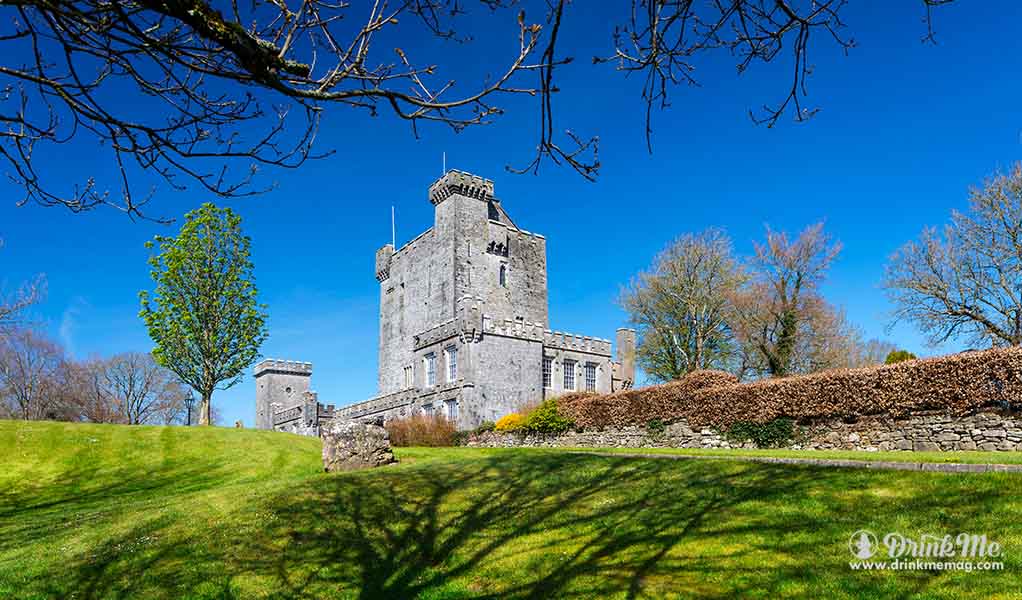 The Sapphire blue label topping each bottle of Knappogue Castle 16, symbolizes the royal treatment that each batch of whiskey goes through before bottling. After fourteen years resting in oak barrels, the amber liquid is then transferred to Oloroso sherry casks for an additional twenty-one months. The resulting Single Malt is stronger than its younger counterpart, but that power is tempered with the sweetness from its time in the sherry flavored wood. Layers of fruit and nut flavors add complexity to this high-quality Single Malt Irish Whiskey.
No matter your budget or whether you are drinking for everyday enjoyment or celebrating life's more festive moments, Knappogue Castle is an outstanding option for those who appreciate the subtle surprises that come from doing things the traditional way.