Photo credit: Skiss
Named after Prince Roland Bonaparte's herbarium, Shangri-La Hotel Paris' Le Bar Botaniste is just as exceptional in more ways than one, and offers patrons the chance to travel back in time to the 19th century, in style. Bar Botaniste celebrates the spirit of Prince Roland's claim to fame with plants under cloches, absinthe fountains, and retro uniforms for the staff. Located inside of the original Prince's Palace, this hotel bar made it their mission to honor the Prince with a bar stacked with absinthes and chartreuses and rare Tarragones, the best you can find in Paris, and a living wall of plants in honor of the Prince's collection. Highlighted on the menu are 23 different gins, and the skilled bartenders can concoct 200 possible drink combinations. By researching different cocktail combinations for over six months, the Botaniste team, led by Clément Emery, really did their homework.
Clément Emery, the head Barman, comes into Le Bar Botaniste with a background in everything and anything, the true sign of a good barman, with a science baccalaureate, followed by prep classes in literature and philosophy before chasing an MBA in International Tourism and Hotel Management. From there he got his mixing chops in Paris before moving to Scotland, London, and then finally back to Paris at Shangri-La's Le Bar Botaniste. His inspiration comes from traveling, art, food, and botanical mixology. You could say he's well rounded.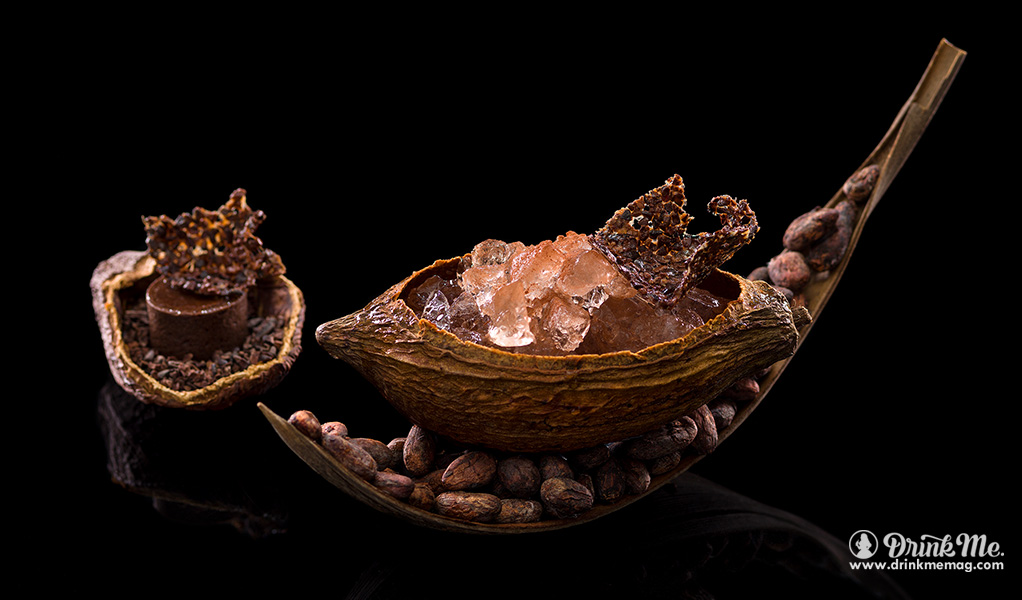 Photo credit: Romeo Balancourt
Green is the theme here, obviously, and Emery keeps botany in mind when creating each drink. For example, the Zacao is a concoction of Zacapa rum and vermouth, mixed and served in a cocoa pod and comes with additional cocoa powder to sprinkle into your drink for extra sweetness. All of this is topped off with a chocolate tart to really put the drink over the edge. The Genesis, Botaniste's version of a Parisian Moscow mule, comes served on a piece of wood, with a lollipop infused with fir sprouts, and extra herby garnishes round out this botanical vision.  And what botanical garden would be complete without bees? So Emery introduced the Bumblebee which stirs up cognac, honey, and finishes with, of course, honeycomb wafers. For the more refined palette, Le Bar has you covered with the Vanilla Sky, which is simply whisky, saturated with vermouth, vanilla, and cinnamon, and is served in a flask, but be careful of having too many, the Vanilla Sky comes with a wax seal to take it home for a reason. Or if you want to take a walk on the wild side, try the Main Verte, which is Botaniste's take on the classic absinthe, complemented here with a rose lemon candy sugar to melt through your absinthe spoon. Each element of Le Bar Botaniste is a tribute to the spirit of Prince Roland, and his love for botany, and every drink is curated with him in mind. So hold your cocoa pods high and salute the plant Prince!
Price: Varies. Cocktails start at €27