The San Jose Sharks announced a new multi-year partnership with Milagro Tequila to become the Official Tequila of the San Jose Sharks. The partnership allows Milagro Tequila to bring its authentic Mexican roots to the Capital of Silicon Valley by offering its award-winning Core and Select Barrel Reserve range at all SAP Center at San Jose events including all San Jose Sharks home games through the 2021 National Hockey League season.
"The Sharks are pleased to partner with an organization which, like the Sharks, deeply respects tradition but is constantly looking for innovative and creative solutions," said Sharks President Jonathan Becher (@jbecher). "Partnering with Milagro Tequila brings an exceptional product to SAP Center at San Jose, consistent with our goal of providing our patrons with the highest-quality food and beverage."
As the Official Tequila of the San Jose Sharks, Milagro will be the key ingredient in the Milagro Shark-a-Rita which includes 1.25 parts Milagro Silver Tequila, four parts Sweet and Sour mix, and .25 part of Blue Curacao as a floater.  The multi-year partnership also includes a branded Milagro Tequila Cantina bar, use of Sharks logos, time on the SAP Center's Stadium Vision platform during Sharks games and events, as well as access to activations at the Milagro Tequila Cantina throughout the season.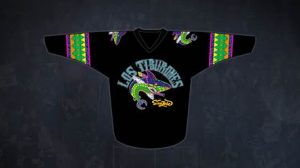 Additionally, one of Milagro's key artists, Israel Guerra – also known as SPAIK – has created artwork that will be featured on the Los Tiburones jerseys to be worn by San Jose Sharks players during warm-ups before the Hispanic Heritage Night game on Saturday, October 20 vs. the New York Islanders. The jerseys will then be auctioned off at the game to raise money for the Hispanic Foundation of Silicon Valley which is dedicated to inspiring community philanthropy and engaging people to invest in the educational achievement, leadership development, research, and convening and engaging the Hispanic community to improve the quality of life for Latinos and the Silicon Valley region.
"Milagro Tequila is committed to expanding the reach of the brand and partnering with those who share our core values," says Milagro Tequila Senior Brand Manager, Jill Palais. "Our goal is and always has been to identify partners that have a strong passion and drive and the Sharks not only highlight, but celebrate the community in unique ways, just as Milagro does. We are thrilled to be a part of the team."