Photo Credit: Colin Hampden-White
Irish whiskey has experienced a great revitalisation recently. Several new distilleries have been built with many others either under construction or in the planning stages.
It is a far cry from the days when three Irish distilling families put their competitive spirit aside and, for the sake of saving Irish whiskey as a category, joined forces. This took place only fifty years ago, in 1966, when John Power & Son and John Jameson & Son merged with the Cork Distillery Company to form the Irish Distillers Group. The Cork Distillery Company owned the Old Midleton Distillery, this site was the only place with the expansion room for a new distillery. In July 1975 production ended at the old distillery and commenced at the new one.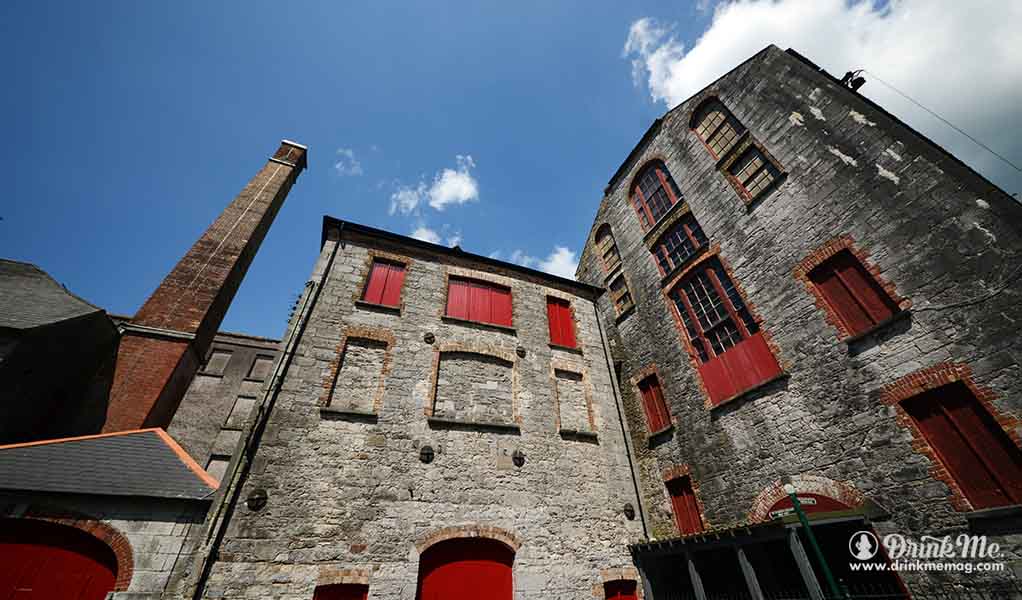 Photo Credit: Colin Hampden-White
The former distillery has been transformed into a visitors' centre where the old stills can still be seen. The buildings are intact, including the dunnage warehousing and give a clear view of how distilling at the old distillery took place.
The new distillery has been expanded even further. In 2010 there was a €200 million investment to double the capacity and new maturation warehousing build in the nearby village of Dungourney. In 2013 the Irish Whiskey Academy was opened in the grounds of the Midleton distillery. They host one to three day courses. This was originally only open to journalists, whisky educators and other members of the drinks industry, but in December 2014 the courses became available to the public.
The purpose of the academy is to improve understanding about the quality and history of Irish whiskey, teaching visitors about the production process, flavour profiles and differing styles of Irish whiskey.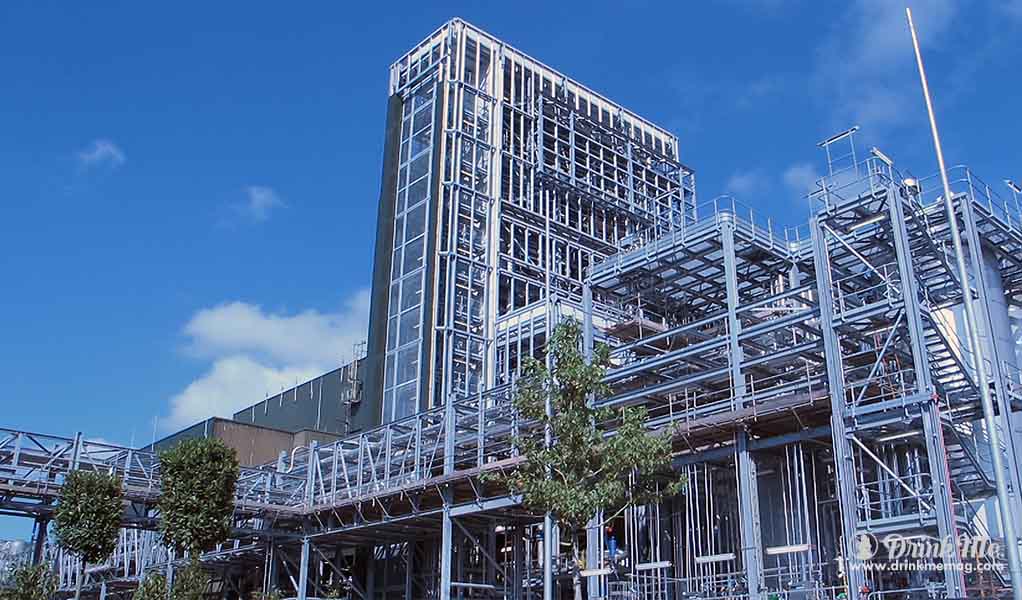 Photo Credit: Colin Hampden-White
David Byrne, Head of Brand Education and Visitor Centres at Irish Distillers Pernod Ricard, said: "After years of planning, we're delighted to finally be welcoming whiskey fans from around the world to the Irish Whiskey Academy in Midleton, the home of Irish Distillers. As the first of its kind, the Academy heralds a new era of knowledge and understanding of Irish whiskey and we look forward to welcoming people to Midleton and helping them to discover the heritage and unique flavour profile that Irish whiskeys have to offer."
There are several different brands of whiskey produced at the distillery giving different flavour profiles and styles. The brands:
Jameson
Tullamore Dew – owned by William Grant & Sons
Powers
Paddy
Redbreast
Midleton Very Rare
Green Spot
Yellow Spot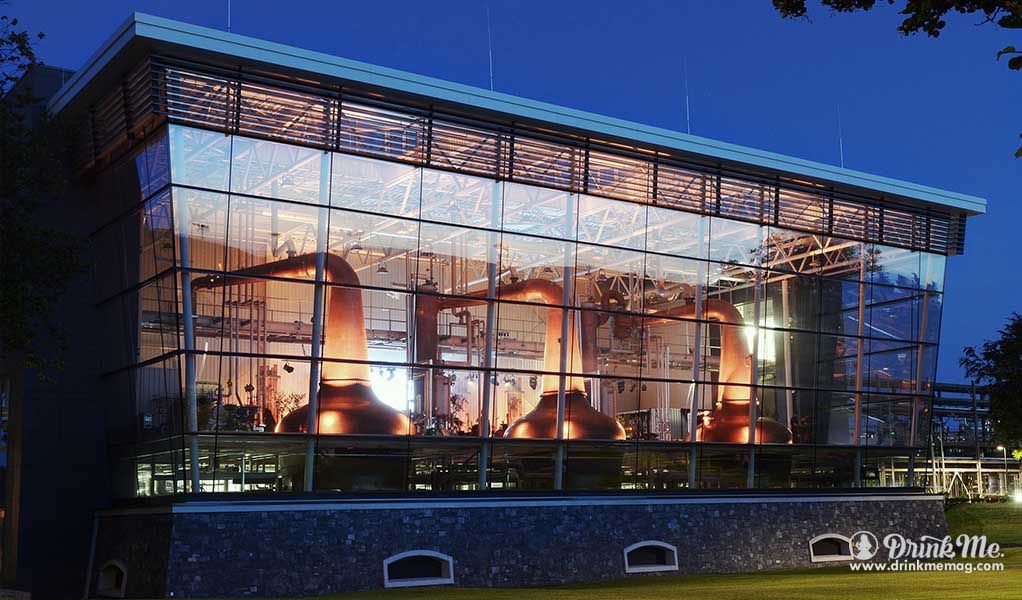 Photo Credit: Colin Hampden-White
The new Midleton distillery is the largest in Ireland with a production capacity of 64 million litres a year. There are three 75,000 litre pot still and three column stills, used in varying combinations. These stills provide all the different types of whiskey at the distillery.
The biggest selling brand is Jameson. Over the years there has been little change to the different whiskies under the Jameson label and they consist of:
Jameson 12 Year Old Special Reserve (Formerly known as Jameson 1780)
Jameson 12 Year Old Distillery Reserve and is only available at their two visitor centres in Ireland and from their online shop
Jameson Gold Reserve (the only expression of Jameson that uses virgin American oak).
Jameson 18 Year Old Limited Reserve
Jameson Rarest Vintage Reserve
Jameson Signature Reserve (exclusive to Travel Retail and Duty Free outlets around the world)
Jameson Select Reserve Black Barrel (available in limited quantities in the US; known as "Small Batch" outside the US)
Jameson Crested (uses older whiskey some of which has been matured in sherry casks)
This year saw some of these whiskies being updated, but the main innovation came with the launch of six new whiskies under the Jameson brand.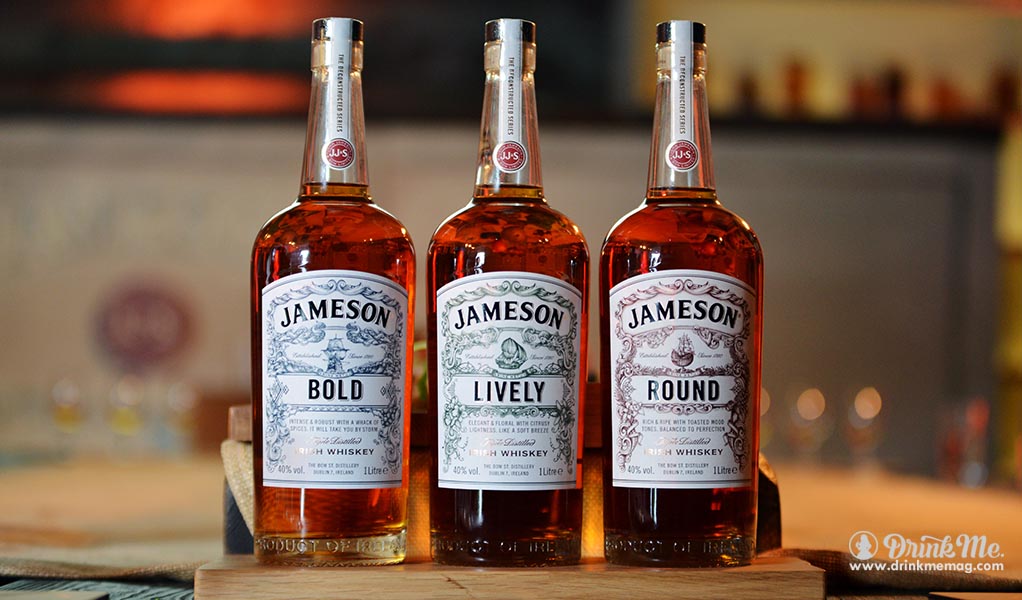 Photo Credit: Colin Hampden-White
Firstly there are three whiskies named after the style of whisky which they exhibit, made to create an easily understood flavour profile and style, with a new bottle shape and modern look:
Jameson Bold, influenced by pot still whiskey, it is a robust whiskey, with a strong influence of spices. Initially sweet and creamy, with an abundance of soft fruits, the pot still spices develop to bring rich barley notes and mellow baked apple. Jameson Bold is available in Global Travel Retail with an RRP of €36 (70cl bottle, 40% ABV).
Jameson Lively, influenced by grain whiskey, there are floral tastes combined with a citrus lightness. Its soft and sweet taste, provided by the perfume of bon bons alongside Turkish delight, combines with drying hints of citrus to balance the sweetness. A little chilli oil brings a prickle of spices to the mouth. Jameson Lively is available in Global Travel Retail with an RRP of €36 (70cl bottle, 40% ABV).
Jameson Round, influenced by the wood contribution, is a balance of rich and plump charred wood tones. Sweet vanilla fuses with soft ripe fruit and, together, combines with the rich Pot Still Spices on a foundation of toasted oak. Jameson Round is available in Global Travel Retail with an RRP of €36 (70cl bottle, 40% ABV).
This new range of Jameson whiskies is comprised of three whiskies that celebrate the people behind Jameson and their craft.
They were created collaboratively by Brian Nation, Jameson's head distiller, Ger Buckley, the head cooper and Billy Leighton the head blender. These whiskies gave a unique opportunity for the three men to show off their particular skills in the whiskey-making process.
Designed to improve consumers' understanding of the whiskey-making process the Whiskey Makers Series are named after the three main tools each of the men use in their specific whiskey-making jobs: The Distiller's Safe, The Cooper's Croze and the Blender's Dog.
The Distiller's Safe celebrates the role of the Brian Nation and showcases the original copper pot still distillate. Brian explores the influence of the copper on the new make spirit, using a maturation process that skilfully preserves the qualities of the original distillate, allowing the flavours developed in the pot still to take centre stage. Brian's tool of choice – the spirit safe – allows him to fine tune the whiskey's style at any point during the distillation process and the resulting blended whiskey carries distinct sweetness from barley sugar and gentle notes of apricot, cinnamon and melon. A smooth, light whiskey with a zesty finish. The Distiller's Safe is available globally with an RRP of €70 (70cl bottle, 40% ABV)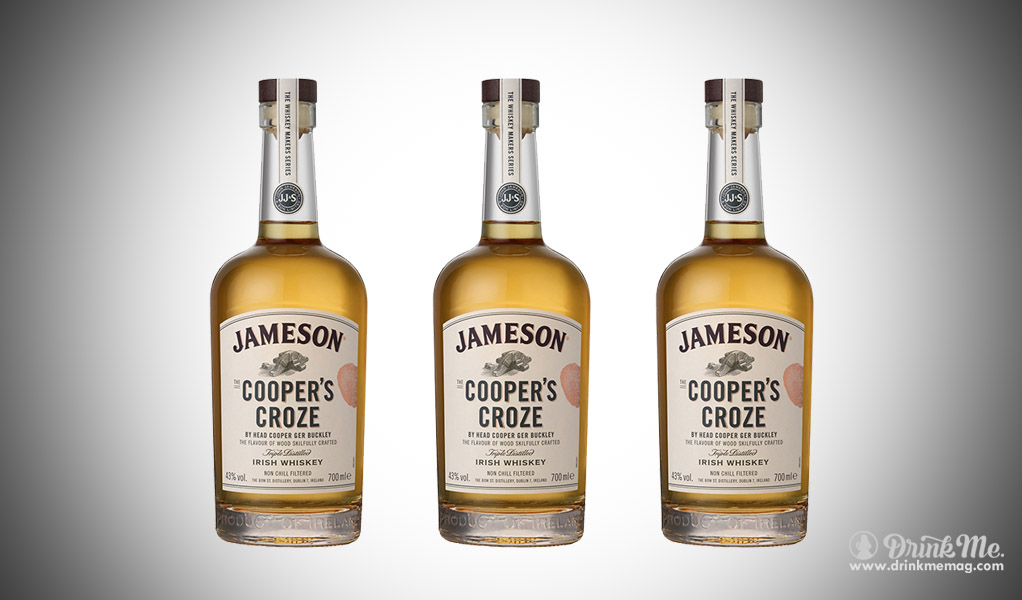 The Cooper's Croze showcases the role of Ger Buckley and explores the influence that maturation in casks has on whiskey. A fifth generation cooper, Ger is tasked with selecting, repairing and maintaining Midleton's diverse barrels. Ger's prized possession – a croze – passed down through his family, is used to make the groove where the head of the cask is positioned. The resulting blended whiskey is matured in virgin American oak barrels, seasoned bourbon barrels and Iberian sherry casks, a combination that delivers vanilla sweetness, rich fruit flavours and a balance of floral and spice notes. The Cooper's Croze is available globally with an RRP of €70 (70cl bottle, 40% ABV)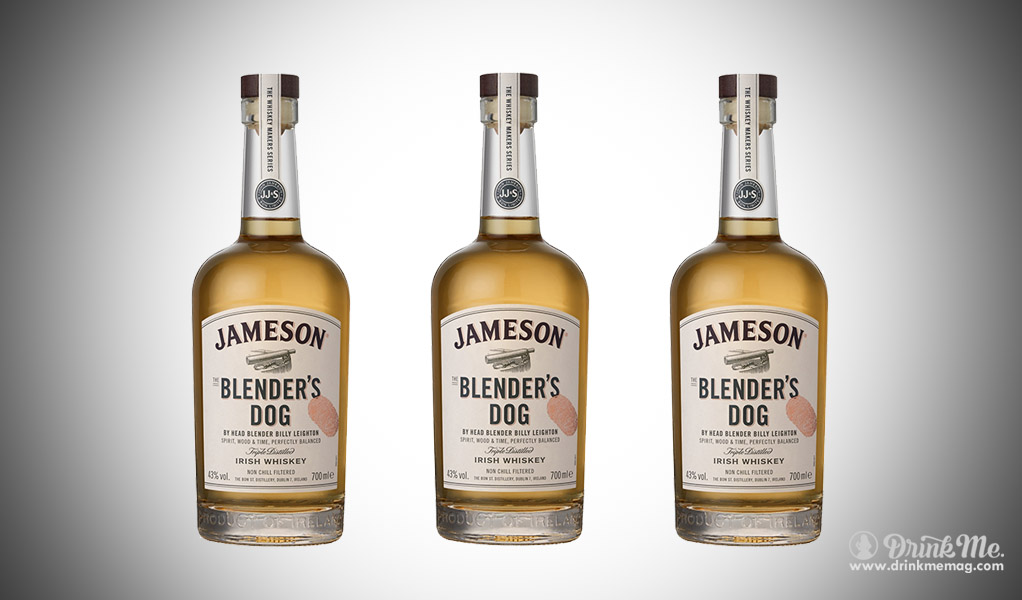 The Blender's Dog celebrates the role of Billy Leighton; a tribute to the fine art of blending. Billy is tasked with uniting the crafts supplied by distiller and cooper to create harmonious, perfectly balanced whiskeys. Billy's go-to instrument – a "dog" – is used to collect whiskey samples from the casks, allowing Billy to bring together complementary spirits from Midleton's extensive range of maturing stock. The Blender's Dog is a perfect balance of spirit, wood and time; a rich, rounded whiskey with butterscotch sweetness, spices, tannins and an exceptionally long finish. The Blender's Dog is available globally with an RRP of €70  (70cl, 40% ABV)