In 1805 and at a mere 27 years of age Madame Clicquot took over the family winery following the death of her husband becoming one of the first businesswomen of her time. Only 13 years later she disrupted the wine industry by simply adding red wine to some of her champagnes. This undoubtedly shocked her peers, but led to the creation of some of the most iconic and recognizable rosé champagnes in existence today.
In a tribute to the Lady, Veuve Clicquot has marked the occasion with a major celebration focused on what is in their view, a critical factor in making superb rosé i.e. the red wine. Indeed, these wines are so special that they are not available to the public, but are kept in reserve purely for making the famous rosé champagne blends. In and of themselves, these wines are rich ripe Pinot Noir of excellent structure and balance, purposefully fruity and bright for blending with their exemplary champagnes. The reds, from the vineyards in Bouzy, are made for the vintage blend and deliver a delightful red currant and peppery flavours with a slightly astringent quality. The Veuve Clicquot premium vineyard, Clos Colin in Bouzy, produces reds which make up the Grand Dame rosé vintages. These are also bright and light but even more harmonic with velvety tannins and blackcurrant flavour. But of course, not every year, nor every vintage, will be given Grand Dame status, that honour is reserved for only the best of Veuve Clicquot wines from the best vintages.

In addition to tasting the reds, further celebrations took place with a spectacular meal prepared by "Chef of the Century" (a title given by the guide Gault Millau in 1989), Joël Robuchon, who was flown in from Hong Kong for the occasion. The rosé champagnes proved not only to bring glitz to the event, but, enhanced Robuchon's inspired food pairings. The 2006 La Grand Dame Vintage Rosé was perhaps my favourite of the day with an aroma and flavours of cherry, redcurrant and sweet spices with well-honed tannins and a silky salinity. This drank well with Robuchon's carpaccio of artichoke, foie gras and lemon dressed salad (not an easy feat!).  The Vintage 2008 gave aromas and flavours of raspberry, cherry and citrus with hints of toasted brioche and a long silky finish which was exceptional alongside the truffle ravioli and Chef's interpretation of the celebratory 'blanquette d'autrefois'. The exercise proved that rosé champagne can and should be considered by chefs as a choice for food pairing and not solely as an aperitif.
The festivities continued with a visit to the famed vineyards in the beautiful and charming hamlet of Bouzy and a vertical tasting of Veuve Clicquot rosé champagnes from 1990, '89, '85, '79, '78, '61 as well as a very special 1947 vintage. All showed an impressive stability with even the most troublesome weather vintages of '47, '78 and '85 offering a proficiency of complex flavours and refined elegance.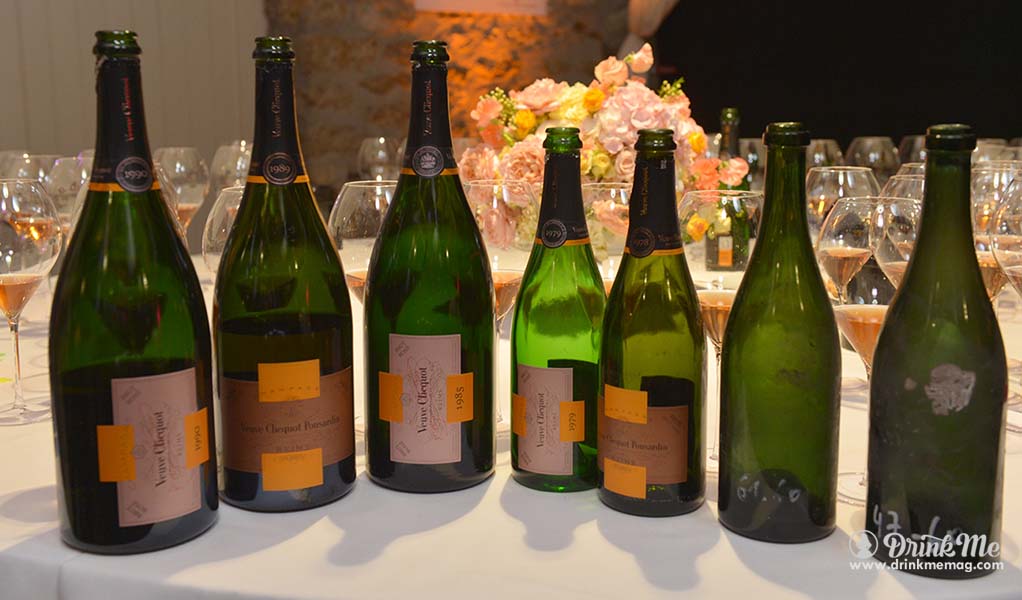 The day turned night ended with a more casual, yet typically French meal, again paired with the rosé champagnes from Veuve Clicquot's new Jeroboam line. The 2004 La Grande Dame Rosé went brilliantly with roast lobster in a shell reduction sauce and the 1990 stretched beautifully across the traditional rotisserie, the cheese course and the red berry mousse for dessert. Solidifying the notion that whether a highly refined meal or one less complicated, rosé champagnes are a terrific compliment to any occasion.
As anniversary parties go, the LVMH Group and Veuve Clicquot outdid themselves and would have made Madame Clicquot proud. In the capable hands of Cellar Master Dominique Demarville, her vision and her inventiveness are as alive and effervescent as ever. Sante'!