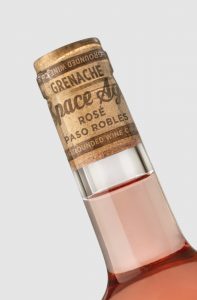 Founder and Winemaker Josh Phelps released his first rosé from his American wine label, Grounded Wine Company, Space Age, a Grenache rosé from Paso Robles, California. Made from 100% Grenache grapes from three select parcels in the Paso Robles appellation, the rosé showcases California terroir with an elegant expression of the popular pink wine.
"Grounded wines demonstrate how choices made by a winemaker can influence a wine, and Space Age is a prime example," explains Phelps. "From choosing only very specific grapes to our treatment in the cellar, this is a nuanced wine created with care, and I think that shows in the way it's meant to be enjoyed – it's an easy, summer sipping wine."
Thanks to Grenache's low-yielding vines, the wine's flavor is concentrated with tastes of summer fruits – peach, strawberry, and watermelon. Having received very gentle treatment in the cellar, from gentle pressing through cold fermentation, the color is a brilliant pale salmon, and the balance is decisively fresh, with a delicate spiciness in the finish.
MSRP is $20 and you can buy it here.