From the family that brought you Ketel One and NOLET'S Silver, Drink Me's Tasting & Review Director, Julie Albin, recently caught up with Carl Nolet Jr.  As Executive Vice President of Nolet Spirits USA, Carl is the 11th generation of the family business and is behind the premium gin brands NOLET'S Silver and NOLET'S Reserve.
So tell me Carl, how did it all get started? (Julie)
My family founded Nolet Distillery in 1691 in the old town of Schiedam. Prior to that, we were actually in the grain trade. Schiedam had flourished as a capital of grain from all over Europe. The family decided to take our successful grain business and start a distillery making wonderful spirits. The distillery has since been passed down 11 generations through a straight lineage from father to son. No uncles, no cousins. By 1898, my great-grandfather set out on a journey to America and built a distillery in the city of Baltimore, Maryland. Although our headquarters in Schiedam have grown, our Baltimore distillery was built as an exact replica of the original distillery's layout. The Baltimore distillery was later closed due to prohibition.
Our family was later faced with the hardships of 20th century European and American history. My grandfather dealt with five years of occupation during World War II in which the distillery remained closed. That being said, I admire him for squeezing something positive out of a very tragic situation. My grandfather joined the resistance and aided the folks that the Nazis were after, mainly the Jewish people. He even helped them hide in the distillery that was closed.
Wow that is an incredible family history! With a family of such achievement, what was it like to join the business?
With a family business, there's a belief that upon finishing your college degree and hanging it on the wall, you'll instantly ascend to that corner office. I had that thought when I started. I thought to myself, you know what? I'm going to get that corner office. I'm going to wear that suit and I'm going to make a difference.
Boy was I wrong. You suddenly move away from a father-son relationship into a boss-employee relationship. That was a big step to overcome. Dad told me that he was very happy I made the right decision to join the company, but the rules were going to be very different. As a father to a son, if I came home later than expected, I'd be grounded the next weekend. But as my boss's employee, there was no three strikes you're out. It is one strike and you're out. I was told to be in the distillery ready for work by 6:00am, and if my keys went in at 6:01 then don't bother coming.
Those were the early principles of the family business. I worked my way up and in 1990 my father gave me the opportunity to come to the United States and launch our company. He said, "Here's the best vodka. I've worked hard on it. You've seen me working hard on it. There are two ways that your name will end up on this bottle. Either printed on the label or marked on the bottle's dust." And with that I was off to New York City to start a company.
 That's quite a sendoff. So what is it that makes Ketel One different from all the other vodkas on the market?
Nobody has these wonderful pot stills like we do. Nobody has 11 generations expertise. We line up Ketel One at room temperature, nose it, and then compare the nose to vodka number two, number three, and then go back to the Ketel One. The differences are obvious.   Even though the book says vodka is a colorless, odorless, tasteless and neutral spirit, there's a big difference in it. There's a lot of character.
I can agree. Moving on to the gin side, what was the inspiration behind NOLET'S?
In the beginning, what you do is start in a sandbox with some walls around it. You look at all of the botanicals and usual suspects of gin. And then you start playing with that. You reduce it, you amplify it, you do this, and you do that with it.
You open your senses and land on something. We landed on one of the world's most phenomenal flowers, the Turkish rose. Then my brother thought about fruit and he found himself drawn to two wonderful ingredients: raspberry and peach. The fruits' tart sweetness plays so well with the elegance of Turkish rose. At this moment we're only willing to disclose three ingredients, as we want the NOLET'S consumer to enjoy the journey of discovering this gin for his or her self. It's not about having more ingredients than other gins. It's the balance of all these ingredients and the extra time that we take to find the right growers.
We're very proud of our NOLET'S Silver, the path we've taken, and the enjoyment it gives to our consumers. This is not just any ordinary gin. This is a spirit in a class all by itself. It is unique, and if you've tasted it, you've experienced that difference. And then we have our NOLET'S Reserve which is a limited production gin and a testament to the value of our many years in this business making nothing but the finest spirits in the world.
If you can make one statement to your customers around the world, what would you say it is that you want to build for the future?
That is a beautiful, beautiful question. The answer is probably unrelated to anything that we do professionally. As a father of 7 children, the hard work that I've dedicated to the family business has been in hope of making the world a better place for them to live in. Not only from our business, but from the charity work we do and the efforts we put in to help strengthen this beautiful planet.
Reviewed: NOLET'S Reserve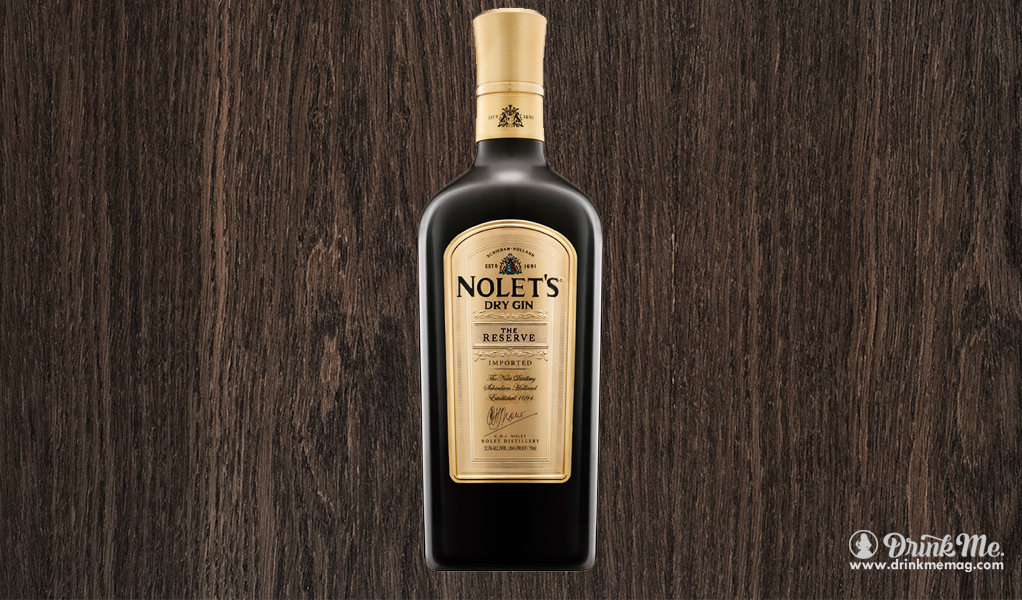 This sophisticated gin takes your nose on a magic carpet ride with exotic perfumes of dried lavender, juniper pine, saffron, and fresh lemon squeeze.  Of a mature nature with sublime intensity, a majestic forest of sage, wild flowers, and earthy soil unravel on the palate with a long complex finish.  Simply fantastic!   ­-JA