With peach season in full swing upon us, bartenders across the country are reaching for this fleshy  coveted farmer's market staple for its subtle, versatile flavor profile that pairs well with all kinds of spirits – from vodka to bourbon. We have the top 5 cocktails to bring summer closer.
Cocktail: The Pit Stop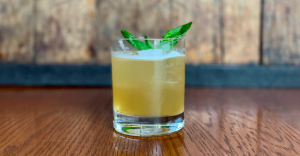 Restaurant: The Grocery
Bar Manager: Sean O'Brien
Location: Charleston, SC
Ingredients:
2 oz Peach Pit Infused Bourbon

0.5 Basil and White Pepper Shrub*

0.25 oz lemon juice
Combine all ingredients in shaker. Shake and serve on the rocks, garnished with a basil leaf.
*Basil and White Pepper Shrub, Yields 1 pint (approx.. 32 servings)
Ingredients: 
8 oz of sugar

8 oz of water

2 oz champagne vinegar

1 large sprig of basil

10 white peppercorns
Add all ingredients to pot, bring to a boil until sugar fully dissolves. Remove from heat and let sit for 10 min. Strain. Store in the refrigerator.
Cocktail: Hey Peaches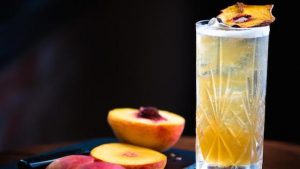 Restaurant: Succotash
Beverage Director: Darlin Kulla
Location: Washington, D.C.
Ingredients:
18 oz Jim Beam Bourbon  

6oz Blood Peach Puree (can substitute 1 lb peeled peaches or blood peaches if needed)

32 oz Harney's unsweetened Peach Tea

12 oz simple syrup 

3 oz fresh squeezed lemon juice          
Fill Blender with ice. Add ingredients. Blend on high for 3-4 minutes until creamy consistency has been achieved. Serve in 10oz glasses garnished with a mint sprig and a Peach Gummy. Enjoy with a straw.
Cocktail: Peach Caipirinha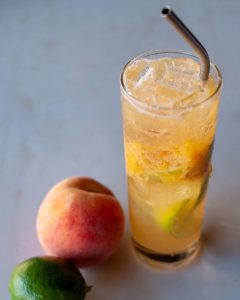 Restaurant: Terra
Bar Manager: Andy Haddock
Location: Columbia, SC
Ingredients:
1.5 oz of Novo Fogo Cachaça

0.75 oz Simple Syrup

1 peach, sliced

½ lime, juiced
In a shaker combine the lime juice, sliced peach and simple syrup. Top with the Novo Fogo Cachaça and add ice (don't overfill the shaker). Mix together. Serve over crush iced in a tall Collins/ Zombie glass.
Cocktail: The Peaches & Herb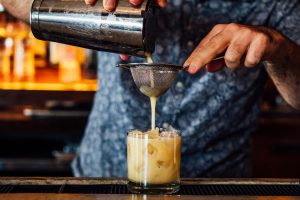 Restaurant: The Franklin
Created by: Matt LoFink, Evan Wolf & Jason Sorbet
Location: New Orleans, LA
Ingredients:
1.5 ounces Elijah Craig Small Batch Bourbon

1 ounce fresh lemon juice

.5 ounce 2:1 Demerara sugar syrup (2 parts Demerara sugar to 1 part water) 

.25 ounce Giffard Peche

1 barspoon of Herbsaint

Egg white

Angostura bitters 
Dry shake the egg white with the lemon juice in a shaker tin for about 5 seconds, add the remainder of the ingredients in the tin and shake with ice. Strain the cocktail into a rocks glass filled with fresh ice and garnish with a spray of angostura bitters.