As the holidays approach Drink Me has partnered with Heering Liqueur to find the 12 Best Holiday Cocktails in America. There was a deluge of contenders but these ones topped the tree when it came to appearance/presentation, inspiration, creativity and composition/balance.
DAY 11
William Perbellini is Property Mixologist at the Waldorf Astoria in Las Vegas. His Storm is a feat among mixologists and brings us to Day 11 of our 12 Days of Cocktails.
Storm
Inspiration: Never were two souls better matched than whiskey and Cherry Heering. This cocktail is born out of sheer holiday spirit and manifests in the form of the most perfectly balanced holiday cocktail out there. It has everything: holiday memories of cinnamon, the depth and comfort of Talisker Storm and Bulleit Bourbon, and the sweet, but never sticky, sense that only Cherry Heering Liqueur can offer.
1.5 oz. Bulleit Bourbon

0.5 oz. Talisker Storm

1 oz. freshly squeezed orange juice

0.75 oz.

Cherry Heering  Liqueur

0.75 oz. cinnamon-infused-sweet vermouth (infuse 2 cinnamon sticks in a bottle of Carpano Antica for 24 hours).
Build: Add all ingredients to mixing glass. Add ice and shake. Strain onto chilled cocktail glass. Garnish with flamed orange coin and maraschino cherry.
---
DAY 10
The Musuem of the American Cocktail allowed us to borrow its Director, Philip Dobard for Day 10 of Cherry Heerings 12 Days of Cocktails.
Swedish Coffee
Inspiration
I've twice visited Sweden, and each visit coincided with the winter holidays, a time of year characterized by short days and ominous skies on the one hand, and vibrant colors and conviviality on the other. This cocktail, an obvious riff on an Irish Coffee, features hot, freshly brewed, dark roast coffee generously spiked with Heering Coffee Liqueur. It's black as night but topped with a cloud of fresh whipped cream—a thick layer of creamy snow, if you will—and garnished with mint, a deeply green reminder, perhaps, that spring is just around the corner. Like winter in the far north, it's a study in contrasts.
1 cup hot, dark roast coffee

1 heaping tablespoon whipped cream

1 sprig fresh mint
Build: Blend liquid ingredients in a glass mug. Gently spoon whipped cream onto hot beverage. Garnish with fresh mint.
---
DAY 9
Dakota Hart, Mixologist at The Powder Room in West Hollywood hit the snowman on the nose with this Cherry Heering-inspired cocktail.
Cherry Sleigh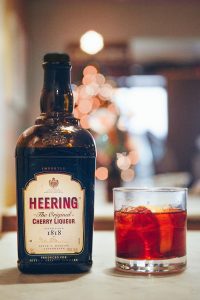 Inspiration:
Orange flavors mixed with bitters and just the right measure of Cherry Heering are all you need to feel the season upon your very palate. Heering's ruby red liqueur is the perfect ingredient to flavor and color your Christmas cocktails. Probably the most versatile liqueur available, Cherry Heering is complex yet delivers a clean, sweet, not sticky, taste to holiday recipes including this one, the Cherry Sleigh.
Cherry Heering

0.5 oz

Knob creek small batch 1.5 oz

Sweet vermouth 0.25 oz

Angostura bitters 2 dashes

Orange swath: oil and garnish

Stirred; rocks glass
---
DAY 8
Philip Dobard is the Director of the Musuem of the American Cocktail, and Bonfort's Wine & Spirits Editor. Drawing inspiration from Cherry Heering, Philip has put together this seasonal masterpiece on the Eighth Day of Cocktails.
A Perfectly Cherry Manhattan
Inspiration:
While spring into summer is the peak season for stone fruit, including cherries, I more closely associate their rich palatal satisfaction with the winter holidays. And this rye whiskey-based cocktail, a twist on the now classic Perfect Manhattan, features equal parts Heering Cherry Liqueur and dry amontillado sherry, rather than equal parts sweet and dry vermouth, plus a light seasoning of chocolate bitters. It's cloudy, rather than clear, evoking the density of a snow cloud-filled winter sky. The palate is rich, velvety, and complex. As for the cherry, which waits patiently at the bottom of the glass, one might think of it as the sweet reward for a winter well weathered.
A Perfectly Cherry Manhattan

2 oz rye whiskey

1 oz Dry Amontillado Sherry

2 Dashes Chocolate Bitters

1 Cocktail Cherry
Build:Place liquid ingredients in a mixing glass with ice and stir. Then strain into a Manhattan glass or coupe. Garnish with a cocktail cherry and serve up.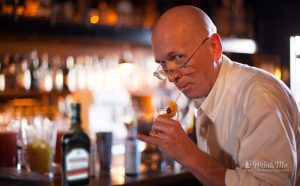 ---
DAY 7
Client Keller of Saint Felix in West Hollywood has us covered on the seventh day of Cocktails with Santa's Little Helper.
Santa's Little Helper
Inspiration:
Shopping, planning parties, going to parties, Secret Santas, visiting relatives, relatives visiting you (and never leaving)…we all need a helper this time of year. Fortunately this Cherry Heering recipe is the very friend you need.
2 oz Vodka

1 oz Cherry Heering

1 oz Creme de Cacao

1 oz Milk or Heavy Cream
Method: Shaken in ice and poured into a chocolate drizzled martini glass served with chocolate strawberry.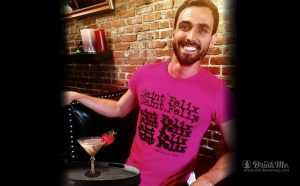 ---
DAY 6
Not ranked in accordance to preference, No.6 on our list is Art Sutley's Heering Dutch Negroni. Art is a Nightlife & Hospitality Expert, and the Publisher of Bar Business Magazine. You can find out more about him here.
Heering Dutch Negroni
Inspiration:
"The holiday season is upon us, and when this time of year rolls around, I think of both imbibing and feasting with friends and family. So to whet your appetite for those holiday spreads to come, I am pushing forward my favorite apéritif. To me, this twist on the Negroni embodies holiday cheer thanks to the notes of juniper, licorice, coriander, and roasted walnuts and hazelnuts found in the genever. These flavors married with the deep ruby red color and balanced cherry taste from Cherry Heering make it the perfect holiday cocktail. Cheers!" — Art Sutley.
Recipe Heering Dutch Negroni:  
2/3 oz Cherry Heering Liqueur

2/3 oz Rutte Old Simon Genever

2/3 oz Sweet Vermouth

2/3 oz Campari
Build: Stir all ingredients with ice and strain into a glass full of ice. Garnish with an orange peel.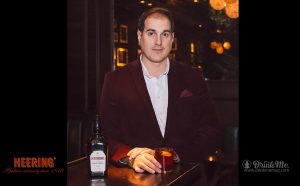 ---
DAY 5
Greg Yerman marks Day 5 with a Sweet Cherry Margarita, made with Heering. Greg is Head Bartender and General Manager at Brooklyn-based Burrito Bar and Kitchen.
Sweet Cherry Margarita
Inspiration:
The cherry flavor compliments our fresh squeezed lime juice ,combining sweet and sour. Cherries are tasty as well as an antioxidant.Goes down smooth and easy, and warms the cockles of your heart.
Recipe: Sweet Cherry Margarita
1.5 oz Cherry Herring  

1.5 oz Triple Sec  

2 oz Lime Juice

Squirt Pomegranate Purée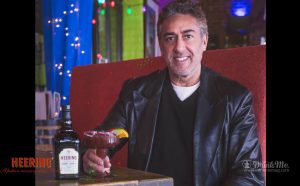 ---
DAY 4
And on the Fourth Day  the wonderful mixology mastery of Morgan Hamidani, Bar Manager at Barely Disfigured brought us Mon Cheri.
Barely Disfigured
Inspiration:
I wanted to recreate a chocolate that we have in France around the holidays called "Mon Cheri"(My Darling). It is filled with a cherry and liquor. A savory but refreshing cocktail for the holidays. — Morgan Hamidani.
Recipe: Barely Disfigured
2 oz Chocolate infused Rutte Genever

0.75 oz Cherry Heering

0.50 oz Aperol

0.75 oz Lemon Juice

1 oz Egg White

Garnish: Mint Sprig and Maraschino Cherries

Glass: Julep Cup

Served on ice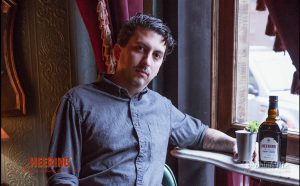 ---
DAY 3
On the third day of Christmas Jared Bailey gave to Drink Me, the Nightmare Before Christmas.
Jared is Bartender at the Soho Cigar Bar, and wizard of cocktails. We love that he's a Dave Phinney fan too!
Nightmare Before Christmas
Inspiration:
For me, darker spirits have always carried with them a warmer connotation, i.e. red wine and bourbon will always be more associated with warming people up, and for a cooling, summer refresher you're more apt to go with a gin drink or a chilled glass of white, etc. With that in mind, when the time came to craft a holiday cocktail, Cherry Heering was at the top of my list. It would seem to me, that if you're going to craft a cocktail specifically for the holidays, it should pack as much punch as it possibly can, which is why I decided to travel along the high-abv lines. Therefore, when I combined the warmer spirits (Burning Chair Bourbon and Cherry Heering) with the medicinally tasting Pernod and the herbaceous Domaine De Canton Ginger liqueur, the final cocktail found itself a perfect complement to the holiday season. — Jared Bailey.
Recipe: Nightmare Before Christmas
2 oz Burning Chair Bourbon

1/2 oz Cherry Heering

1/4 oz Pernod

1/4 oz Domaine De Canton Ginger Liqueur
Build: Add all ingredients in a mixing glass and stir until well-chilled. Strain neat into a snifter, garnish with a cinnamon stick.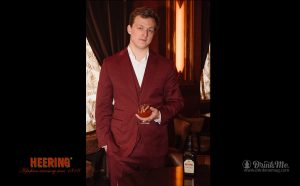 ---
DAY 2
On the second day Moses Laboy, NYC Bar Expert gave us a Smoke Signal. Here's how it goes.
Smoke Signal
Inspiration:
"It's winter with dreams of warmer weather. Bringing the flavors of cherry with seasonal apple and the warmth of bourbon. All brought together with a magical presentation of a cinnamon smoked bath." — Moses Laboy.
Recipe: Smoke Signal
1 oz Cherry Heering
2 oz Four Roses Bourbon
.75 Apple Cider
.5 oz Simple (50/50)
.75 oz Fresh Lemon Juice
Cinnamon Smoke Bath
Brandied Cherry Garnish
Add all ingredients to shaking tin. Add ice, shake till cold. Strain over fresh ice. Bathe entire cocktail in cinnamon smoke and garnish.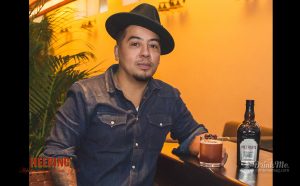 ---
DAY 1
On the first day of Christmas my dear Jerry Glover gave to me A One Way Ticket to sublime libation. Jerry is the Bartender at The Federal Grill in Houston, Texas and has created this Heering Cherry Liqueur-inspired holiday cocktail to kick off Heering's 12 Days of Cocktails.
One Way Ticket
Capturing the flavors of the holidays is essential when creating a cocktail that not only looks and tastes great but also evokes memories of holidays past. That means tapping into the flavors that people expect from holiday foods as well as the smells they're used to this time of year, as far back as their childhoods. Spiced plum, cherry, nutmeg, cinnamon, and sugar all deliver that familiarity. Heering Chery Liqueur is probably one of the best products out there that can tie all of those flavors together without overwhelming the palate. This cocktail is balanced but still well-layered with holiday favorites. Put it on your menu; your customers will love it.
— Jerry Glover.
Recipe: One Way Ticket
2 oz Willett 3 Year Rye
1 oz Heering Cherry Liqueur
1 oz Spiced Plum Syrup*
1 Egg White
Build: Shake with hawthorn spring. Remove spring. Fill with ice. Shake extra hard.  Strain into coupe glass. Garnish with grated nutmeg.
*Recipe: Spiced Plum Syrup
6 Red Plums Cubed
5 Cups Sugar
5 Cups Water
1 tsp Nutmeg
4 Cinnamon Sticks
Build: Boil 20 minutes.  Strain and let cool. Keep in fridge up to 10 days.