With winter comes many seasonal releases and in this case we have the fantastic five from Half Moon Bay Brewing Company out in Half Moon Bay California. Since 2000, they've sat atop Pillar Point Harbor overlooking the Marina in Half Moon Bay. The Brewing Company offers top quality brews and food alike in a family-friendly, causal atmosphere. They even have a dog-friendly patio that features live music and a fire pit when the chill settles across the water.
So, now, warm up by a fire with one of these tasty tipples in hand. Full Swing IPA encompasses that California feel with the subtle scent of tropical fruits and is made from Mosaic, Simcoe, Citra, Galaxy, and Magnum hops creating a crisp finish. Sneaky Peat Winter Scotch Ale is available early December with that big, malty winter warming effect brewed with peated (smoked) malt and fills the soul with caramel, roasted malt, and smoke flavors. Double Bore XXIPA is the big brother to Full Swing and despite its name, Double Bore is no bore at all packed with a hop and bitterness punch that moves easily across the palate. Tequila Barrel Aged Three Pigs Belgian-Style Tripel is made from three times the standard amount of malt in the Trappist "Simple"; this is a sweet yet complex beer that used Belgian candy sugar, but is balanced out by the slight herbal grassiness from the Styrian Aurora and Savjinsky Golding hops and subtle notes of pear, pineapple, and bubblegum. Woodford Reserve Barrel Aged Imperial Pumpkin Ale is in fact brewed with 35lbs of fresh Half Moon Bay Sugar Pie pumpkins and over 36lbs of pumpkin puree; the result is a rich, spiced pumpkin flavor with a malty finish.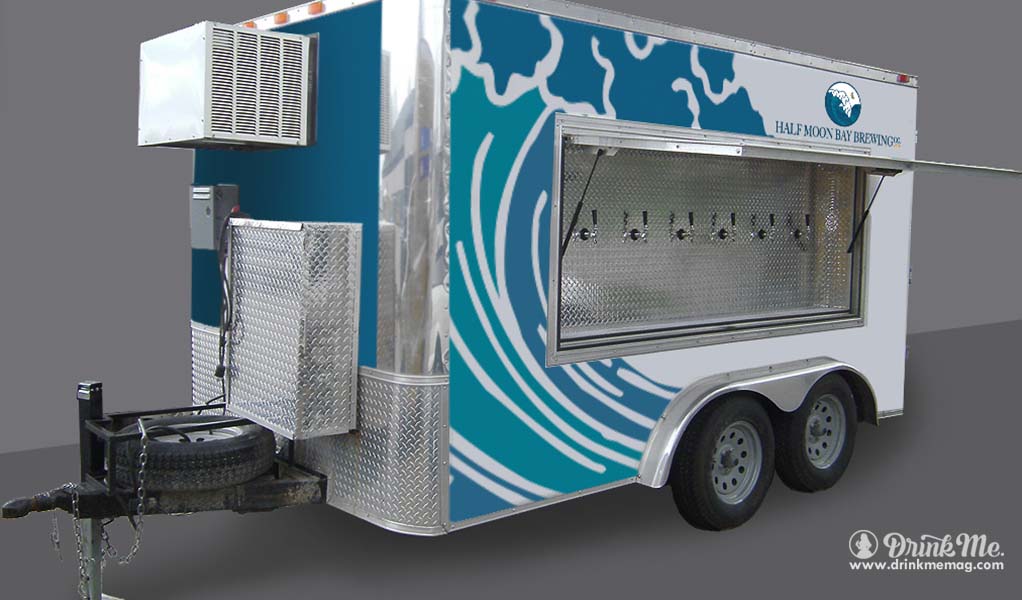 Want these fabulous five delivered to you? Half Moon Bay is announcing its new Craft Brew to You program that caters to companies and individuals alike in the greater Bay Area to enjoy a cold craft beer from their custom trailer beginning December 1st. Besides craft choices, customers can request handmade cocktails and local wines. Don't let the winter blues get you down; enjoy a craft brew.
Craft Brew to You: 650-728-2739 ext. 3
Facebook // Twitter // TripAdvisor